Friends of the Library - Reports - LSC-CyFair
Friends Scholarship Recipients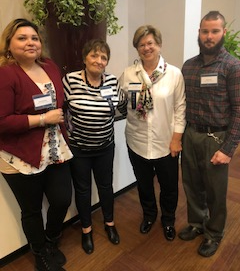 2017-2018: Sunny Navarro & Jessie Crain (pictured at right with Friends of the Library board members Roxanne Beck and Joan Everson)
2016-2017: Angelica Amaya & Eduard Akhmedov
2015-2016: Jaime Questell & Stephen Steen
2014-2015: Melodee Smith
2013-2014: Chris Sandra Garza
2012-2013: Michele Pompa
Thanks to the Friends of the Library for supporting this award
and all the students and professors who submitted projects!
Recipients for 2017-2018
First Place
Elias Mata
"Gerrymandering: The Subversion of the Representative Democracy"
Professor Robert Holmes, HIST 2033 (Honors)
Excerpt:
"Gerrymandering would only continue to be abused by political parties, heightened by three aspects: race in deciding where districts would go, the rise in technology in the latter half of the 20th century which made it easier to create these maps, and the involvement of money in the political system affecting elections. These factors, with the ideology of partisanship, present a picture of disenfranchisement in the United States, to this day."
Second Place
Aaron T. Morgan
"A Brief Overview of the Nazi Nuclear Program"
Professor Robert Coyle, HIST 2312
Excerpt:
"Was the nuclear research project run under Nazi Germany ultimately a failure? The scientists certainly never came close to building a functioning bomb. Lack of funding, materials, and constantly changing leadership and oversight caused the project to lose the head start Germany had in nuclear physics and eventually lag behind the work of the Allies."
Third Place
Francisco Javier Melesio
"Reduction On Houston's Atmospheric Carbon Dioxide Concentration:
Increasing Live Oak's Tree Population"
Professor Shaunté Hulett-Abdin, BIOL 1407 (Honors)
Excerpt:
"Overall, the results revealed that the 100,000 live oak trees sequestered an increasing amount of CO2, until they reached maturity, as they grew and developed for the period of the experiment, which signified a decrease in the atmospheric CO2 concentration in the Houston area, as I have hypothesized. . . And by reducing the atmospheric CO2 concentration, the atmospheric temperature would also decrease because the infrared radiation would now be reflected into space."
2016-2017 Winners
First Place: Daniel Hines
"The Changing of the Guard: The Evolving Strategy of the U.S. Navy in WWII"
Professor James Seymour, HIST 1302 (Honors)
Second Place: Amanda Atencio
"Minimizing and Utilizing Food Waste in America: A Proposal for a National Mandate to Reduce, Recycle, and Reuse Food Waste"
Professor Kasey Baker, ENGL 1302 (Honors)
Third Place: Jennifer Sampleton
"The Other Green Movement: The Damage Capitalism Inflicts on the Environment"
Professor Michelle Brown, ENGL 1302
2015-2016 Winners
First Place: Ana De Angulo
"Caravaggio's Radical Religious Art and Profound Resonance"
Professor Matt Backer, ARTS 1304 (Honors)
Second Place: Deborah Cerritos
"The Continuation of Corruption in Law Enforcement"
Professor Bindu Nayar, ENGL 1301
Third Place: Daniela Markovic
"The Effects of Banning Books on High School Students"
Professor Mark Thorsby, PHIL 1301 (Honors)
2014-2015 Winners
First Place: Gabriela Pineda - "Intentionality Sculpted: The Directedness Higher Level Educated Beings Adhere and Conform To"
Professor Mark Thorsby, PHIL 2318
Second Place: Jessica Martinez - "A Wake-Up Call: Confronting Media Expectations for Body Image"
Professor Kimberly Mori, ENGL 1301
Third Place: Braxton Fonner
"Teaching How to Learn: In Support of Skills Based Education"
Professor Jamili Omar, ENGL 1301
2013-2014 Winners
First Place: Ibrahim Iqbal - "The Sight We Lack"
Professor Rebekah Love - ENGL 1302
Second Place: Nancy Amin - "Education as a Fundamental Human Right"
Professor Jamili Omar - ENGL 2333
Third Place: Judith Moore - "Death Penalty vs. Insanity Plea"
Professor Fay Lee - ENGL 1301
2012-2013 Winners
First Place: Jordan Davis - "Avarice: A Case Study on the Abomination of For-Profit Prisons"
Professor: Heidi Jo Green
Second Place:

Candelario Leal - "Genius, Madness and Shamanism and the Upper Paleolithic Revolution"


Professor: Matt Backer
Third Place: Karla Segura - "Gloria Anzaldua and the Bi-cultural Feminist Americana"
Professor: Michelle Brown
2011-2012 Winners
First Place: April Johnson - "A Classic in Modern Times"
Professor: Matt Backer
Second Place:

Christopher Whitfill - "The Democratic Spirit"


Professor: Mark Thorsby
Third Place: Bethany Reese - "Sin Represas: Without Dams!"
Professor: Sergio Sarmiento
2010-2011 Winners
First Place: Cody Beers, "Daddy Complex"
Professor: Patricia Healy
Second Place:

Scott Liebling - "The Societal Effects of the Decline of Organized Labor in the United States"


Professor: Heidi Jo Green
Third Place: Misty Nikel - "Reform for U.S.-China Trade"
Professor: Patricia Healy
2009-2010 Winners
First Place: Brandon de Hoyos:

"A War of Words: How Civil War Correspondents Changed the News Industry"




Professor: Esther Robinson

Second Place:

Gorge Sanchez-Ruiz:

"Why the Federal Reserve Must Cease"
Professor: Margaret Mendonca
Third Place: Jim Brant McMahon: "Prisoners of Intangible Walls"
Professor: Sonila Themeli
2008-2009 Winners
First Place: Amy Mitamura: "The History of Radiation Safety"
Professor: Cynthia Robertson
Second Place: Victoria Marie Bee: "Female Genital Mutilation"
Professor: Michelle Brown
Third Place: Maria A. Partearroyo: "Universal Health Care, a Right to Pursue"
Professor: Bindu Nayar
2017 Winners
First place – Lauren Gonzales

-

This Was Once Home to Many (Italy)


Student of Rob Coyle and Buck Buchanan

Second place – Anastasia Cowen - Counting Days (Poland)
Student of Thomas Kelly and Hoyt Devries
Third place – Cody Brautigam - Amalfi Coast (Italy)
Student of Rob Coyle and Buck Buchanan
2016 Winners
First place – Chelsea Narrow - Swedish Waltz (Sweden)
Honorable Mention for Exploration
Student of Rob Coyle
Second place – Mario Torres - Rhythmic Motion (Belize)
Student of Buck Buchanan
Third place – Camila Téllez - Je Suis Charlie (Germany)
Honorable Mention for Stinging Past
Student of Kelly Schimmel
2015 Winners
First place – Ala'a Ibrahim - Tears Frozen in Time
Second place – Alejandro Ezquerra - Music from Other World
Third place – Skyeler Aguado - The Tico Life
2014 Winners
First place – Jennifer Moore - In the Hopper
Second place – Silvia Pineros - Rain, Rain, No Sprinkles
Third place – Jamie Hackbarth - Got Volcano?
2013 Winners
First place – Elizabeth Villarreal - Tanzanian Best Soccer Player
Second place – An Nguyen - Anchoring on Serenity
Third place – Stephanie Hernandez - Maasai Young Lady
2012 Winners
First place – Marilyn Ferguson - Ancient Walmart
Second place – Alex Tompkins - The Rainforest
Third place – Mamisi Gordon - Praying or Peddling
2011 Winners
First Place – Michelle Martinez, Time Left Standing
Second Place – Jassir Hernandez, Yellow Mountain
Third Place – Martha Ocampo, Belly of Hongcun
2010 Winners
First Place – Lindsay Green, Footprints on the Sands of Time
Second Place – Kate Anderson, Vatican Museum Staircase
Third Place – Meredith Thibodeaux, Stopped Motion
International Flavor of Houston Photography Contest - Spring 2010
First Place Winner

– Abbas Batliwala, "All For a Cause"

Second Place Winners – Ashley Richardson, "At a Stand Still"
Third Place Winners – Randy Olive, "Tu Bi Quan Am Dao Trang Temple"
Contact the Friends: fol.lsc.cyfair@gmail.com

The LSC-CyFair Branch Friends of the Library operate under the auspices of the Lone Star College Foundation, a 501(c)(3) non-profit corporation.