LSCS Libraries
|
Research Guides
|
LSC-Kingwood Assignment Guides
|
Gulliver's Travels by Jonathan Swift - LSC-Kingwood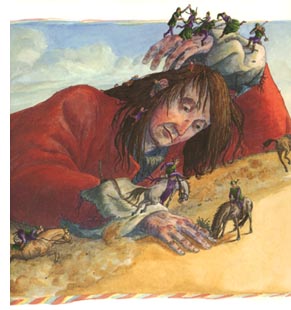 Jonathan Swift, 1667-1745
Published Gulliver's Travels - 1726
---
"Alternately considered an attack on humanity or a clear-eyed assessment of human strength and weaknesses, the novel is a complex study of human nature and of the moral, philosophical, and scientific thought of Swift's time which has resisted any single definition of meaning for nearly three centuries."

(from "Jonathan Swift: Gulliver's Travels." Literature Criticism from 1400 to 1800.
Ed. Jelena O. Krstovic. Vol. 42. Detroit: Gale, 1998. 290.)

---
Jonathan Swift wrote Gulliver's Travels in the 1720s when much of the world was not yet discovered. The novel takes place from 1699 to 1715. Gulliver, a surgeon, narrates his voyages to foreign lands and calls them "Travels into Several Remote Nations of the World In Four Parts...by Lemuel Gulliver." The novel is known as a classic children's story. It was originally received by audiences as merely an exciting adventure. People of this era enjoyed reading literature about travel into unknown lands.
On another level, the novel is known as a political satire. Different interpretations have occurred over the years as people discovered analogies between the historical and political events of the eighteenth century and the events in Gulliver's Travels. The novel was censored at times in the 1800s. Critics over the centuries have differed on whether Swift reflected his own views on subjects such as politics and religion or whether these are only the views of his fictitious character Gulliver.
Librarian talk . . . About Getting Started!
As you begin, narrow your topic to a size that you can manage. Consider keywords that will help you find the information you need. These can be names of people, literary works, events, or broader identifying terms. Use these keywords for locating information in the library catalog, electronic databases, and on the internet.
Topics to Consider
utopia / the perfect or ideal society political satire religious satire culture / traditions or customs science / uses of technology the individual versus society might versus right limits of human understanding
comparing the ideals / beliefs of Gulliver and Swift
Suggested keywords: Gulliver's Travels, Gulliver, Swift, criticism, satire, politics, religion, travel...think of other keywords related to your theme and combine them to narrow your search.
---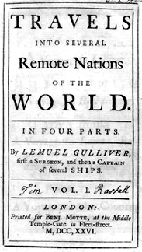 Books
Librarian Talk . . .About Books!
Apply online for a library card. Use the barcode number from your Lone Star College ID or library card to:
1) Place a Hold on a bookin the library catalog and have it sent to the library closest to you
2) Access journal and reference databases from home, and
3) Access e-Books from NetLibrary.
4) You instructor may placed books on reserve - ask at the Circulation Desk or search for Reserves in the Library Catalog
The catalog is online.
Online or e-Books are available at NetLibrary. Use the barcode number from your Lone Star College ID or library card to log in from off-campus.
Reference Books
REF CB411.S8 - Studies in Eighteenth-Century Culture
An annual publication indexed in MLA International Bibliography. There are essays about this novel in volumes 12 & 21.
REF PN86.L53 - Literature Criticism from 1400 to 1800, Volumes 1 & 42
A multi-volume set containing critical excerpts about literary works from scholarly articles; sample critical writing about Swift over the years.
REF PN523.W67 - World Literature Criticism, Volume 6
A multi-volume set containing information on authors and their literary works with critical excerpts.
REF PN3385.N68 - Novels for Students, Volume 6
A multi-volume set of general information on novels, containing information such as author biography, characters, themes, author's style, and the time period.
Author Biographical Books
REF PR85.B688 - British Writers, Retrospective Supplement I

REF PN41.D5 - Dictionary of Literary Biography, Volume 101
---
Journal Articles
Librarian Talk . . . About Finding Journal and Newspaper Articles!
Electronic databases are purchased by the libraries for your research use. To find articles in newspapers and journals, letters, reference books, illustrations, photographs and more, use your updated library card to login to the following databases. If you find an interesting article that is not full-text, please give the correct bibliographic information to our Reference Librarians and they will see that you get the article. They will need full bibliographic information - and your name and address. Send your phone number as well, so they can contact you if they need to. There is some overlap of articles in the following databases. However, we encourage you to use more than one. All are excellent sources for this topic.
HINT: For a full list of article databases, go to http://www.lonestar.edu/library/article-databases and use the barcode number from your Lone Star College ID or library card to login from off-campus.
Includes reference articles as well as some full-text journal articles and criticism.

MLA International Bibliography can also be linked to through the Literature Resource

Center. By using this online index, you can retrieve full-text critical essays.
Index to journal articles, many full-text and older articles you may not find elsewhere.
Index to journals articles, many full-text. While similar to Proquest, it may contain different articles.
Information about the author and other famous people who may be represented in Gullivers Travels.
Search or browse the complete back issues for scholarly journals in literature, economics, history, social sciences, science and mathematics. The most current issue available is determined by publisher agreements and varies.
---
Gulliver's Travels & Jonathan Swift on the Internet
Librarian Talk . . . About the Internet!
The Internet will be a wonderful source of original documents. Browse the sites we have suggested below. Remember, you do want to find reputable sites. Look at:
Accuracy - The information should be researched and show proof that it has been.
Source - Who wrote the information? Look at the domain. .edu .gov. org .net are valid research sources.
Authority - What are the author's credentials? (Don't quote from another college freshman's paper.)
Coverage - Does the page have the information you need for your research?
Objectivity - If a work is biased, use it - just make sure your professor knows YOU know. And offer both sides of issues, where applicable.
The following sites have been reviewed by librarians at the college:
Gulliver's Travels by Jonathan Swift--created by Lee Jaffe, librarian, UC-Santa Cruz.
Contains links to dictionary annotations for terms in the novel, bibliography of works related to Jonathan Swift and Gulliver's Travels, texts, background information, quotations, timeline of events relating the novel, Swift's life, and the time period.
Full-text version of Gulliver's Travels--also from Lee Jaffe's web site.
Please note comments about the version used for this text if you utilize this.
The Victorian Web--from the National University of Singapore.
Includes author Jonathan Swift (although he wrote before the Victorian era)--information on his biography, works, political and social history, attitudes about science and religious beliefs.
---
About the Eighteenth Century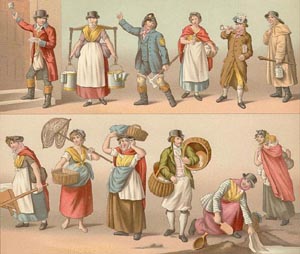 The 18th century had many significant political and religious conflicts, such as the Tories vs. the Whigs (political parties), Catholics vs. Protestants, war between England and Ireland and a simultaneous war between England and France, and controversy over the ruling of Ireland. Swift was born in Ireland in 1667, but spent many of his adult years in England. He returned to Ireland in his mid-40's, becoming an advocate for the independence of Ireland. Gulliver's Travels was published after Swift's return to Ireland.
An understanding of the time period when Gulliver's Travels was written as well as when it takes place may be helpful in writing your paper. You may want to utilize the following resources to further study 18th century history, politics, and religion.
REF PN50.M625 - World Literature and Its Times, Volume 3 - This multi-volume series gives a broad overview of the novel's plot and political and historical events of the time periods when the novel takes place.

Chronology of Gulliver's Travels -website created by Lee Jaffe, librarian, UC-Santa Cruz. This timeline chart compares events in Swift's life, events in the novel, and events of the time period.

Eighteenth Century Resources - website created by Jack Lynch, asst. English professor, Rutgers University. Site provides links to websites for 18th century information, including British history, literature, religion, and other areas.
---
GETTING HELP FOR YOUR ASSIGNMENT

Librarian Talk about getting help!

Support for a successful paper is more than finding the right resources. Putting it all together takes time and effort. Sometimes it takes additional help from the librarians or tutors. Please consider the following resources if you need additional help. Remember, the expert on the assignment is your professor; use your LSC Online in-class email to contact them.

Citing Sources Using MLA Style | Lone Star College-Kingwood Library guide. Examples of both paper and electronic citations.

Avoiding Plagiarism | Excellent information and guide on how to avoid plagiarism from the Online Writing Lab (OWL) at Purdue University.

University of Texas Copyright Crash Course | This helpful guide on copyright is suggested by Lone Star College-Kingwood Teaching and Learning Center.

The Learning Center | Check the TLC hours for in-house tutoring.
---
Lone Star College-Kingwood | LSC-Kingwood Library | Write us
Page by Carolyn Harty, May, 2003. Updated 07/09 HB.