Poet Laureate 2011 - Chelsey Hayes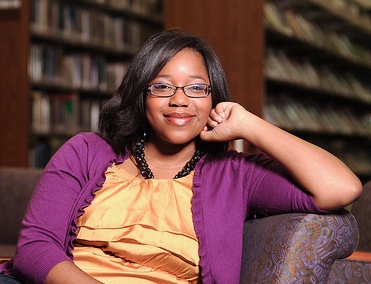 Chelsey Hayes has been chosen as the 2010-2011 Lone Star College – North Harris Student Poet Laureate. She came to the North Harris campus in 2008 after her graduation from high school. Chelsey has written imaginative stories since she was a child and even traded add-on stories with her best friend. She would write a portion, and then give it to her friend to add more, then take it back to continue where her friend left off.
English has always been her best subject, but Chelsea was not a fan of poetry until her sophomore year in high school when a teacher had the class study poetry. It was then that she was introduced to Robert Frost and Maya Angelo which changed her perception of poetry. She got inspiration from "The Road Not Taken". She began writing her own poems and wanted to share her new passion with her fellow students. Her junior year, she founded and was the first president of "Poetically Inspired" , a poetry club intended to change the perception of what poetry is for other students and inspire them to write or read poems.
Chelsea feels poets are vulnerable when they write because they allow other people into their minds and thoughts.
Chelsea intends to complete her AA degree at North Harris College next year. She will then attend Sam Houston State University with a major in journalism. She would love to write about fashion, sports, politics, and many other topics in print format.
---
New Poem
Welcome Back
By: Chelsey Hayes
The fall semester is long gone
and the spring semester is here at last
what a joy it is to see a campus full of scholar students and faculty staff
whom are greeted by banners that say, "Welcome Back"
Familiar faces
some are old and some are new
we are alike in many ways because an education is what we strive to pursue
college shall open doors of opportunity for me and you as we prepare for the future
Welcome back!