Natalie Angel - Poet Laureate 2012
Natalie (Natti) Angel has been chosen as the 2011-2012 Lone Star College-North Harris Student Poet Laureate. Natti came to the North Harris campus in the fall of 2010 several years after completing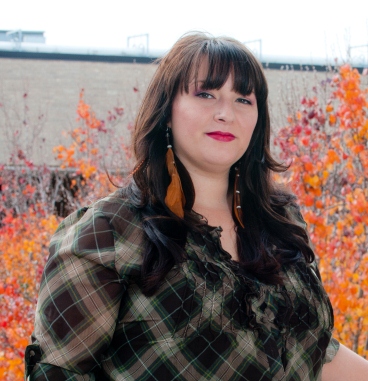 high school. Natti has been writing poetry since fifth grade. When she was a teen, she went through a difficult emotional time and found that writing poetry helped her to deal with those emotions in a positive way. Poetry made her feel serene and calm and helped her have a better outlook on life. Her ten year old son has been a great motivation for her and an inspiration for much of her poetry. She wants him to know that "there are no closed doors; there are always doors to open." She wants to encourage him not to let difficulties stop him from accomplishing the things he desires.
Natti has a passion for anything artistic. She loves photography, painting, sculpture, and crocheting; and she continues to sculpt, paint and crochet. As a hairdresser for 13 years, Natti especially enjoys the color aspect of her work – anything that imparts or enriches hair color.
After her years at Lone Star College-North Harris, Natti intends to transfer to a four year university and eventually get her Master's degree in seismology. She used to live in Oregon where there were occasional earthquakes that were "both terrifying and exciting." Studying and working in seismology would give her the opportunity to learn more about earthquakes.
Natti and her son do a lot of volunteer work: food drives, Toys for Tots, and doing "Cut-a-thons." Natti started doing "Cut-a-thons" in Oregon where she would provide a haircut for a donation for children's toys at Christmas. She has continued this idea here in Texas.
Natti is very excited about being the 2011-2012 Lone Star College-North Harris Student Poet Laureate and is looking forward to sharing more of her poetry with others during this year.
---
Reach for the Stars
All these accidents that happen are not coincidence
You've escaped the warning signs
Welcome to ambivalence
The commotional landscapes reach out for you
Run faster and toss their scaly vines aside
You already knew what to do, you needed no cue.
Like lightning on a stormy night,
No one can capture your image, why?
Running so hard your footsteps sound like God's knocking on the sky
The only thing in your way is all but contrite
Run faster!
Momentum increases but your breathing slows
Calmness encompasses you
The hardships are behind you now it's time to transpose
All that's left is to reach up and grasp the stars
It's already yours
Just reach it's not far
The second you let all your worries collapse
You will find that the world will do nothing but gasp.
All your achievements and all your yearnings
Were the things inside that made the wheels start turning.
---
Stronger than you
He cascaded through her memories
Pacing like a hyena ready to attack
Watch him move with such grace and ease
Only love does his soul lack
Another day she wanders alone at night
Believing all she said was right
Carelessly parading with no care on her sleeve
She left them all without overlooking her creed
Silence sings lonely songs
When lovers hearts to break
A wall built up to harbor their wrongs
A fake persona is all they create
Wither away the time and pain
Days will show there's nothing left to gain
When lover's quarrels are unjustified
Only to oneself, have you lied.
---
The reason to go on
Reach up to graze the inevitable
Alone I stand and wait in the harsh wind
Trapped in a hard core paradise
Like a daze I watched it come to an end
I'll stand and wait till I see its light
Wind whipping through my long blackened hair
Where is the next step? Will I have to fight?
Surrounded by darkness I barely have a care
Winds speeding and surrounding me
Where are you!
I'm alone in this place! Come set me free!
Like a slow motion black and white movie I stand with no cue
It's all I need but it keeps passing me by
Scared and desolate I drop to my knees to pray for my next chance
Quietly I hug myself whispering why?
In the darkness I close my eyes and feel my hair like a lance
I listen
I choose to ignore the world and hear its pulse radiating through me
I scream
YOU ARE ALL I NEED!
Nothing
The dark stops,
The wind ceases,
The splashing subsides.
My brown hopeless eyes open to see it staring back at me
One step at a time I tiptoe towards my visitor that has come to set me free
With amazement
I stare back at myself
I am my own accomplishment
I am my vision, I am my dream
I was all I needed