Student Library Advisory Club
Mission
The mission is to provide input and student perspective to assist the LSC-North Harris Library in responding to the changing information needs of 21st century students.
Goals
Respond to various surveys on topics related to library resources, services, and image
Provide insight into the study habits of our student population
Solicit input from peers via polls or other means of communication on various topics
Provide suggestions and recommendations for improving services and resources
Work with library faculty and staff to shape the LSC-North Harris library into a 21st century library
2013-2014 Major Accomplishments
Group provided feedback on the use of the Aurasma app for student engagement in an Academic Integrity workshop. Reported positive feedback.
Group provided feedback on the use of interactive activities in D2L using SoftChalk and StudyMate. Made recommendations and reported positive feedback.
Group piloted Library 101, and reported positive feedback.
Group piloted the 3D printer and provided recommendations for marketing.
Members from SLAC assisted with campus outreach services during Senior Star visits.
2012-2013 Major Accomplishments
From one of their recommendations, we increased marketing to include a captive audience in restroom stalls.
Group provided feedback on the current state of library e-books, and created an E-Book survey.
Group provided feedback on the furniture, carpet, and decor.
Group provided feedback on the main Library page redesign.
Increased marketing to include in-house promotion of our services on every Library Student Research computer with a customized desktop background.
Explored and provided very positive feedback on NBC Learn and Films On Demand on mobile devices.
Piloted and tested instructions on accessing our e-book collection on Kindle Fire devices.
2013 Club President, Lorinzia Hannah, interviewed the 2013 Student Poet Laureate, Imani "Clio" Lang.
2014-2015 Meetings are planned from 12:00pm to 1:00pm at the North Harris Library, Room LB305
September 25, 2014
October 30, 2014
November 20, 2014
January 29, 2015
February 12, 2015
March 26, 2015
April 30, 2015
Contact Norma, club advisor for more information.
E-mail: norma.a.drepaul@lonestar.edu
Phone: 281-618-5487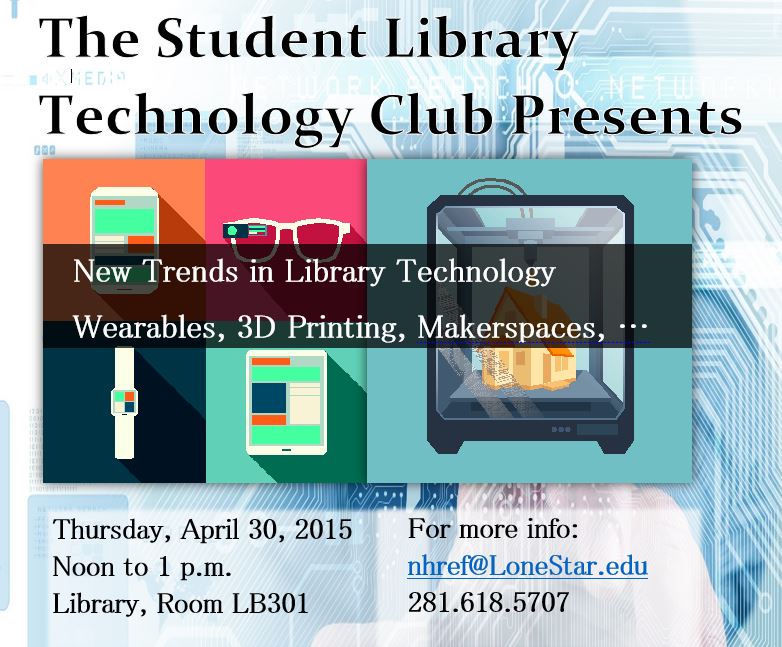 Presentation slides: http://opn.to/a/yEqJl
---

281.618.5707

nhref@LoneStar.edu


281.901.0285


Consultation