OER and Open Access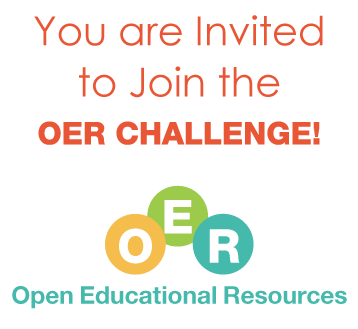 What is the challenge?
By the end of the Fall semester you have either:
Used an OER in your fall course instructions, or
Developed a plan to use an OER in future course instruction
Sign up and join the Challenge!
Challenge is being sponsored by the LSC-North Harris Library and LSC-Online, with collaboration from Faculty Staff Center and Adjunct Center of Excellence.
Contact Christine Ramsey for information on the challenge.
Christine.D.Ramsey@LoneStar.edu
281.618.1185

The Open Access and the Open Education movements call upon professors and institutions to more readily adopt open textbooks in order to alleviate some of the cost for college students.
Use repositories below to find appropriate course open textbooks/books:

Learning objects can range from images, audio, course readings, textbooks, simulations, games, assessments, and virtually any digital object that can be used for teaching and learning.
Multidisciplinary
Applied Technology
Wisc-Online - Technical (automotive, electrical, engineering, fabrication, machine tool, safety, welding, and much more)
Images/Audio/Misc
Science and Math



What are Open Educational Resources?
Resources that can be used for teaching & learning with little or no cost, and free from most copyright restrictions.


Let us know your thoughts and experience with OERs!
Take Our Survey!
For a quick overview, read "7 Things You Should Know..." or watch: