Prom Closet, Dress Give-Away - LSC-CyFair
PROM CLOSET 2016
Dates for open houses now posted, below and fliers in library.
Donations (must be in perfect condition) accepted all year long.
CELEBRATING 12TH ANNUAL PROM CLOSET
at the Lone Star College-CyFair Branch Library, 9191 Barker Cypress Rd., Cypress, TX  77433
Since 2004, started by CyFair ISD senior LaShanta Green, Lone Star College Teen Librarian Elise Sheppard and LSC-CF Friends of the Library President Nancy Flanakin.
For teens who are unable to afford to buy a dress or for those on a tight budget. *A dress is free & for you to keep.

Donations accepted all year long. WE ARE LACKING IN DRESSES SIZE 18 AND UP.

Sponsored by the Lone Star College-CyFair Branch Library, Friends of the Library, and the Harris County Public Library System.
Photos from the 11th Annual Prom Dress Give-Away, Spring 2015 
If you need a prom dress
Contact:
1. The Youth Service Specialist at your high school
or
2. Prom Closet organizer directly: LSC-CF Teen Librarian Elise Sheppard at 281-290-5248, elise.j.sheppard@lonestar.edu
RULES & REGULATIONS
*Due to the large number of people who attend the event and for chaos not to ensue, it is important that everyone follow some simple rules, be respectful of others, and not to feel entitled. The rules and regulations are linked here and are posted in front of the event room on the dates listed below. We sponsor the event so that young women (not their moms) on a budget can hopefully each find one free dress in order that they can attend and enjoy their proms. For those who cannot or who are unwilling to follow the rules, you will have to leave the event sans dress. Thank you for your consideration and your help in continuing the Prom Closet.
Dates - Open Houses
Flier (PDF)
Can accommodate first 100 girls in line each day.
No registration, first come first served.
Large groups, please contact Elise in advance.
This is a free service - please be respectful.
While supplies last. Limited in Plus sizes.
| | | |
| --- | --- | --- |
|  Saturday or Sunday Dates: | Times:  | Location at LSC-CF Branch Library  |
|  Sunday, February 7 |  1:30 - 4:30pm |  Library Meeting Room 131 |
|  Saturday, April 2 |  1 - 4pm |  Library Meeting Room 131 |
|  Sunday, April 3 |  1:30 - 4:30pm |  Library Meeting Room 131 |
|  Saturday, April 16 |  1 - 4pm |  Library Meeting Room 131 |
|  Saturday, April 23 |  1 - 4pm |  Library Meeting Room 131 |
If you need a tuxedo for prom
Project TuxUp is a free program based on need for young men to receive a complete tuxedo set for prom. The program is sponsored by Career Gear Houston. Please see fliers below or email: mailto:tuxup@careergearhouston.org?Subject=Project%20TuxUp.
Career Gear - TuxUp Application (PDF)
Career Gear - Project TuxUp Information (PDF)
Donations: Please contact Career Gear.
To donate a dress and accessories
All dress sizes: 0 - 30 (Please donate plus-size dresses!)
Accessories: Shoes, handbags, jewelry, hair pieces, shawls, new and unused make-up and toiletries, etc.
Perfect condition: Clean (but not necessarily dry-cleaned), undamaged, stylish, no velvet!
Delivery instructions: Take donations to Lone Star College - CyFair Branch Library Circulation/Customer Service Desk anytime the library is open. If you do not live in the LSC-CF area, please contact Elise to make arrangements. It might be possible to drop them off at a Harris County Public Library branch , but arrangements have to be made first. Dresses and accessories are accepted all year long.
Thank you for helping a young woman attend her prom, military awards banquet, musical performance and other special occasions.
Thank You!
Thank you to the many individuals, companies and organizations who volunteer their time to help organize the dresses, assist the young women in finding the perfect gown and donate gift cards, gift baskets, dresses, accessories and beauty services. 
Many beautiful dresses, prom shoes and services have been generously donated by the following stores and companies:
Chick-fil-A, Copperfield, TX
Eesh Formals, Houston, TX
Mary Kay Beauty Consultant, Katie Prewitt, Cypress, TX
Angel Gowns By Diane, Katy, TX
The Awty International School, Houston, TX
Girls of Grace, Sweet Me Retreat, St. Mary's Episcopal Church, Cypress, TX
Peter Piper Pizza, Houston, TX
The Look Salon, Houston, TX
Follett Bookstore, Lone Star College-CyFair, Cypress, TX
Best Choice Fashion, Houston, TX
Charming Charlie, Houston, TX
TV & Newspaper Interviews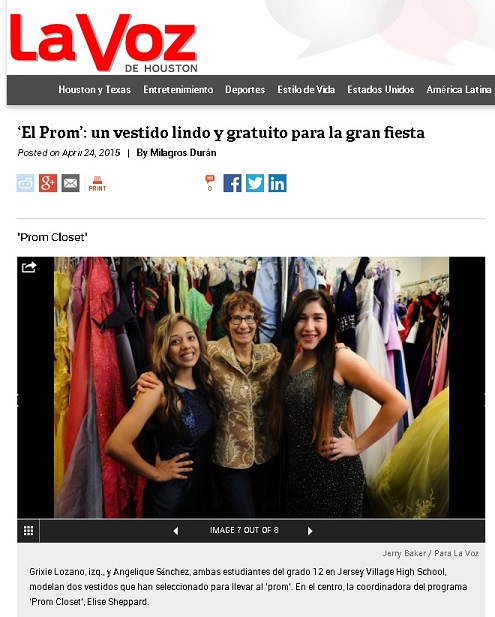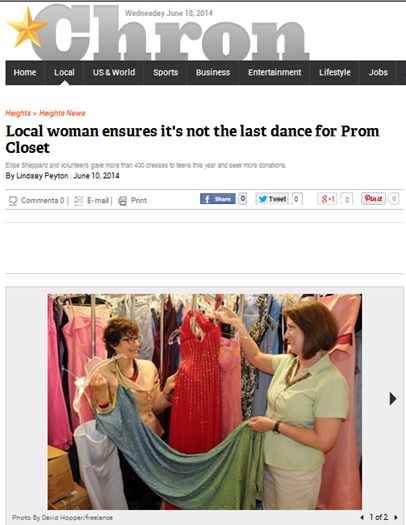 ---
Contact the LSC-CyFair Library: chat | e-mail | voice - 281.290.3214 | text - 832.463.0478 
Maintained by: E. Sheppard-Teen Librarian 
elise.j.sheppard@lonestar.edu or 281-290-5248