Friends of the Library - Traveling Book Bag Adventure Contest - LSC-CyFair
Past Book Bag Contest Winners Below!
Click on the photos to enlarge and view names of winners.







Join the Friends and Take a Photo with Your New Book Bag!
Travel This Summer and Take Photos for the 2014 Contest!
Deadline is May 1, 2014!
Going on vacation to far away destinations? Staying close to home and visiting local attractions? Share the adventures and take the Friends with you! While you're having fun, capture a memory and enter to win a prize!
Join the Lone Star College-CyFair Branch Friends of the Library and get a free red or blue book bag to take your reading wherever you go - a Traveling Book Bag! If you are interested in sharing your experiences, snap a picture of you and your book bag:
At exotic locations
On a cruise
At the zoo
On a camping trip
Visiting relatives
At a destination of your choice
Fill it with books, snacks, water bottle, or eBook tools such as a laptop or iPad! The zipper keeps everything safe inside and is moisture proof, too.
Don't miss this opportunity! Join the Friends to be eligible to enter the Traveling Book Bag Adventure Contest. Forms are available in the Friends Bookstore located in LRNC 130 in the library lobby, also.
Entry Details:
Please return the contest form with your printed photo(s) to the Friends of the Library Bookstore during regular operating hours.
Or you may complete the contest form electronically, save a copy, and attach the form with your photo(s) to an email to fol.lsc.cyfair@gmail.com.
If you want your photo to appear on the Friends website, submit a digital copy using instructions above and check the "yes" box under "authorization to post" on the form.
The 2014 deadline is May 1. Three winners will be selected by random drawing and will receive a travel book and a $25 Barnes and Noble gift card.
Enter the Contest!
Traveling Book Bag Adventure Contest Entry Form
(PDF)
The New Deadline is May 1, 2014!
Join the Friends by completing a membership application (PDF)!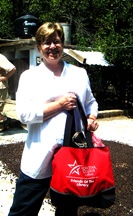 Friends Chairperson Joan Everson, at Altura coffee plantation, in San Sebastián del Oeste, Jalisco, México.