September 16-Novmber 12 - Bookshelf & Events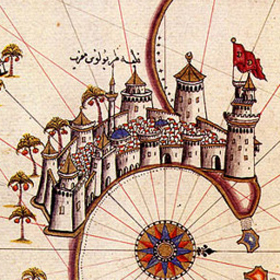 Credit: Map of the Fortress of Tripoli and the Surrounding Area (detail), folio from manuscript W.658, Piri Reis (Turkish, 1465-1555), late 11th century AH/AD 17th century-early 12th century AH/AD 18th century (Ottoman) at http://art.thewalters.org/detail/79870/map-of-the-fortress-of-tripoli-and-the-surrounding-area/, Creative Commons License, Walters Art Museum, Baltimore.

Bookshelf
LSC-CyFair Library is proud to announce it is a 2013 recipient of the Bridging Cultures Bookshelf: Muslim Journeys grant, sponsored by the American Library Association (ALA) and the National Endowment for the Humanities (NEH). Grant materials were curated to facilitate "...exploring new and diverse perspectives on the people, places, histories, beliefs, and cultures of Muslims in the United States and around the world." -- NEH
The complete list of twenty-five books and three DVD's awarded to the library is available here along with background information about the title and author. All items in the collection will begin circulating to students and the public on Monday, September 16. A variety of events & programs highlighting grant materials will begin Thursday, September 19, including book discussions, film showings and cultural presentations. View the full schedule below.
Events & Programs
CyFair
Thursday, September 19, 1:30-2:30pm, LRNC 215 - Books Without Borders Book Club: When Asia Was the World by Stewart Gordon - Facilitated by Robert O'Brien, faculty

Wednesday, September 25, 10:00-11:00am, LRNC 131 - LIFE Workshop: Islamic Calligraphy - Fahim Somani, calligrapher and mixed media artist
Fahim Somani, calligrapher and mixed media artist, demonstrates this fine art and its role in Islamic culture. Visit http://www.fahimsomani.com/ for more about the artist and his work.

Tuesday, October 1, 11:00am-12:00pm, LRNC 131 - Lecture & Discussion: Islam and Democracy - Sophia Mrouri, faculty
tba from Sophia

Wednesday, October 9, 1:00-3:00pm, LRNC 131 - Film & Discussion: Koran by Heart - Hosted by Dorrie Scott, librarian/faculty
Follow the journey of three ten year old students who travel to Cairo to compete in the International Holy Koran Competition.

Saturday, October 12, 11:30am and 12:00pm, Library 1st floor - Cultural Dance Performance - Ismaili Muslim Community Centre
Join us for a medley of cultural dances from Muslim countries around the world. Performance at 11:30am and an encore at 12:00pm.

Monday, October 14, 10:00am-12:00pm, LRNC 131 - Film & Discussion: Islamic Art: Mirror of the Invisible World - Hosted by Patsy Brautigam, librarian/faculty
This visually dazzling documentary, narrated by Susan Sarandon, explores the development of Muslim art, crafts, and architecture over nine countries and 1400 years of history.

Wednesday, October 30, 2:30-3:00pm, LRNC 131 - Lecture & Discussion: East West Connections in Ceramics - Suzanne Shield-Polk, faculty
tba from Suzanne.
Tuesday, November 12, 1:00-3:00pm, LRNC 131 - Film & Discussion: Prince Among Slaves - Hosted by Tracy Williams, librarian/faculty
In 1788, a group of West African men are captured, sold to British slave traders and transported to America. Among them: Prince Abdul Rahman. Prince Among Slaves is the story of the dignity and hope of a young man who never gave up on reclaiming his title and returning home.
Fairbanks
10/10, 12:00-1:00pm, Fairbanks 106 - Lecture & Discussion: Islam and Democracy - Sophia Mrouri, faculty
tba from Sophia
---