February 1-28, 2013 - Display & Events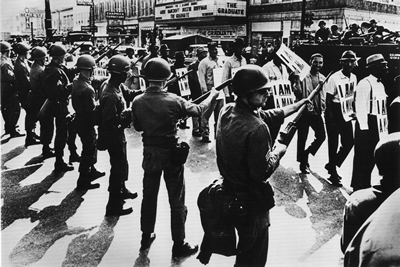 Photograph courtesy of the National Civil Rights Museum and Archives, Memphis, Tennessee.
Exhibit
February 1-28
The Road to the Promised Land: Martin Luther King, Jr. and the Civil Rights Movement
Location: Library First Floor
The display features photographs, facsimiles of landmark documents, and quotations by Dr. King and others engaged in the struggle for civil rights. It covers the emergence of Martin Luther King, Jr. as a civil rights leader in the Montgomery bus boycott of 1955 through the 1990s.
Programs
February 4 at 11:30 a.m. in CASA 110 – I Had a Dream: A Conversation with a Friend
During a dream, Dr. Martin Luther King, Jr. meets actor Gregory Gibson Kenney at the Lincoln Memorial. Dr. King shares four speeches, how he wishes to be remembered, and how fear is no longer a factor in Dr. King's survival. Mr. Kenney portrays both Dr. King and the narrator.

February 13 at 10:00 a.m. in LRNC 131 - Jobs . . . Peace . . . Freedom
Professor James T. Jones of Prairie View A&M revisits the historic civil rights march on Washington including the famous "I Have a Dream" speech by Dr. Martin Luther King, Jr.
February 20 at 6:30 p.m. in the Kids' Corner – Tween Book Club Reads and Discusses Bud, Not Buddy by Christopher Paul Curtis
Registration must be in person starting January 16. The group will consider how the book depicts the Civil Rights Movement and will tour the exhibit located in the main area of the library.
February 25 at 3:30 p.m. in LRNC 131 – Film Showing and Book Discussion
From director, Spike Lee, this dramatic motion picture depicts the interactions of several African-American men as they travel by bus to the Million Man March in Washington, D.C. The group will also consider two books that examine the 1963 March on Washington for Jobs and Freedom – Like a Mighty Stream: the March on Washington, August 28, 1963 and Behind the Dream: The Making of the Speech that Transformed the Nation. Facilitated by Robert Holmes.
These programs are made possible in part with a grant from
Humanities Texas
the state affiliate of the National Endowment for the Humanities.
---