LSCS Libraries
|
Research Guides
|
LSC-Kingwood Library Assignment Guides
|
Beloved by Toni Morrison - LSC-Kingwood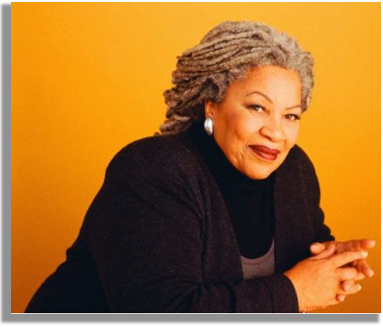 Assignment Guide
"In all of Baby's life, as well as Sethe's own, men and women were moved around like checkers. Anyone Baby Suggs knew, let alone loved, who hadn't run off or been hanged, got rented out, loaned out, bought up, brought back, stored up, mortgaged, won, stolen, or seized. So Baby's eight children had six fathers. What she called the nastiness of life was the shock she received upon learning that nobody stopped playing checkers just because the pieces included her children."

~ Morrison, Beloved
Written in 1987, Beloved is Toni Morrison's fifth novel. It was inspired by an actual historical incident, the true story of Margaret Garner, a runaway slave who attempted to murder her children rather than allow them to be captured and sent back into slavery. It told the horrible story of families where children were separated from their mothers, and wives from husbands.
She is the Robert F. Goheen Professor of the Humanities at Princeton University. She was the first African American and only 8th woman to earn the Nobel Peace Prize. The National Book Foundation honored her in 1996 with Medal for Distinguished Contribution to American Letters.
Morrison has said that "fiction should be beautiful, and powerful, but it should also work. It should have something in it that enlightens; something in it that opens the door and points the way. Something in it that suggests what the conflicts are, what the problems are. But it need not solve those problems because it is not a case study, it is not a recipe." (Novels for Students).
Librarian Talk . . . About Getting Started!
As you begin, decide on your topic and write a draft of your thesis statement. This will help keep you on track as you discover research materials. Consider keywords that will help you find the information you need. These can be names of people (author, characters, settings), themes, literary works (Beloved as a subject) genres or broader identifying terms (African American Writers) Use keywords for locating information in the library catalog, electronic databases, and on the Internet.
---
The novel:
The novel weaves Sethe's memories of past and the present to produce the portrait of a black family's struggle with the devastating and inescapable effects of slavery. Her ideas of time are expressed as "rememories." Sethe's notion of time helps to create the structure for the novel.
Many years after Sethe had escaped from Sweet Home, Paul D. comes to Ohio looking for Sethe. Sethe had been pregnant with her fourth child when Paul D. had helped Sethe escape from Sweet Home. Sethe's three older children had escaped earlier with Baby Suggs, their grandmother, and settled in Ohio. Sethe joined them there. Shortly after giving birth to her fourth baby, Schoolteacher, the cruel slave overseer at Sweet Home tracked down Sethe with the intention of taking her and the children back to Sweet Home. In order to keep the children from slavery, Sethe attempts to kill them. The oldest girl (her third child) dies, but the other three children and Sethe live. Paul D. finds them in Ohio and befriends Sethe and her children. Paul and Sethe go to a carnival, they return to find a sickly young woman on the steps of the house. The mysterious young woman, named Beloved, can recall little of her past. Much of the story evolves from this point.
Characters:
Sethe - the central character. Mother of Howard, Buglar, and Denver. Formerly a slave at Sweet Home, in Kentucky.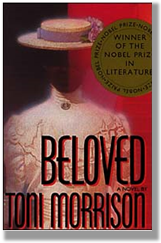 Denver – Sethe's daughter, the baby she was pregnant with when she escaped rom Sweet Home.
Paul D. a friend of Sethe's from their years as slaves on a Kentucky Plantation
Beloved – a strange young woman who appears on Sethe's doorstep many years after Sethe's escape from slavery. Also the name on the grave of the daughter Sethe killed when Schoolteacher came after her.
Baby Suggs – also known as Jenny Whitlow, she is Halle's mother.
Halle – Baby Suggs' son and Sethe's husband. He is the father of Sethe's children.
Stamp Paid – a black man who helped Sethe and her children get to Baby Suggs
Miss Bodwin - one of the abolitionist siblings who provide Baby Suggs with a house and a job after she is freed from Sweet Home
Schoolteacher - Overseer at Sweet Home after Mr. Garner dies
Buglar – Sethe's second son
Howard - Sethe's oldest son
Jenny Whitlow – Baby Suggs.
Lady Jones - Denver's school teacher, a light skinned black who received her schooling in Pennsylvania
Nelson Lord - a boy in Denver's class with Lady Jones
Setting: Reconstruction Ohio – post Civil War || Baby Suggs' house - 124 Bluestone Road in rural Ohio
Themes:
The importance of family and community || The quest for individual and cultural identity || The nature of humanity || The dehumanizing effects of slavery
Topics: Race and racism | Freedom | motherhood or mother love | memory and reminiscence | Loss and grief | humanity | slavery | family and community | mental and emotional scars of trauma | hope | loneliness | destruction of the bond between parent and child | KKK | developing a sense of self
Point of view: Mostly third person narration, but it changes from section to section, sometimes from person to person within the section.
---
Books: A great place for background, an overview and finding a topic
Librarian Talk . . . About Books!
Many books are available both online and in the library. So much has been written about this novel, books will be one of your best resources. Search multiple times, using different keywords.
Apply in the library or online for a library card. Use your card to:
1) Place a Hold on a book and have it sent to the library closest to you, 2) Access journal and reference databases from home, 3) Access Online Book Database (eBook Collection).
The catalog is online.
Online books are available at eBook Collection. Use your library card to log in. Search Morrison as a subject, then search inside the books using your keywords.
Reference books to help you begin thinking about the novel and your thesis:
PN 41 .D5 The Dictionary of Literary Biography v. 6, 33, 143 - Information about Toni Morrison as an author.
PN 771 .C59 Contemporary Literary Criticism v. 4, 10, 22, 55, 81, 87 All contain excerpts about Beloved, but the best for this novel are 55, 81 and 87 (The best)
PN 3385 .N68 – Novels for Students, v. 6 a summary of the plot, lists of characters, possible themes, and lists of other sources.
PN 50 .L574 – Literature and Its Times, v. 2 - this essay helps place the novel in the time in which Toni Morrison wrote it.
PN 153 .M56 G74 - The Greenwood Encyclopedia of Multiethnic American Literature v. 3, American authors of multiethnic backgrounds.
PS 153 .N5 A344 African American Writers, v. 2. More on Morrison's life as an author.
PS 153 .N5 O96 – Oxford Companion to African American Literature. African American authors and their works.
This list is a small selection of books about the novel, many contain critical or analytical essays on
Beloved.
Examine the shelf area near these books to find others about Toni Morrison and
Beloved
:
PS3563 .O8749 B4345 - Ghosts, metaphor and history in Toni Morrison's Beloved and Gabriel Garcia Márquez's One hundred years of solitude.
PS374 .R32 B75 Tears of Rage: the racial interface of modern American fiction: Faulkner, Wright, Pychon, Morrison.
PS3563 .O8749 B438 Toni Morrison's Beloved: a casebook
PS3563 .O8749 B434 Critical essays Toni Morrison's Beloved

---
Databases: Where to find scholarly journal articles
Librarian Talk . . . About Finding Journal and Newspaper Articles!
Electronic databases are purchased by the libraries for your research use. To find articles in newspapers and journals, letters, reference books, illustrations, photographs and more, use your updated library card to login to the following databases. If you find an interesting article that is not full-text, please contact one of the Reference Librarians and they will help you get the article. They will need full bibliographic information - and your name and address. Send your phone number as well, so they can contact you if they need to. There is some overlap of articles in the following databases. However, we encourage you to use more than one. All are excellent sources for this topic.
HINT: For a full list of article databases, go to the LSC Libraries Research Databases page and use the barcode number from your Lone Star College ID or library card for login.
Project Muse
| Begin your search by entering the title of the novel in the search box in quotation marks. Use the limiters on the left side of the screen to focus your search to Journals, full access (complete articles), or research areas. You can
Modify
a search to add keywords from your thesis - click on the + mark to add search boxes. This database is also entirely scholarly, so all articles will be of the appropriate academic level for your research.
JSTOR | Print or save full-text articles from high quality scholarly journals, generally from older issues. Use the Advanced Search page for the most productive searches. Limit your search to articles to locate analytical articles on Beloved. Focus your search results by choosing the discipline Language & Literature from the disciplines list.
Literature Resource Center | Full text articles from reference books and Twayne's Masterworks books. It also has links to some scholarly journal articles and appropriate Internet sites.
Bloom's Literary Database Online | This database is a collection of many analytical essays discussing literature. These essays, originally published in print form, are accessible now for research online. Find information about the novel you are discussing in your literature course, or read about the fascinating lives of world-famous writers-from Aeschylus to Anita Desai, from Ernest Hemingway to Émile Zola. Included are discussions of great works of literature-from influential novels, poems, and plays to important works of nonfiction.
Academic Search Complete | This large collection of journal and magazine article contains many literary journals. Limit to "Scholarly (Peer Reviewed) Journals" to locate only scholarly journals.
Films on Demand | This database of videos contains three full length films on Toni Morrison. The video titles are Toni Morrison Uncensored, Toni Morrison: A Writer's Work, and Toni Morrison: Finding Truth. Login to view the films from your computer desktop. You'll hear her speak about her own work. In these two segments of Toni Morrison: A writer's work, Ms. Morrison speaks about the incident from history which she used as the inspiration for Sethe killing her children - Sethe and Matricide.
And in this recent interview from the National Visionary Leadership Project with Ms. Morrison, she offers her own perspective on the character Sethe and the killing of her children.
---

Internet:

The Internet can be a valuable resource for your paper. Be aware that all web pages are not suitable for scholarly research. Consider the accuracy of the information, the source of the information, the credentials of the author, and the relevance of the information to your research. If you are in doubt, ask your instructor.

Librarian Talk . . . about the Internet!

The Internet can be a wonderful source of original documents. Evaluate the sites you find by looking at:

Accuracy - The information should be researched and show proof of that research.
Source - Look at the domain - .gov .edu .net .org - are domains which are frequently valid resources.
Authority- Look at the author's credentials. Don't quote from another college freshman's paper. Google the author's name to determine his level of expertise.
Coverage - Does this web page have all the information you need for your research?
Objectivity - is the site biased? It is okay to use a site with a stated opinion, just make sure your professor knows YOU understand the bias. Offer both sides of an issue if applicable.

More about finding Internet sources (25 sec.)

Nobel Prize winner | In 1993, Toni Morrison was awarded the Nobel Prize in Literature.

Conversation with Toni Morrison | Since publishing her first book, The Bluest Eye, in 1970, Toni Morrison has become one of America's premier novelists. Elizabeth Farnsworth talks with the Nobel and Pulitzer Prize-winning author about her book, Paradise.

Toni Morrison Society | Official website of the Toni Morrison Society.
---

Getting Help for your Assignment

Librarian Talk about getting help!

Support for a successful paper is more than finding the right resources. Putting it all together takes time and effort. Sometimes it takes additional help from the librarians or tutors. Please consider the following resources if you need additional help. Remember, the expert on the assignment is your professor; log in to LSC-Online and use your in-class email to contact him/her.
Citing Sources Using the Library MLA Style Guide | Lone Star College - Kingwood Library guide. Examples of both paper and electronic citations.

Avoiding Plagiarism | Excellent information and guide on how to avoid plagiarism from the Online Writing Lab (OWL) at Purdue University.

University of Texas Copyright Crash Course | This helpful guide on copyright is suggested by Lone Star College-Kingwood Teaching and Learning Center.

Learning Center | Offers tutoring services for Lone Star College-Kingwood students in most subjects as well as other services.

---

Page by Becky Bradley 12/2010 Updated by B.Bradley 3/2012
Ask Us


Reference: 281.312.1693
Circulation: 281.312.1691



Text-A-Librarian
281.973.4792


Kingwood.LRC-Ref@LoneStar.edu
---
LSC-Kingwood Library Assignment Guides | About LSC-Kingwood Library | LSCS Libraries