LSCS Libraries
|
Research Guides
|
LSC-Kingwood Library Assignment Guides
|
J. D. Salinger's Catcher in the Rye (1951) - LSC-Kingwood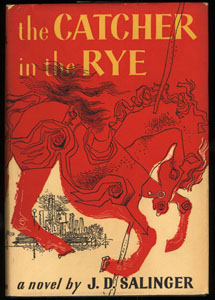 This guide will help you find information for your research assignment in both books and in electronic databases. For students at Lone Star College-Kingwood, there may be materials recommended by your professor on reserve at the Circulation Desk - ask a librarian for assistance.
---
J.D. Salinger - BIOGRAPHICAL SKETCH
J(Jerome) D(David) Salinger was born Jan. 1, 1919, in New York City, the son of a Jewish father and an Irish mother. In 1932, his family, after living in several different apartments in fashionable upper Manhattan, moved to a building located at the corner of Park Avenue and East Ninety-First Street. It was in this section of New York that Salinger was to locate the apartment of the Caulfields in The Catcher in the Rye. In 1940, he published his first story and continued providing stories for such magazines as Colliers and The New Yorker throughout the 40's. In 1942, he was drafted into the army and took part in the D-Day landing and five subsequent campaigns in World War II. In 1945, Salinger's first marriage to a French woman he met while hospitalized for a nervous condition ended in divorce. He was married for a second time from 1955 to 1967 to Claire Douglas with whom he had two children. From 1940 to 1953, he published thirteen short stories and one novel, The Catcher in the Rye (1951). There were two volumes of pirated short stories in the 1970's, but he personally published his last work in 1963. He lived the remainder of his life in Cornish, New Hampshire, where he zealously guarded his privacy and continued to write but not to publish. J.D. Salinger died on January 27, 2010 at the age of 91. Though his literary output has been sparse, he is considered one of the most influential authors of the twentieth century. The Catcher in the Rye has remained a novel taught in classrooms across the country despite its distinction of being one of the most censored books of the last fifty years.
CHARACTERS | THEMES | SETTING
Setting: The Catcher in the Rye takes place shortly after WWII, during the Christmas season in New York City, Agerstown, Pennsylvania, and a sanatorium.
---
Characters:
Holden Caulfield- a recently suspended sixteen-year old preparatory school student
Phoebe Caulfield - Holden's ten-year old sister
Mr. Antolini - Holden's favorite teacher
Sally Hayes- a slightly older friend of Holden who is his date
Robert Ackley - a resident in Holden's dorm at Pencey
Ward Stradlater - Holden's roommate at Pencey
---
Themes to Consider:
Suicide
Adolescent Behavior
Cynicism
Idealism
Censorship
Brother-Sister Relations

Pressure to Conform
Social Change
Social Class
Use of First Person Narrator
Influence of Buddhism
Antiheroes
---
FINDING BOOKS IN THE LIBRARY CATALOG


The best way to find books about Salinger's work is to
search the library catalog
. Enter
Salinger
or
Catcher in the Rye
in the
Keywords Anywhere
search box. Remember you can request books from other libraries which share our catalog: You will need the 14 digit barcode number off of the back of your student id/library card to request a book from another library. Ask a Librarian if you need help.
Librarian Talk . . .About Books!
Visit the Circulation Desk in the library to receive a photo student id/library card.
Use your card to:

1) Place a Hold on a book and have it sent to the library closest to you
2) Access journal and reference databases from home, and
3) Access e-Books from eBook Collection.

The library catalog is online.
Online or e-Books are available at eBook Collection. Use your library card to log in.
CRITICISM IN REFERENCE BOOKS FOR IN LIBRARY USE:
The Reference Area is the place to begin your research. Use some of the books listed below to get in touch with what literary people are saying about the novel.
Many of the following print materials are also available in electronic format in the Literature Resource Center. Students can access these databases from off campus by logging in with the barcode number on the back of their student ID or library card.
REF PN771 .G27, vol. 56; Contemporary Literary Criticism- This multi-volume set contains excerpts from critical essays in books and journals. Use these volumes to 1) select a topic or theme, 2) find the full article or essay in the library, or locate other articles from the "Further Reading" section.

REF PN 3385 .N68, vol 1 - Novels for Students - Entries in this multi-volume set include information on the novel, major themes, characters, and criticism.
---
Sources for more biographical information:
REF PN41 .D5, vols. 2 and 173 - Dictionary of Literary Biography - DLB is a multi-volume work which provides detailed biographical sketches of the authors' literary writings as well as general critical commentary.

REF PS129 .A55, vol 3 - American Writers - This set of books provides information about the lives, careers, and works of American writers.
---
Character Information in Books:

Note: most of the books listed throughout this page will have information about the characters in the book.
REF PS374 .C43 M35 - Major Characters in American Fiction - Entries on the most important characters.

REF PN56.4 .H37 - Characters in 20th-Century Literature - Brief information on the characters in this book under the entry on Salinger. Available for checkout.

PS3537.A426 C328 - Holden Caufield - from the series on Major Literary Characters. This book is also available electronically in eBook Collection.
---
Background Reading:
The following books will help you find additional information. Use them and find others on your own that are appropriate for your topic. Once you find a book on your subject, browse through the Reference and Circulating shelves nearby to find other books on the topic.
---
DATABASES - FINDING JOURNAL ARTICLES


Librarian Talk . . . About Finding Journal Articles!

Electronic databases are purchased by the libraries for your research use. To find articles in scholarly journals, magazines, newspapers, letters, reference books, illustrations, photographs and more, use your updated library card to login to the databases. (If you find an interesting article that is not available in full-text, please give the correct bibliographic information to our Reference Librarians and they will see that you get the article.) There is some overlap of articles in the databases; however, we encourage you to use more than one. All are excellent sources for this topic.

For a full list of subject related databases, go to the Research Databases for Literature and use the barcode number from your Lone Star College ID or library card to log in from off campus.

Literature Resource Center - Scholarly journal articles, many full text. Also articles in reference books. The best search to find criticle articles is the title search. Type in Catcher in the Rye and select "all words entered" before clicking the Search button.
JSTOR Arts & Sciences - Search and browse the complete back issues for over 117 scholarly, including many journals in literature.
Project Muse - This full-text scholarly database includes articles on literature. A suggested Advanced Article Search is for Catcher AND Salinger.
Academic Search Complete - This is another full-text multi-discipline database from Ebsco. Limit your search to Scholarly (Peer Reviewed) Journals.
Bloom's Literary Reference Online - Essays from Bloom's Criticisms and articles from reference books. Includes some journal articles.
Note: To access these databases from off campus, students may login with the barcode number from their Lone Star College ID or library card using the links above.

---
INTERNET SITES

Librarian Talk . . . About the Internet!
The Internet can be a wonderful source of original documents. Browse the sites we have suggested below. Remember, you do want to find reputable sites. Look at:
Accuracy - The information should be researched and show proof that it has been.
Source - Who wrote the information? Look at the domain. .edu .gov. org .net are valid research sources.
Authority - What are the author's credentials? (Do not quote from another college student's paper.)
Coverage - Does the page have the information you need for your research?
Objectivity - If a work is biased, you may use it - just make sure your professor knows YOU know. And offer both sides of issues, where applicable.
Catcher in the Rye | a study guide from homework-online.com. Includes summary and explanations, character analysis, and a discussion of themes, symbols, and motifs.



New York Times Topics| Source of biographical information about J.D. Salinger and links to Internet sources which discuss his life and works.



Decades 1950 | A web page on American culture in the 1950's.



Banned And/Or Challenged Books from a List of the Top 100 Novels of the 20th Century | The American Library Association marks 42 titles from this list as having been the target of ban attempts. The Catcher in the Rye is so marked.
---
GETTING HELP FOR YOUR ASSIGNMENT
Librarian Talk about getting help!
Support for a successful paper is more than finding the right resources. Putting it all together takes time and effort. Sometimes it takes additional help from the librarians or tutors. Please consider the following resources if you need additional help. Remember, the expert on the assignment is your professor; use your LSC Online in-class email to contact her.
Citing Sources Using the Library MLA Style Guide | Kingwood College library guide. Examples of both paper and electronic citations.
Avoiding Plagiarism | Excellent information and guide on how to avoid plagiarism from the Online Writing Lab (OWL) at Purdue University.
The Learning Center | Check the TLC hours for in-house tutoring.
---
Page by Bettye Sutton, 2002. Updated 8/12 LL
Ask Us


Reference: 281.312.1693
Circulation: 281.312.1691



Text-A-Librarian
281.973.4792


Kingwood.LRC-Ref@LoneStar.edu
---
LSC-Kingwood Library Assignment Guides | About LSC-Kingwood Library | LSCS Libraries