Researching a Company - LSC-Kingwood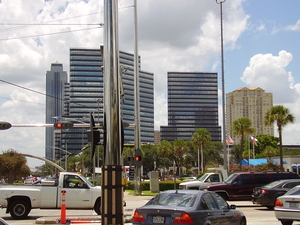 POFT 1301: Business English

The best library assignments are ones that use a variety of resources including books, newspaper and journal articles, and internet sites. We encourage you to use all of these sources for this paper. You may apply for a library card and request materials online. We hope you will take full advantage of the many resources our libraries offer. Please contact LSC - Kingwood Librarians or write to your instructor via email with any questions you may have.
---

ASSIGNMENT: Business Presentation Project




Librarian Talk About Getting Started!

As you begin, select a private or public company with headquarters in Texas. Public companies are those that appear on the major stock exchanges. Begin with a current directory in our reference collection, such as Hoover's Handbook of Emerging Companies (REF HG4057 .A33) or search a business website or database.
Select "Texas" from the list of states.

Then select a city from the list.

Companies are listed alphabetically by name for that city.

Select a company name to see basic facts and a brief description. To find more information on the company of your choice, see one of the

Business Databases

.
Requirements and Guidelines:
Written Report (100 possible points): Write a two- to three-page report on a business that has its corporate headquarters in the State of Texas. Working individually, each student is to:

Search for and select a business that is headquartered in Texas. It can be any size business.
No two students may report on the same business, and the selection is based on a first-posted basis. The earlier you select your business and post the choice, the more likely that you will be able to use your first choice. If your first choice is already taken when you go to post, you must make a new selection.
Research the company using the internet, periodicals, etc. The minimum information that the student will need to know about the business is:

Name of company and any DBA name, if applicable (5 pts.)
Physical address of headquarters/corporate offices (5 pts.)
Whether it is publicly or privately held (5 pts.)
Number of employees (5 pts.)
Description of what products and/or services it provides (10 pts.)
Description of how they conduct their business (30 pts.)

Prepare the written report with attention to properly structured and grammatically correct sentences. Utilize correct punctuation, spelling, capitalization, and appropriately used vocabulary throughout the report. (40 pts.)

Submit the report in the homework drop box for Lesson 11 on or before May 6, 2010. No late assignments will be accepted.

EXTRA CREDIT (10 pts.) will be awarded if the student conducts an interview with someone in the corporate office or headquarters. The interview can be completed via telephone, e-mail communication, or in person. Before the student conducts the interview, he or she must prepare 10 questions he or she will ask the contact person. The list of questions MUST BE submitted to and approved by the instructor before the interview is conducted. Documentation of the interview, either : 1) copies of the e-mail communication or 2) a typed sheet listing the date(s) of the e-mails or interview, name of interviewee, and notes of the conversation, including answers to the 10 pre-approved questions.

PowerPoint Presentation (100 possible points): Using the information from your written report, prepare a PowerPoint presentation.
Each of requirements listed in Section 1-c. above must be included or summarized in your presentation with a minimum of four slides and a maximum of six slides. (20 pts.)
The presentation should be visually attractive. (20 pts.)

Information must be presented using correct punctuation, spelling, and capitalization. (30 pts.) Post or turn in assignment per instruction sheet.(10 pts.)
PLEASE NOTE: Presentations that are not posted to the discussion forum will not be graded and ZERO points will be awarded for the PowerPoint presentation portion of the project – this means it is counted as a missing assignment and is given a zero in the grade book. Each student will be required to view at least two presentations posted by other students and post comments on those presentations. Comments must be of either a complimentary or constructive nature. These comments must be posted by given date in order to receive credit for this portion of you point total. (20 pts.) The Test 3 grade will be based on the percentage of the 200 possible points that you earn. For example, if you earn 190 of the possible 200 points, your test grade will be "95."
---
Librarian Talk About Books!

Online books

are available at the

eBook Collection

. Create an account to save favorite book titles and notes.Search for keywords in the text of the book to find specific pages. The library catalog will show electronic books and link you directly into that book when you are on campus, or you can search the

eBook Collection

database to locate full text online books when you are at home.

Here is a small sampling of books your library may have. These and many other very good sources of information can be found by searching the library catalog using keywords such as the company name, industry name, career title, business ratios, mission statements, etc.
REF HD30.285 .H37 Corporate statements : the official missions, goals, principles and philosophies of over 900 companies
Hard to find mission and vision statements.
REF HF1001 .E463 Encyclopedia of American Business
Information about many facets of American Business.
REF HG4057 .A33 Hoover's Handbook of Emerging Companies
Profiles of up-and-coming companies.
---
Librarian Talk About Finding Journal and Newspaper Articles!
Electronic databases are purchased by the libraries for your research use. Use them to find articles in newspapers and journals, letters, reference books, illustrations, photographs and more. Home access to article databases is available with your library card barcode. If you need assistance finding an article contact the Reference Librarians. They will need full bibliographic information and your contact information.
Remember, use the barcode number from your Lone Star College ID or library card
to login to these online databases from home.

The following databases contain information on industries and companies.
Business Source Complete- Business journal articles, market research reports and SWOT analyses. Updated daily.
ProQuest Newspapers- Articles from journals, magazines, and newspapers; Includes Wall Street Journal, Houston Chronicle, and New York Times.
---
Librarian Talk About the Internet!

The Internet can be a wonderful source of original documents. Browse the sites we have suggested below. Remember, you do want to find reputable sites. Look at:
Accuracy - The information should show proof it has been researched.

Source - Look at the domain: .edu .gov .org .net are valid research sources.

Authority - What are the author's credentials? (Don't quote from another college freshman's paper.)

Coverage - Does the page have the information you need for your research?

Objectivity - If a work is biased, use it - just make sure your professor knows YOU know. Offer both sides of issues, where applicable.

These Internet sites offer all types of information. Compare statistics and figures from one site to those from others to ensure accuracy. Many companies have home pages on the Internet, keep in mind the objectivity level of these sites.
---
SUPPORT: PUTTING IT ALL TOGETHER
Librarian Talk About Help!
Support for a successful paper is more than finding the right resources. Putting it all together takes time and effort. Sometimes it takes additional help from the librarians or tutors. Please consider the following resources if you need additional help. Remember, the expert on the assignment is your professor; use email to contact her.
Citing Sources Using the LSC-Kingwood Library MLA Style Guide | Examples of both paper and electronic citations.
Avoiding Plagiarism | Excellent information and guide on how to avoid plagiarism from the Online Writing Lab (OWL) at Purdue University.
University of Texas Copyright Crash Course | This helpful guide on copyright is suggested by Lone Star College-Kingwood Teaching and Learning Center.
Learning Center | Check our hours for in-house tutoring from the Teaching & Learning Center.
---
Adapted from a page created by Becky Bradley, July, 2002. Links checked 4/2012 sh