LSCS Libraries
|
Research Guides
|
LSC-Kingwood Library Assignment Guides
|
Death Comes for the Archbishop by Willa Cather - LSC Kingwood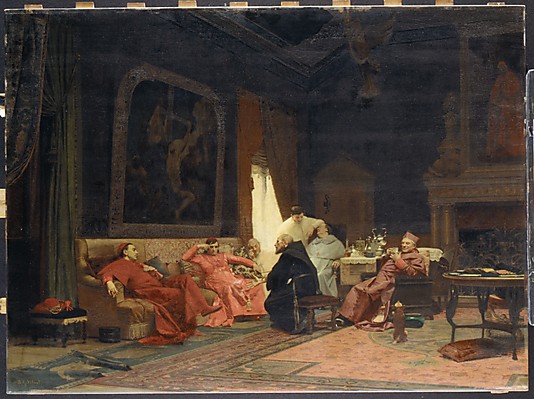 Assignment Guide
Willa Cather (1873 - 1947)
published 1927
Willa Cather is known for her literary portraits of frontier life. When she was nine, her family homesteaded in pioneer Nebraska, which provided the setting for a number of her novels. She developed a continuing fascination with the American southwest. After graduating from the University of Nebraska, Cather spent the next few years teaching high school in Pittsburgh and doing newspaper work.
After moving to New York City, Cather worked for six years on the editorial staff of McClure's Magazine. She won the Pulitzer Prize in 1923 for One of Ours. In 1930, she won the William Dean Howells Medal of the American Academy of Arts and Letters for Death Comes for the Archbishop.
---
Main Characters
Father Jean Marie Latour, Vicar Apostolic of New Mexico>

Father Joseph Vaillant, his friend, a missionary priest>

Kit Carson, frontier scout

Jacinto, an Indian guide
Plot This historical novel is set in nineteenth century New Mexico and describes the experiences of two well-bred French priests sent there to establish Catholicism in Santa Fe. During their life and work in the beautiful and rough environment, they are radically transformed, especially by the experience of the westward movement of the agricultural frontier. The story is based on the life of Archbishop Lamy, the first bishop in the New Mexican territory. Setting

Territory of New Mexico, the American Southwest

Topics
History - personal history of Archbishop Lamy and the development of his huge diocese.
Emigrants, Pioneers, Europe.
Religion / spirituality - throughout her life and especially after 1922, Cather was concerned with the decline of spirituality in an increasingly materialistic American society.
Nature, Catholicism/Protestantism, Modernism.
Missions and Native Americans.
---
Books
Librarian Talk . . . About Books!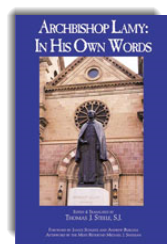 Examples of books offering information about Cather's novel:
BX1756.L27 A7313 Archbishop Lamy: In His Own Words - The existing manuscript sermons of Jean Baptiste Lamy (1814-88), the first Bishop of Santa Fe.

PS3505.A87 D4 Death Comes for the Archbishop / Willa Cather; Historical Essay and Explanatory Notes by John J. Murphy. Scan the shelf area near this book to find others about Willa Cather and her works.
Reference books with background information on Willa Cather and her novels:
PN 771 .G27 vols. 1, 11, &99 Twentieth Century Literary Criticism (TCLC) - Discussion of Willa Cather's work. Volume 99 contains a concentration of analysis on the novel.
Video DVD: PS3505.A87 Z586 Into the Morning: Willa Cather's America - Discusses Cather's life, work and times.
Landscape of Many Cultures - a segment of a longer film on Willa Cather's experiences in New Mexico, Willa Cather: The Road is All. The segment talks about how she began writing Death comes for the Archbishop.
---
Journals

Librarian Talk about Finding Journal and Newspaper Articles!

Electronic databases are purchased by the libraries for your research use. Use them to find articles in newspapers and journals, letters, reference books, illustrations, photographs and more. Home access to article databases is available with your updated library card barcode. If you need assistance finding an article contact the Reference Librarians and they will see that you get the article. They will need full bibliographic information - and your name and address. Send your phone number as well, so they can contact you if necessary.

Use your library card to login to these online journal databases.

This database is a full text, scholarly collection of journals. Use the advanced search page for the most successful results. Enter keywords into separate keyword boxes, beginning with a keyword from the title of the novel in the first search box. Enter Cather in the second box. Then add keywords from your thesis in third or fourth boxes (use the add a row option to create more search boxes). Limit your search to Articles Only (no reviews) and use the disciplines list to locate results from journals in Literature.
This database is also a full text, scholarly collection of journals from many subject areas. Use the advanced search page for the best results. Enter a search similar to the one for ProjectMuse. To view a full article click on the PDF link.
Full text articles from reference books and Twayne's Masterworks books as well as Journal articles, some full text and some excerpted. Search for information by title. Some of the articles found in this database will be critical essays, but some will not. Ask a librarian if you are uncertain if the article is appropriate for your research.
Scholarly, multi-discipline database, with many full text articles. Choose the Advanced Search feature and limit your search to Scholarly (Peer reviewed) journals to the best results.
Critical essays from Bloom's criticisms and articles from reference books. Includes some journal articles.
---
Internet
Librarian Talk about the Internet!
The Internet can be a wonderful source of original documents. Browse the sites we have suggested below. Remember, you do want to find reputable sites. Evaluate for:
Accuracy - The information should be researched and show proof of that research.
Source - Look at the domain: .edu .gov .org .net are valid research sources. Your company's website is also a valuable resource.
Authority - What are the author's credentials? (Don't quote from another college freshman's paper.)
Coverage - Does the page have the information you need for your research?
Objectivity - If a work is biased, use it - just make sure your professor knows YOU know. Offer both sides of issues, where applicable.
Selected Internet sites
Willa Cather Pioneer Memorial and Educational Foundation From Willa Cather's home town, Red Cloud, Nebraska, is this site tells all about past and present Catherland.
University of Nebraska - The Willa Cather Archive this site offers information about the author and her work.
Art in Willa Cather's Fiction discusses the extent to which Willa Cather's writing was influenced by art .
---
GETTING HELP FOR YOUR ASSIGNMENT
Librarian Talk about getting help!
Support for a successful paper is more than finding the right resources. Putting it all together takes time and effort. Sometimes it takes additional help from the librarians or tutors. Please consider the following resources if you need additional help. Remember, the expert on the assignment is your professor.
More about getting help (25 sec.)
Citing Sources Using the Library MLA Style Guide | Kingwood College library guide. Examples of both paper and electronic citations.
Avoiding Plagiarism | Excellent information and guide on how to avoid plagiarism from the Online Writing Lab (OWL) at Purdue University.
University of Texas Copyright Crash Course | This helpful guide on copyright is suggested by Lone Star College-Kingwood Teaching and Learning Center.
Learning Center | Check our hours for in-house tutoring.
---
Page written by Susan Schilling, Librarian 2-19-02. Updated 8/12 LL
Ask Us


Reference: 281.312.1693
Circulation: 281.312.1691



Text-A-Librarian
281.973.4792


Kingwood.LRC-Ref@LoneStar.edu
---
LSC-Kingwood Library Assignment Guides | About LSC-Kingwood Library | LSCS Libraries