LSCS Libraries
|
Research Guides
|
LSC-Kingwood Assignment Guides
|
Dracula by Bram Stoker - LSC-Kingwood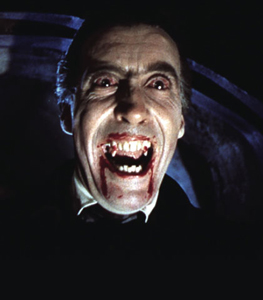 Bram Stoker's Dracula
First published in 1897
Dracula is a gothic novel set in late nineteenth century Transylvania and England. The novel begins with the diaries of Jonathan Harker, an English lawyer, who visits Count Dracula's castle to explain some of his London real estate dealings. Harker gradually comes to realize that he is a prisoner in the castle, where the only entrance is locked during the day and wolves range outside at night. When Harker sees Dracula and his entourage leave, he escapes by climbing down the castle walls.
Meanwhile, Harker's fiancé, Mina, visits her friend, Lucy, in the English seacoast town of Whitby. There, a ship runs aground and aboard there are only a dead man tied to the wheel with a crucifix and a grey wolf, that jumps off the ship and disappears. Soon afterward, Lucy starts sleepwalking. Dr. Seward, examining her, finds two tiny throat wounds.
Dr. Seward wrote for his old professor, Dr. Van Helsing, a specialist from Amsterdam. As the story develops, Lucy turns into a vampire and Count Dracula turns his attention to Mina. The men, Dr. John Seward, Jonathan Harker, Lucy's fiancé Arthur Morris, and Dr. Van Helsing, put all their efforts into finding and destroying Dracula with the guidance of Mina, who has formed a supernatural bond with the vampire.
BIOGRAPHY

Abraham (Bram) Stoker was born in Dublin in 1847, the third of seven children. As a child he was sickly and bedridden. To entertain him, his mother would tell him horror stories. He overcame his illness and, by the time he entered Trinity College, he was tall, powerful and excelled at athletics. He earned a degree in mathematics and worked as a civil servant by day, attending the theatre and writing reviews for the Dublin newspaper, the Mail, by night. Through his reviews, he became a friend of actor Henry Irving. When Irving took over the Lyceum Theatre in London, he asked Stoker to become the manager. During this period, Stoker did most of his writing. His first fiction book, Under the Sunset, was a macabre collection of children's short stories. Dracula is his one book that is still widely read today.
TOPICS
Role of women; sexuality; romance vs. seduction, science and technology; Vlad the Impaler; vampirism and the Dracula legend; vampires and Victorians; destroying Dracula, good and evil; reason and madness; compare Dracula to Frankenstein: parallels between Stoker's life and the victims' lives; suspense, mystery, quest
---
JOURNAL ARTICLES (Online Access)
Librarian Talk...About Finding Journal and Newspaper Articles!
Electronic databases are purchased by the libraries for your research use. Use them to find scholarly articles in journals, as well as letters, reference books, illustrations, photographs and more. Home access to article databases is available with your updated library card barcode. If you need assistance finding an article, contact the Reference Librarians. They will need full bibliographic information and your contact information.
Use your library card to login to these online journal databases.

Literature Resource Center | Read full-text articles from reference books and selected literature journals. Select 'Advanced Search' and limit the content type to "literature criticism."
JSTOR | Print or save full-text articles from high quality scholarly journals, generally from older issues. Use the Advanced Search page for the most productive searches and limit to "articles."
Project Muse | This database contains only scholarly, full-text articles from selected journals, including more recent issues. Use the Advanced Search page for the most effective searches and limit type of content to "articles only."
Bloom's Literary Reference Online | Critical essays from Bloom's Criticisms and articles from reference books. Includes some journal aricles.
Academic Search Complete | This large collection of journal and magazine articles contains many literary journals. Limit to "Scholarly (Peer Reviewed) Journals" to locate only scholarly journals.
---
BOOKS
Librarian Talk . . . About Books!
Books offer helpful information about time periods, authors and the literary works. Use them to help begin your review of literature on Dracula.
Apply online for a library card. Use your card to 1) Place a hold on a book and have it sent to the library closest to you 2) Access journal and reference databases from home, and 3) Access Online Book Database (eBook Collection).
Online books are available at eBook Collection. Use your library card to log in. Create a free account to save favorite titles or your own notes on the books you read.
Find books about Dracula, the gothic novel, and late nineteenth century England and Transylvania in the LIBRARY CATALOG.
The Essential Dracula: Historical & Cultural Context of the novel [PR6037 .T617 D7]
Use eBook Collection to find e-books for your research.
Selected Reference Books
British Writers [REFPR85.B688].

See 'Supplement III' for a critical essay about Stoker's life and literary career.

Dictionary of Literary Biography [REF PN41. D5]

Volumes 36, 70 and 178 contain essays about Stoker and Dracula.

Twentieth Century Literary Criticism [REF PN771. G27 vol. 8]and World Literature Criticism [REF PN523. W67 vol. 6]

Excerpts from numerous critical essays about Dracula.

Novels for Students [REF PN3385 .N68 vol. 18]

Novel summary, characters, and literary criticism.

Becham's Guide to Literature for Young Adults [REF PN1009 .A1 B43, vol. 5]

Critiques the story and offers suggestions for essay topics.
Please check at the Circulation Desk in the library for books which your instructor may have placed on reserve.
---
INTERNET
Librarian Talk...About the Internet!
The internet can be a wonderful source of original documents. Browse the sites we have suggested below. Remember, you do want to find reputable sites. Look at:
Accuracy - The information should show that is has been researched.
Source - Look at the domain: .edu .gov .org .net are valid research sources. Your company's website is also a valuable resource.
Authority - What are the author's credentials? (Don't quote from another college freshman's paper.)
Coverage - Does the page have the information you need for your research?
Objectivity - If a work is biased, use it - just make sure your professor knows YOU know. Offer both sides of issues, where applicable.
Dracula's Home Page | http://www.ucs.mun.ca/~emiller/ | Elizabeth Miller is an English professor (and author) at Memorial University of Newfoundland, Canada. Check this site for information about Dracula.
The Literary Gothic | http://www.litgothic.com/Authors/stoker.html | Links to information about the author and novel from Literary Gothic.
Dracula
by Bram Stoker
http://www.online-literature.com/stoker/dracula

/ | This is one of several public domain sites which make the entire text of the novel available online. Searchable.
---
GETTING HELP FOR YOUR ASSIGNMENT
Librarian Talk...About Getting Help!
Support for a successful paper is more than finding the right resources. Putting it all together takes time and effort. Sometimes it takes additional help from the librarians or tutors. Please consider the following resources if you need additional help. Remember, the expert on the assignment is your professor; use the eCollege VISTA in-class email to contact her.
Citing Sources Using MLA Style | Lone Star College-Kingwood Library guide. Examples of both paper and electronic citations.
Avoiding Plagiarism | Excellent information and guide on how to avoid plagiarism from the Online Writing Lab (OWL) at Purdue University.
University of Texas Copyright Crash Course | This helpful guide on copyright is suggested by Lone Star College-Kingwood Teaching and Learning Center.

The Learning Center | Check the TLC hours for in-house tutoring. Tutoring available in the library during selected times.
---
Page by Shielda Welling, Librarian, 2000, updated 9/2012 LL
Ask Us


Reference: 281.312.1693
Circulation: 281.312.1691



Text-A-Librarian
281.973.4792


Kingwood.LRC-Ref@LoneStar.edu
---
LSC-Kingwood Library Assignment Guides | About LSC-Kingwood Library | LSCS Libraries