HIST 1301: The Antebellum Period - LSC-Kingwood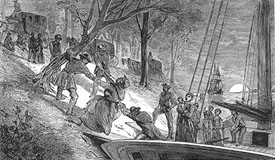 History 1301 | Women and Family Emphasis
The best library assignments are ones that use a variety of resources including books, newspaper and journal articles, internet sites, and even videos or audios. We encourage you to use all of these sources for this paper. Books will provide some of the best information for a historic topic. You need to obtain a
Student id/Library Card
from the College Library in order to request materials from other libraries or access electronic databases from off campus. We hope you will take full advantage of the many resources our libraries offer.
Please contact Lone Star College-Kingwood Librarians or Professor Lambert with any questions you may have during your research.
---
Assignment from your Instructor
The purpose of this assignment is to help you develop your critical thinking skills. You are to place yourself in a particular time period and react to a set of circumstances. You may become a real or fictional person. You might write this assignment in first person as a set of letters or diary entries. In order to complete the assignment, you must adequately research the selected topic and/or time period.
Once you decide on a topic, please get the instructor's approval. Your research assignment should consist of 4-5 full textual pages (double-spaced) plus a Works Cited page. Use a standard 10- or 12-point font with one-inch margins. A minimum of four sources is required, with at least one from each of the following: a historical monograph (book), a scholarly journal, and an academic internet site. Encyclopedias and dictionaries are not acceptable as sources. All sources must appear in the Works Cited page, and those that do must be cited within the paper. Documentation must be parenthetical, and all forms must follow those prescribed in the MLA Handbook. Save your research project in rich text or as a word document and submit it in class or as an attached file, using your Online Class email. Check the course calendar for the due date. Ten points will be deducted from any late assignment, and no assignment will be accepted more than one week after the due date. The evaluation of this research assignment will focus not only on content but also on clarity, organization, coherence, and use of Standard Written English. Warning: Plagiarism is theft of another writer's words or ideas and will receive a zero.
The following are examples of some suitable topics recommended by Professor Lambert to inspire you:
I. Slavery
Combine research of primary and secondary sources to learn more about this important topic. Make sure you explore the impact of slavery on the everyday life of the person you select. Focus on the life of a real or imaginary person from the following list:
Field slave | House slave | City Slave | Runaway Slave | Slave master | Slave mistress | Male abolitionist | Female abolitionist

You might want to consult the Digital History Website at the University of Houston. See Enslaved Voices - more sites below.
II. The Oneida Community
Explore this community's emphasis on complex marriages and its efforts to limit births. Use both primary and secondary sources to accomplish this and then display your knowledge by writing about a real of imaginary person from the community.

Consult the site at the State University of New York at Binghamton to get started.
III. Women and Families During the Civil War
Explore primary and secondary sources to learn how the Civil War changed the lives of families in America and created new roles for women. You might want to focus on the life of a real or imaginary woman from this list:
A northern or southern wife of a farmer | A nurse for either side | A spy | A female disguised as a soldier | A male soldier worried about his family | A slave mother or father
One of the best digital sites with links is American Women's History. Take a little time here. Interesting to look at issues on both sides of the war.
Librarian talk about Getting Started!
As you begin, narrow your topic to a size that will allow you to focus. Consider keywords that will help you find the information you need. These can be names of people, events, or broader identifying terms. Use these keywords for locating information in the library catalog, electronic databases, and on the internet. The best papers will come from searching in a variety of sources.
Sample Keywords:
I. Slavery:
Slavery - United States | Slave narratives | Underground Railroad | Abolitionists | Slave documents | Look for biographies of slaves, like Harriet Jacobs
II. Oneida Community
Oneida Community - history | Shakers | Mormons | John Humphrey Noyes |
Women in the Oneida Community | Religion and the Civil War | Utopia
III. Women during the Civil War
Women - Civil War | Southern Women during the Civil War | Northern Women during the Civil War |
Nursing - Civil War | Dorothy Dix | Other biographies and primary sources, including documents.|
---
FINDING BOOKS

Librarian Talk . . .About Books!
You will need to visit the College Library in order to obtain a Student id/Library Card. Use the 14 digit barcode number from your Lone Star College ID or library card to:
1) Place a Hold on a book and have it sent to the library closest to you
2) Access journal and reference databases from home, and
3) Access e-Books from the eBook Collection.
The library catalog is online.
Online or e-Books are available in the eBook Collection. Use the barcode number from your Lone Star College ID or library card to log in.
RECOMMENDED BOOKS:

REF E184.6.M55 2010 Milestone Documents in African American History - 4 vol. set covers iconic primary documents from the 1600's to the present.
REF E185.2 .A25 1996 African American History in The Press 1851 - 1899. V.1. NY: Gale, 1996. | Excellent source of illustrated newspaper articles of the time.
REF E185 .B573 1990 American Historical Images on File: The Black Experience. NY: Facts on File, 1990. | Copyright illustrations and documents

E441 .B47 2003 Generations of Captivity: a History of African-American slaves / Berlin / Available for checkout
E441.F775 2008 Freedom in My Heart: Voices from the United States National Slavery Museum / Nat'l Geographic /Available for checkout.
E441.H73 2005 Slavery and the Making of America / Horton & Horton / Available for checkout


---
JOURNALS AND NEWSPAPER ARTICLES (ONLINE ACCESS)
Librarian Talk . . . About Finding Journal and Newspaper Articles!
Electronic databases are purchased by the libraries for your research use. To find articles in newspapers and journals, letters, reference books, illustrations, photographs and more, use your updated library card to login to the following databases. If you find an interesting article that is not full-text, please give the correct bibliographic information to our Reference Librarians and they will see that you get the article. They will need full bibliographic information - and your name and address. Send your phone number as well, so they can contact you if they need to. There is some overlap of articles in the following databases. However, we encourage you to use more than one. All are excellent sources for this topic.
For a full list of article databases, go to the Research Databases History subject guides and use your library card to log in from off campus.
Biography Reference Bank | 45,000 biographies of people from antiquity to the present.
Academic Search Complete | Collection of scholarly articles.
ProjectMuse | a scholarly full text database with many journals on history. Use the advanced search screen for best results. Limit search results to disciplines such as History, Cultural Studies, Women's Studies, or other related fields to focus your search results.
JSTOR | Complete historical full text of all issues of journals in a wide range of humanities and social science fields. Articles are typically more than 5 years old. Use the advanced search screen for best results and limit to disciplines such as History, Feminist and Women's Studies or related areas.
Gale Literary Databases | Search literary books (note the titles) for exerpts and full-text criticisms.
---
INTERNET SITES


Librarian Talk . . . About the Internet!

The Internet will be a wonderful source of original documents. Browse the sites we have suggested below. Remember, you do want to find reputable sites. Look at:
Accuracy - The information should be researched and show proof that it has been.
Source - Who wrote the information? Look at the domain. .edu .gov. org .net are valid research sources.
Authority - What are the author's credentials? (Don't quote from another college student's paper.)
Coverage - Does the page have the information you need for your research?
Objectivity - If a work is biased, you may use it - just make sure your professor knows YOU know. And offer both sides of issues, where applicable.
---
GETTING HELP FOR YOUR ASSIGNMENT
Librarian Talk about getting help!
Support for a successful paper is more than finding the right resources. Putting it all together takes time and effort. Sometimes it takes additional help from the librarians or tutors. Please consider the following resources if you need additional help. Remember, the expert on the assignment is your professor!
Citing Sources Using MLA Style | LSCS Libraries guide. Examples of both paper and electronic citations.
Avoiding Plagiarism | LSC information/guide on how to avoid plagiarism.
University of Texas Copyright Crash Course | This helpful guide on copyright is suggested by Lone Star College-Kingwood Teaching and Learning Center.

The Learning Center | Check the TLC hours for in-house tutoring.
REMEMBER, the expert on this paper is Professor Lambert.
---
Page by Peggy Whitley | Oct, 2003 | Revised 06/2012 JNC