HIST 1302: Isaac's Storm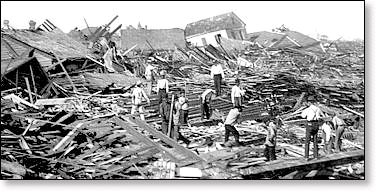 Lone Star College-Kingwood Library
Assignment Guide | History 1302 | Professor Peggy Lambert
The Galveston Storm of September 8, 1900
The best library assignments are ones that use a variety of resources including books, newspaper and journal articles, Internet sites, and even videos or audio sound recordings. We encourage you to use all of these sources for this paper. Books should provide some of the best information for a historic topic. We hope you will take full advantage of the many resources our libraries offer.
---
ASSIGNMENT
Read Erik Larson's Isaac's Storm: A Man, a Time, and the Deadliest Hurricane in History, and pick an aspect to research. The following ideas should help inspire you:
1. How was the storm a turning point in the development of Galveston (business, government, arts, etc.)?
2. Compare how the techniques of the historian differ in Isaac's Storm and another history book on the subject.
3. Why and how did communication fail in warning the people of Galveston? (Perhaps bring in prejudicial
attitudes toward Cuba and Hispanic cultures.)
4. Clara Barton's role.
5. Sisters of Charity Orphanage.
6. Compare reportage at the time of the event to what we know now. Consider using the New York Times
Historical database (see resources for "Journals and Newspaper Articles" below).
Once you decide on a topic, please get the instructor's approval using Angel course email. Your research assignment should consist of 4-5 full textual pages (double-spaced) plus a Works Cited page. Use a standard 10- or 12-point font with one-inch margins. A minimum of four sources plus the Larson book is required, with at least one from each of the following: a historical monograph (book), a scholarly journal, and an academic Internet site. Encyclopedias and dictionaries are not acceptable as sources. All sources must appear in the Works Cited page, and those that do must be cited in the paper. Documentation must be parenthetical, and all forms must follow those prescribed in the MLA Handbook. Save your research project in rich text or as a Word document and submit it as an attached file, using the Angel mail feature. Remember that your assignment should include an introduction with a thesis statement and a conclusion. Check the course calendar for the due date. Fifteen points will be deducted from any late assignment, and no assignment will be accepted more than one week after the due date. The evaluation of this research assignment will focus not only on content but also on clarity, organization, coherence, and use of standard written English.
Warning: Plagiarism is theft of another writer's words or ideas and will receive a zero. Ask for assistance if you are unsure.
Librarian Talk . . . About Getting Started
As you begin, narrow your topic to a size that you can manage. Consider keywords that will help you find the information you need. These can be names of people, events, or broader identifying terms.
Use these keywords for locating information in the library catalog, electronic databases, and on the Internet. Try Galveston AND Storm; Galveston AND hurricane; Galveston AND Disaster; Natural Disasters.
---
BOOKS
Librarian Talk . . . About Books
Your LSC Student ID is also your library card (on the back). If you are unable to come to campus, you can apply online for a paper library card. Use your card to 1) Place a hold on a book 2) Access databases from home.
Online books are available in the eBook Collection. You can view e-books online. Create a free account to save book titles and notes.
Books may be one of your greatest resources for this project. Search the library catalog using keywords such as Galveston; Galveston AND Storm; Natural Disasters.

REF F384.N48
"Galveston Hurricane of 1900."
New Handbook of Texas. Vol. 3
F394.G2 Q8 2000 (Circulating Video Collection)
Galveston Stories; A History of Galveston Island Before, During, and after the Great 1900 Storm with Linda Macdonald, a Galveston native whose grandfather survived the hurricane. Produced by the Sisters of Charity of the Incarnate Word (2000).
---
JOURNALS AND NEWSPAPER ARTICLES
Librarian Talk . . . About Finding Articles
Electronic databases are purchased by the libraries for your research use. To find articles in newspapers and journals, letters, reference books, illustrations, photographs and more, use your library card to login to the following databases.
If you find an interesting article that is not full-text, please ask the Reference Librarians for assistance. They will help you to get a copy of the article.
For a full list of article databases, go to Library Databases and use the barcode number from your Lone Star College ID or library card to access these full-text databases from home. The ones listed here are ones we feel best for this assignment.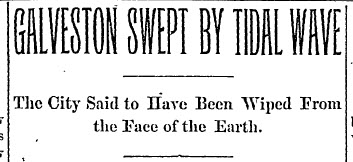 America's Historical Newspapers - 1690-2000 -- database containing a wide variety of historical newspapers across the country dating back to the late 17th Century. Search a date range such as 09/06/1900 to 09/30/1900 and use the keywords "Galveston hurricane" to read original accounts of the storm.
Biography Reference Center -- 45,000 biographies of people from antiquity to the present.
Academic Search Premier -- Collection of journal, newspaper, and magazine articles. Many are scholarly.
---
INTERNET SITES
Librarian Talk . . . About the Internet

The Internet will be a wonderful source of original documents. Browse the sites we have suggest below. Remember to find reputable sites. Look at:
Accuracy - Does the information you are finding match with your text and other reputable sources?
Source - Look at the domain - .edu .gov .org .net are usually valid research sources.
Authority - What are the author's credentials?
Coverage - Does the page have the information you need for your research?
Objectivity - Check for bias.
More about finding internet sources (25 sec.)
Suggested Web Sites
The 1900 Storm; Galveston, Texas | Galveston County Daily News presentation remembering the Great Hurricane, September 8, 1900. Listen in Quicktime to the story of the orphanage and the great storm.
Galveston & Texas History Center | This is at the Rosenberg Library in Galveston and is the leading respository of manuscripts, photographs, oral histories and other documents relating to the Galveston Storm.
America's Story | The Library of Congress not only describes the storm, but also presents video clips of actual footage of the storm taken at risk of life and limb.
American Memory | The Library of Congress displays many original photos of the Galveston storm, with links to other sites.
Lost and Found Sound | From National Public Radio, this is a sound archive of American memoirs. There is one called Remembering the Galveston Storm of 1900.
Texas Handbook | The Galveston Storm entry in the Texas Handbook.
Isaac's Storm | Book review by CNN with links.
---
GETTING HELP FOR YOUR ASSIGNMENT
Librarian Talk... about getting help!
Support for a successful paper is more than finding the right resources. Putting it all together takes time and effort. Sometimes it takes additional help from the librarians or tutors. Please consider the following resources if you need additional help. Remember, the expert on the assignment is your professor; use your Angel email to contact her.
Citing Sources Using MLA Style | Lone Star College-Kingwood Library guide. Examples of both paper and electronic citations.
Avoiding Plagiarism | Excellent information and guide on how to avoid plagiarism from the Online Writing Lab (OWL) at Purdue University.
The Learning Center | Check the TLC hours for in-house tutoring.
REMEMBER, the expert on this paper is Professor Lambert.
---
Page by Claire Gunnels created July 2002. Updated KMB, 08/11.