MKTG 1311: Principles of Marketing - Generation X - LSC-Kingwood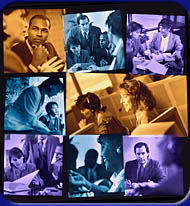 The best library assignments are those that use a variety of resources including books, newspaper and journal articles, internet sites, and even videos or audios. We encourage you to use all of these sources for this paper. You may apply for a library card and request materials online. We hope you will take full advantage of the many resources our libraries offer.
ASSIGNMENT
Who is Generation X? Generation X, born between 1965-1976, is well educated and media-savvy. This group makes up the young adult population of the U.S.
Give some background information about Generation X. Who they are, what they like, and how can we successfully reach them?
Find a product that you think appeals to Generation X and describe how it should be advertised. Cite two Internet addresses or two readings to support your answer.
Avoid Plagiarism. Do not cut and paste from Internet readings unless so noted. Create your own words and critique what you have read.
Librarian talk . . . About Getting Started!
As you begin, narrow your topic to a size that you can manage. Consider keywords that will help you find the information you need. These can be names of people, works, events, or broader identifying terms. Use these keywords for locating information in the library catalog, electronic databases, and on the Internet.
Try: generation x; marketing youth; marketing demographics; generational differences
---
BOOKS
Librarian Talk . . .About Books!
Apply online for a library card. Use your card to:
1) Place a Hold on a book and have it sent to the library closest to you
2) Access journal and reference databases from home, and
3) Access e-Books from the Ebook Collection.
For books, search the library catalog using keywords such as generation x; target marketing; marketing demographics.

REF HF5803 .A38 Encyclopedia of Adversising. Psychographics; Youth Marketing

REF HA202 .A3 Statistical Abstract of the United States . Statistics on employment, education, income, ethnicity, etc.
HF5415.33 U6 G462 Generation X : Americans Born 1965 to 1976.
---
JOURNALS AND NEWSPAPER ARTICLES
Librarian Talk . . . About Finding Journal and Newspaper Articles!

Electronic databases are purchased by the libraries for your research use. To find articles in newspapers and journals, letters, reference books, illustrations, photographs and more, use the barcode number from your Lone Star College ID or library card to login to the following databases. If you find an interesting article that is not full-text, please ask the Reference Librarians for assistance. We encourage you to use more than one database. All are excellent sources for this topic. For a full list of article databases, go to More about searching databases (25 sec.)
Academic Search Complete - Collection of journal, newspaper, and magazine articles. Includes Advertising Age, American Demographics, the New York Times and the Wall Street Journal.
Business Source Complete - Collection of business journal, newspaper, and magazine articles.
---
INTERNET SITES
Librarian Talk . . . About the Internet!
The Internet will be a wonderful source of original documents. Browse the sites we have suggested below. Remember, you do want to find reputable sites. Look at:
Accuracy - The information should show proof that it has been researched.
Source - Who wrote the information? Look at the domain. .edu .gov. org .net are valid research sources.
Authority - What are the author's credentials?
Coverage - Does the page have the information you need for your research?
Objectivity - Check for bias.
More about finding Internet sources (25 sec.)
Suggested Web Sites
American Marketing Association Marketing Power portal.

Business Owners Toolkit This site describes the kinds of market research you can do from the library and the internet.

Or try Google.com and do your own search. Keywords: generation x, marketing, target, youth market
---
GETTING HELP FOR YOUR ASSIGNMENT
Librarian Talk about getting help!
Support for a successful paper is more than finding the right resources. Putting it all together takes time and effort. Sometimes it takes additional help from the librarians or tutors. Please consider the following resources if you need additional help. Remember, the expert on the assignment is your professor; use the LSC-Online in-class email to contact her.
Citing Sources Using the Library MLA Style Guide | Lone Star College-Kingwood Library guide. Examples of both paper and electronic citations.
The Learning Center | Check our hours for in-house tutoring.
---
Page by Claire Gunnels created September 2002
Links checked 4/2012 lg