LSCS Libraries
|
Research Guides
|
LSC-Kingwood Assignment Guides
|
Moby Dick by Herman Melville - LSC-Kingwood
Written 1851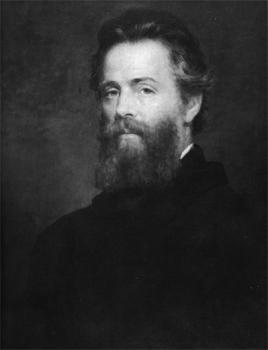 "Having little or no money in my purse and nothing in
particular to interest me on shore, I thought I would sail
about a little and see the watery part of the world."
Moby Dick, Chapter 1

Herman Melville
(1819 - 1891)
was born in New York City. His formal education lasted only four years, until his father passed away and he was obligated to find work to help support the family. After clerking, school teaching and banking, he shipped out on a whaling ship at age 20. Four years later he returned, full of tales of the sea, and he was encouraged to write them down. His first two works, Typee and Omoo, were published as non-fiction and received critical acclaim. Moby-Dick, however, sold poorly. It was revived around 1919, the centennial of Melville's birth, and is now regarded as one of the greatest American novels.
Moby Dick is an epic tale of adventure in the south seas. Ishmael and Queequeg sign on the whaling ship Pequod. While they seek other whales along the way, Captain Ahab, the ship's captain, is really on a quest to kill Moby Dick, the giant white sperm whale that cost Ahab his leg in an earlier encounter. There are warnings from other whaling ships that revenge isn't possible, and that the harpoon has not been forged that could kill Moby Dick (chap. 131). The first mate, Starbuck, tries to reason with Ahab, but no amount of reason can turn Ahab from his quest. He finally locates Moby Dick in the Indian Ocean, where the Pequod and the great white whale have their final showdown.
---
Possible Themes:
Whaling | Revenge | Ethnicity | Sea imagery | Religion | Masculinity | Epic hero | Nature | Good vs. evil | Apartheid | Dreams


---
Books
Librarian Talk ... about Books!
Books offer helpful information about historical background, settings, and authors. Literary criticism may be compiled in a book. The catalog is online at Lone Star College Library Catalog. If you want criticism of the novel itself, try the search words Moby Dick and criticism. For setting and historical background, search for Whaling.
Electronic books or eBooks are available at the eBook Collection. You will need a library card barcode number to read eBooks from off-campus. Create a Free Account to save favorite book titles and notes in the eBook Collection.
Apply online for a library card. For quicker results, after you submit the application, call the circulation desk at 281-312-1691 and ask them to process it. Use your card to:

Place a hold on a book.
Request a book listed in the catalog but available from another location.
Access databases from home.
Reference Books
REF PN3385 .N68, vol. 7

Novels for Students

Summary of the story, character analyses, and an overview of literary criticism.

REF PN50 .L574 1997, vol. 2 Literature and Its Times


Provides a backdrop for

Moby-Dick

by explaining the whaling industry and the racial attitudes of the times.

REF PN761 .N5 Nineteenth Century Literature Criticism

Literary criticism from many sources. Check the index volume. These may be excerpted, but the full citation is given to allow you to try to locate the original article.
Circulating Books
Literary criticism about Melville and Moby Dick will probably be at PS2384 or 813.3. Also look for background information. One good book for background on sailors and whaling is:
RC986 .D78 Rough Medicine: Surgeons at Sea in an Age of Sail
---
Databases
Librarian Talk ... about Finding Scholarly Journal Articles!
So you need scholarly journal articles? At one time, you would find hard copies at a research library. Today, they are compiled in electronic databases. Electronic databases are purchased by the libraries for your research use. If you need assistance finding a particular article, contact the Reference Librarians and they will help you get it. They will need full bibliographic information - and your name and address. Send your phone number as well, so they can contact you if necessary.
Use the barcode number from your Lone Star College ID or library card to login to these online journal databases.

Search the library databases for scholarly articles on Moby Dick. In Academic Search Complete, limit your search to Scholarly (Peer Reviewed) Journals.
Literary criticism from journals and reference books.
Search or browse recent issues of scholarly journals in literature and more. The full-text of all articles is available online.
Includes the full-text of older issues of scholarly journals in literature and other academic subjects.
This index to journal articles includes some full text and some older articles you may not find elsewhere. It includes all types of journals; you will have to limit to Scholarly.
E-books including several works of Melville criticism and the text of the novel itself.
---
Internet
Librarian Talk ... about the Internet!
The internet can be a wonderful source of original documents. You can find reviews from the time period when the book was published, background information about whaling and Herman Melville, and electronic copies of the book. Browse the sites we have suggested below. Remember, you do want to find reputable sites. Look at:
Accuracy - The information should be researched and show proof of that research.

Source - Look at the domain: .edu .gov .org .net are valid research sources.

Authority - What are the author's credentials? (Don't quote from another college freshman's paper.)

Coverage - Does the page have the information you need for your research?

Objectivity - If a work is biased, use it - just make sure your professor knows YOU know. Offer both sides of issues, where applicable.
Full text of Moby Dick online - Search this text for keywords and phrases when looking for supporting quotes for your paper or find Kindle, EPub, HTML and other digital versions of the novel from Project Gutenberg.
New Bedford Whaling Museum - Learn more about the history of the whaling industry.
Herman Melville biography and annotated bibliography from Brandeis University.
Internet Public Library has links to some critical analyses of Moby Dick.


---
Getting Help for Your Assignment
Librarian Talk ...About Getting Support

Support for a successful paper is more than finding the right resources. Putting it all together takes time and effort. Sometimes it takes additional help from the librarians or tutors. Please consider the following aids.
Citing Sources Using the Library MLA Style Guide | Lone Star College-Kingwood Library guide. Examples of both paper and electronic citations.
Avoiding Plagiarism | Excellent information and guide on how to avoid plagiarism from the Online Writing Lab (OWL) at Purdue University.
University of Texas Copyright Crash Course | This helpful guide on copyright is suggested by Lone Star College-Kingwood Teaching and Learning Center.
Learning Center | Check our hours for in-house tutoring.

---
Page by Sue Goodwin, Librarian, 2006. Updated 5/2012 ss/jfr.
Ask Us


Reference: 281.312.1693
Circulation: 281.312.1691



Text-A-Librarian
281.973.4792


Kingwood.LRC-Ref@LoneStar.edu
---
LSC-Kingwood Library Assignment Guides | About LSC-Kingwood Library | LSCS Libraries