LSCS Libraries
|
Research Guides
|
LSC-Kingwood Assignment Guides
|
Pygmalion by George Bernard Shaw - LSC Kingwood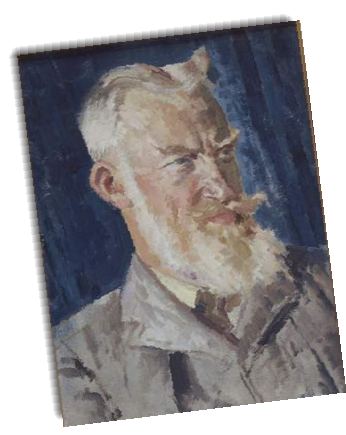 Assignment Guide
George Bernard Shaw
(1856-1950)
---
BIOGRAPHICAL INFORMATION
George Bernard Shaw (G.B.S) was born into a protestant family in catholic Dublin. His family, although technically "landed gentry," was not well-off financially and Shaw attended school only briefly. His mother's music teacher, George John Vandeleur Lee, moved in with the family when Shaw was ten; Shaw absorbed his music, assisted him on the piano and even sang arias to himself to relieve boredom.
Meanwhile, he took employment as a bookkeeper and felt sympathy for the poor who agonized about meeting their rent payments. By the time he wrote Pygmalion at age 57, Shaw was a socialist, a vegetarian and a renowned orator. He received the Nobel Prize for literature in 1925.
Great Britain in the early 20th century was the world's most industrialized country and one of the most urbanized. This was a time of great change and upheaval. The Boxer Rebellion (1900), the Boer War (1899-1902), and the growing economic power of the United States threatened Great Britain's status in the world. In the workplace, skill grew in importance. As the upper class tried to cling to their priviledge, skilled professionals were becoming more affluent. Socialism grew exponentially, intertwined with the ascendance of the Labour Party (ILP). Regional dialects, while still prevalent, were modified somewhat by the advent of mandatory education.
Pygmalion is a comedy about a phonetician, or speech expert, who, as a kind of social experiment, attempts to make a lady out of an uneducated Cockney flower girl. The play probes important questions about social class, human behavior, and relations between the sexes.
Librarian talk . . . About Getting Started!
As you begin, narrow your topic to a size that you can manage. Consider keywords that will help you find the information you need using the library catalog, electronic databases, and on the internet. These can be names of people, literary works, events, or broader identifying terms.
TOPICS TO CONSIDER
Language | Social Roles | Pygmalion & Galatea (ancient Greek myth) | Transformation (Metamorphosis) | Asperger Syndrome | Manners | Women | Class Distinctions | Personal Identity | Idealism | Inequality
CHARACTERS
Eliza Doolittle - an uneducated, streetwise Cockney flower girl.
Henry Higgins - Henry Higgins, a phonetics expert and scientist, who considers good manners unnecessary.
Colonel Pickering - A fellow phoneticist and associate of Higgins, recently arrived from India.
Frederick Eynsford Hill - An upper class young man who is fascinated by Eliza.
Mrs. Eynsford Hill - Freddie's mother, a downwardly mobile, socially conscious matron.
Mrs. Pearce - Henry Higgins's housekeeper.
Alfred Doolittle - Eliza's father, a dustman (garbageman) and one of the "undeserving poor."
Mrs. Higgins - Higgins's mother, a compassionate character who understands her son's shortcomings.
---
BOOKS
Librarian Talk . . .About Books!
Your LSC Student ID is also your library card (on the back). If you are unable to come to campus, you can apply online for a paper library card. Use your card to:
1) Place a Hold on a book and have it sent to the library closest to you
2) Access journal and reference databases from home, and
3) Access e-Books from eBook Collection.
The catalog is online.
Online or e-Books are available in the eBook Collection. Use the barcode number from your Lone Star College ID or library card to log in.
Biographical information for G. B. Shaw
REF PN41.D5 Dictionary of Literary Biography - v. 10 Part 2 - Detailed biographical sketches and general critical commentary

REF PR 85 .B688 British Writers - Retro. Suppl. 2 - Insightful articles with biographical information on Shaw and Pygmalion.
Books about the times
REF PN 50 .L574 Literature and Its Times - v. 3 - Offers information on events occurring at the time Shaw wrote Pygmalion.

PR 5361 .W4 Portable Bernard Shaw - pages 325-331 - Includes a letter written by Shaw to an actor and the preface to the written play Pygmalion.
Books containing criticisms
REF PN 101 .D595 Drama for Students - v. 1. - Information includes plot summary, characters, themes, style, and historical context

PR 5368 .T4 B4 The Playwrighting Self of Bernard Shaw - Contains a criticism of Pygmalion entitled "The Self and the Mother Tongue"

REF PN 771 .G27 Twentieth-Century Literary Criticism - v.45 -Contains approximately fifty pages of excerpted scholarly articles on Pygmalion. This is a good source for ideas on topics for your thesis.
---
JOURNAL ARTICLES
Librarian Talk about Finding Journal and Newspaper Articles!

Electronic databases are purchased by the libraries for your research use. Use them to find articles in newspapers and journals, letters, reference books, illustrations, photographs and more. Home access to article databases is available with the barcode number from your Lone Star College ID or library card. If you need assistance finding an article, email the Reference Librarians and they will help you get the article. They will need full bibliographic information - and your name and address. Send your phone number as well, so they can contact you if necessary.

Use your library card to login to these online journal databases.
Project Muse Begin your search by entering the title of the novel in the search box in quotation marks. Use the limiters on the left side of the screen to focus your search to Journals, full access (complete articles), or research areas. You can Modify a search to add keywords from your thesis - click on the + mark to add search boxes. This database is also entirely scholarly, so all articles will be of the appropriate academic level for your research.
JSTOR another great database with scholarly, full-text articles from many subject areas including Literature. Use the Advanced Search page for the most productive searches. Enter your search as you did for ProjectMuse. Limit the search to Articles and choose Language and Literature from the Disciplines list.
Literature Resource Center Good starting place, contains overviews, background, information on Shaw and more. Full text articles from reference books and Twayne's Masterworks books. Journal articles, some full text and some excerpted.
Bloom's Literary Database Online | This database is a collection of many analytical essays discussing literature. These essays, originally published in print form, are accessible now for research online. Find information about the novel you are discussing in your literature course, or read about the fascinating lives of world-famous writers-from Aeschylus to Anita Desai, from Ernest Hemingway to Émile Zola. Included are discussions of great works of literature-from influential novels, poems, and plays to important works of nonfiction.
Academic Search Complete Ebscohost database with articles on Pygmalion. Be sure to check the boxes for scholarly, peer reviewed journals and full-text before searching.
Interlibrary loan
is available for articles not found in the databases. Ask a Reference Librarian for help with Interlibrary loan requests. Allow plenty of time for this free service.
---
INTERNET SITES
Librarian Talk about the Internet!

The internet can be a wonderful source of original documents. Browse the sites we have suggested below. Remember, you do want to find reputable sites. Look at:
Accuracy - The information should be researched and show proof of that research.
Source - Look at the domain: .edu .gov .org .net are valid research sources.
Authority - What are the author's credentials? (Don't quote from another college freshman's paper.)
Coverage - Does the page have the information you need for your research?
Objectivity - If a work is biased, use it - just make sure your professor knows YOU know. Offer both sides of issues, where applicable.
Pygmalion | Read the play online, from Project Gutenberg. A great way to find quotes from the play.
Nobel Prize Internet Archive | Shaw won the Nobel Prize in Literature. This site addresses that prize and displays a list of Internet links on Shaw added by visitors to this website.
Harry Ransom Collection on G. B. Shaw | from University of Texas at Austin. The Shaw Collection is the largest and most comprehensive single-author gathering in the Ransom Center.
---
MEDIA
M 1508.8.M94 My Fair Lady - [videorecording] - A musical by Allan Jay Lerner and Frederick Loewe, based on the play, Pygmalion. Remember, watching the film is not the same as reading the play.
English from Locke to Shaw - a short video clip from Films on Demand, a video database linked to the Research Databases page, on what Shaw may have wanted to convey in his play. "Speaking Proper" addresses Shaw's idea that if spoken well, even bad ideas will be accepted by most people.

---
GETTING HELP FOR YOUR PAPER
Librarian Talk about getting help!
Support for a successful paper is more than finding the right resources. Putting it all together takes time and effort. Sometimes it takes additional help from the librarians or tutors. Please consider the following resources if you need additional help. Remember, the expert on the assignment is your professor.
Citing Sources Using the Library MLA Style Guide
| LSC-Kingwood library guide. Examples of both paper and electronic citations.
Avoiding Plagiarism | Excellent information and guide on how to avoid plagiarism from the Online Writing Lab (OWL) at Purdue University.
University of Texas Copyright Crash Course | This helpful guide on copyright is suggested by Lone Star College-Kingwood Teaching and Learning Center.
Learning Center
| Check our hours for in-house tutoring.
---
Page by Melinda Cavanaugh, 7/2002. Updated 5/2012 BB.
Ask Us


Reference: 281.312.1693
Circulation: 281.312.1691



Text-A-Librarian
281.973.4792


Kingwood.LRC-Ref@LoneStar.edu
---
LSC-Kingwood Library Assignment Guides | About LSC-Kingwood Library | LSCS Libraries