LSCS Libraries
|
Research Guides
|
LSC-Kingwood Library Assignment Guides
|
Sense and Sensibility by Jane Austen - LSC Kingwood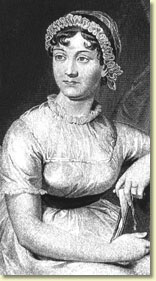 by Jane Austen
Born - Steventon, England on December 16,1775
Died - Winchester, England on July 18, 1817
Jane Austen was the seventh of eight children born to the rector of the parish at Steventon, England. Despite being neither wealthy nor noble, Reverend Austen had a keen interest in education, even for his daughters. Although her novels focused on courtship and marriage, Jane Austen never married. Jane Austen's first published novel was Sense and Sensibility in 1811. It was printed anonymously with "By a Lady" on the title page, enabling Austen to keep her privacy and her femininity in the eyes of society. The text originally was a series of letters between two sisters, but evolved into novel form. The sisters represent Sense (possessed by Elinor) contrasted with Sensibility (possessed by Marianne).
Main Characters
Elinor Dashwood - a nineteen year old woman of sense
Marianne Dashwood - her seventeen year old sister with sensibility
John Dashwood - her greedy brother, heir to the Norland estate
Fanny Dashwood - John's selfish and manipulative wife
Edward Ferrars - Fanny's sensible older brother
Sir John Middleton - a jovial but vulgar Dashwood relation
Colonel Brandon - Sir John's honorable friend
John Willoughby - deceives Marianne who loves him
Lucy Steele - in love with Edward
Robert Ferrars - conceited younger brother of Edward and Fanny
Plot
In this comedy of manners, it is evident that Jane Austen clearly admires individuals with sense. Trusting her senses, Marianne Dashwood falls hopelessly in love with a dashing man who is in fact deceitful. In contrast, sister Elinor sensibly evaluates her opinions of men and romance. The sisters' stories along with the moral issues that surface comprise a romantic novel in a setting where money matters.
Setting
Nineteenth-century England
Topics
money/inheritance
role of women
expectations vs. reality
marriage >and courtship
sense
sensibility, or passion, and romanticism
social classes and hierarchies
---
Books
Librarian Talk . . . About Books!
Search for literary criticism by typing Jane Austen or Sense and Sensibility in the subject search in the library catalog.

Reference Books

REF PN3385 .N68 (v. 18) - Novels for Students - available as an ebook on your computer as well as in standard book form. Look for it in the library catalog to find the link into the ebook, or use this call number to locate it on the library shelf. Other electronic reference books can be found in the Gale Virtual Reference Collection.

REF PN761.N5 (v. 1, 81) Nineteenth-Century Literature Criticism - also contains excerpts from previously published scholarly articles

REF PN50.L574(v 1.1) Literature and Its Times - places the novel in the time period in which it was written.

Circulating Books

PR4036.p5 Jane and her gentlemen : Jane Austen and the men in her life and novels - Includes chronology of Austen's life and Austen family tree

PR4034.S4Readings on Jane Austen - criticism, interpretation and history

PR4034.S43P47 Reshaping the sexes in Sense and Sensibility - explores men women relationships in literature

PR4034.S4 Sense and Sensibility - authoritative text, historical contexts, criticism
---
Databases
Librarian Talk about Finding Journal and Newspaper Articles!
Electronic databases are purchased by the libraries for your research use. Use them to find articles in newspapers and journals, letters, reference books, illustrations, photographs and more. Home access to article databases is available with your updated library card barcode. If you need assistance finding an article, email the Reference Librarians, and they will help you get the article. They will need full bibliographic information plus your contact information.
Use your library card to login to these online journal databases.

The best way to find journal articles is to search an appropriate database. LSC Kingwood students may search most of our recommended databases from any computer. Your login from off campus is the barcode from your Lone Star College ID or library card.
Includes articles from Contemporary Literature Criticism, Dictionary of Literary Biography, and Twayne's Masterworks books, as well as some full text journal articles. A good database to begin your research, locate major themes or topics to develop your thesis.
Index to journals articles, some full text. Limit to "scholarly (peer reviewed) journals" to find articles from appropriate resources.
Begin your search by entering the title of the novel in the search box in quotation marks. Use the limiters on the left side of the screen to focus your search to Journals, full access (complete articles), or research areas. You can Modify a search to add keywords from your thesis - click on the + mark to add search boxes. This database is also entirely scholarly, so all articles will be of the appropriate academic level for your research.
Search for scholarly journal articles in literature, economics, history, social sciences, science and mathematics. Use the advanced search page for the best search results, and put keywords in separate search boxes. Limit your search to Articles and select Language and Literature from the disciplines list for more focused results.
This database is a collection of many analytical essays discussing major literature. These essays, originally published in print form, are accessible now for research online. Find information about Sense and Sensibility, or read about the life of Jane Austen and her body of work.

---

Internet

Librarian Talk about the Internet!

The internet can be a wonderful source of original documents. Browse the sites we have suggested below. Remember, you do want to find reputable sites. Look at:

Accuracy - The information should show that it has been researched.
Source - Look at the domain: .edu .gov .org .net are valid research sources.
Authority - What are the author's credentials? (Don't quote from another college freshman's paper.)
Coverage - Does the page have the information you need for your research?
Objectivity - If a work is biased, use it - just make sure your professor knows YOU know. Offer both sides of issues, where applicable.

Although most of your resources will be found in books and databases, the Internet can be a useful source for research about Jane Austen and Sense and Sensibility. Evaluate Internet sites for quality, scholarly level, author and validity before using them as resources for your paper.

Sense and Sensibility | etext of Jane Austen's novels from Penn State. A good way to locate quotes from the text.
Austen Power | a page by Sue Parrill of Southeastern Louisiana University
Jane Austen Society of North America | Called JASNA for short, this society publishes the journal Persuasions, a good source for scholarly articles analyzing Austen's work. LSC Kingwood owns this journal in print. Located in the Circulating shelf The call number is PR4036 .A15.
Ask Us


Reference: 281.312.1693
Circulation: 281.312.1691



Text-A-Librarian
281.973.4792


Kingwood.LRC-Ref@LoneStar.edu
---
LSC-Kingwood Library Assignment Guides | About LSC-Kingwood Library | LSCS Libraries