Slavery Revolt - LSC-Kingwood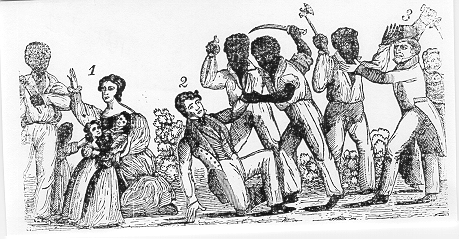 Lone Star College-Kingwood Library
Assignment Guide
History 1301 | Professor Peggy Lambert

The best library assignments are ones that use a variety of resources including books, newspaper and journal articles, internet sites, and even videos or audio recording. We encourage you to use all of these sources for this paper. Books should provide some of the best information for a historical topic. You may apply for a library card and request materials online. We hope you will take full advantage of the many resources our libraries offer.
Please contact Lone Star College-Kingwood Librarians or Professor Lambert with any questions you may have during your research.
---
ASSIGNMENT
Read The Fires of Jubilee and pick an aspect for research. The following ideas should help inspire you:
1. Compare Turner's revolt to another American slave revolt such as the Gabriel Prosser rebellion, Denmark Vesey planned rebellion, or the Stono rebellion.
2. Explore the master/slave relationship in the South.
3.Describe the impact of slavery on slave institutions such as religion and marriage.
4.What techniques did slaves use in order to preserve their culture? How successful were they?
5.Explore the relationship between the abolitionist movement and Nat Turner's revolt? Why did the South believe the abolitionists were to blame for the revolt?
6.Compare reportage at the time of the event to what we know now.
7.How did the Nat Turner revolt change the relationship between the North and South? How did both respond to the revolt?
Once you decide on a topic, please get the instructor's approval using via course mail. Your research assignment should consist of 4-5 full textual pages (double-spaced) plus a Works Cited page. Use a standard 10- or 12-point font with one-inch margins. A minimum of four sources plus the Oates book is required, with at least one from each of the following: a historical monograph (book), a scholarly journal, and an academic Internet site. Encyclopedias and dictionaries are not acceptable as sources. All sources must appear in the Works Cited page, and those that do must be cited in the paper. Documentation must be parenthetical, and all forms must follow those prescribed in the MLA Handbook. Save your research project in rich text or as a word document and submit it as an attached file, using the course WebCT mail feature. Remember that your assignment should include an introduction with a thesis statement and a conclusion. Check the course calendar for the due date. Fifteen points will be deducted from any late assignment, and no assignment will be accepted more than one week after the due date. The evaluation of this research assignment will focus not only on content but also on clarity, organization, coherence, and use of Standard Written English.
Warnings: Plagiarism is theft of another writer's words or ideas and will receive a zero.
Librarian talk . . . About Getting Started!
As you begin, narrow your topic to a size that you can manage. Consider keywords that will help you find the information you need. These can be names of people, literary works, events, or broader identifying terms. Use these keywords for locating information in the library catalog, electronic databases, and on the internet.
Sample Keywords:
Slavery - United States; Slave Insurrections; Slave Revolts; Slave Resistance; Nat Turner; Denmark Vesey; Gabriel Cato; John Brown; Stono Rebellion; Slave Religion; Slave Songs; Slave Narrative; Anti-Slavery Movements; (places like Harper's Ferry)
---
Librarian Talk . . .About Books!
Apply online for a library card. Use the barcode number from your Lone Star College ID or library card to:
1) Place a Hold on a book and have it sent to the library closest to you
2) Access journal and reference databases from home, and
3) Access e-Books from eBook Collection.
Books will be a great resource for this project. Here are a few suggestions:
REF E185 .A253 1993 The African American Encyclopedia. NY: Marshall Cavendish, 1993. | Multivolume set. Search by keywords.

REF E185.2 .A25 1996 African American History in The Press 1851 - 1899. V.1. NY: Gale, 1996. | Excellent source of illustrated newspaper articles of the time.

REF E185 .B573 1990 American Historical Images on File: The Black Experience. NY: Facts on File, 1990. | Copyright illustrations and documents

E441 .B47 2003 Generations of Captivity: a History of African-American slaves/ Ira Berlin. Belknap. Press of Harvard University Press, 2003.

E441 .S36 2000 Slavery in America: from Colonial Times to the Civil War/ Dorothy and Carl Schneider. Facts on File, 2000.

PS374 .S725 D38 1999eb Nat Turner Before the Bar of Judgement [electronic resource]: Fictional Treatments of the Southampton Slave Insurrection/Mary Kemp Davis. NetLibrary 1999. Access this electornic book through the Library Catalog.

---
JOURNALS AND NEWSPAPER ARTICLES (ONLINE ACCESS)
Librarian Talk . . . About Finding Journal and Newspaper Articles!
Electronic databases are purchased by the libraries for your research use. To find articles in newspapers and journals, letters, reference books, illustrations, photographs and more, use your updated library card to login to the following databases. If you find an interesting article that is not full-text, please give the correct bibliographic information to our Reference Librarians and they will see that you get the article. They will need full bibliographic information - and your name and address. Send your phone number as well, so they can contact you if they need to. There is some overlap of articles in the following databases. However, we encourage you to use more than one. All are excellent sources for this topic.
HINT: For a full list of article databases, go to http://library.lonestar.edu/and use your library card for login.
New York Times Historical | NYT From 1857 - the present. Search original articles.
ProjectMuse | a scholarly full text database with many journals on history. Use the advanced search screen for best results. Limit search results to disciplines such as history, African American and African Diaspora studies, or other related fields to focus your search results.
JSTOR | Complete historical full text of all issues of journals in a wide range of humanities and social science fields. Articles are typically more than 5 years old. Usethe advanced search screen for best results and limit to disciplines such as history, African American studies or related areas.
Biography Reference Bank | 45,000 biographies of people from antiquity to the present.
Academic Search Complete | Collection of journal, newspaper, and magazine articles. Many scholarly.
---
INTERNET SITES
Librarian Talk . . . About the Internet!
The Internet will be a wonderful source of original documents. Browse the sites we have suggested below. Remember, you do want to find reputable sites. Look at:
Accuracy - The information should be researched and show proof that it has been.

Source - Who wrote the information? Look at the domain. .edu .gov. org .net are valid research sources.

Authority - What are the author's credentials? (Don't quote from another college freshman's paper.)

Coverage - Does the page have the information you need for your research?

Objectivity - If a work is biased, use it - just make sure your professor knows YOU know. And offer both sides of issues, where applicable.
Nat Turner video | selection of videos from youtube.
---
GETTING HELP FOR YOUR ASSIGNMENT
Librarian Talk about getting help!
Support for a successful paper is more than finding the right resources. Putting it all together takes time and effort. Sometimes it takes additional help from the librarians or tutors. Please consider the following resources if you need additional help. Remember, the expert on the assignment is your professor; use the eCollege VISTA in-class email to contact her.
Citing Sources Using MLA Style
Misuse of Sources | Extract from WRITING WITH SOURCES: A Guide for Harvard Students, by Gordon Harvey, Expository Writing Program, Copyright 1995, The President and Fellows of Harvard University Chapter Three: Misuse of Sources: 3.1 Plagiarism and 3.2 Other Ways of Misusing Sources.
The Learning Center | Check our hours for in-house tutoring.
REMEMBER, the expert on this paper is your Professor Lambert.
---
Page by Peggy Whitley, 1/02. Updated SM, 06/2010 pwhitley