Dante's The Divine Comedy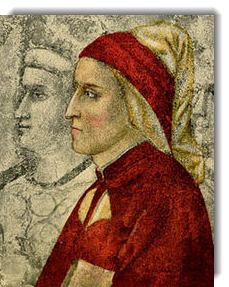 ENGL 2332 - Professor Dethloff
The best library assignments are those that use a variety of resources including books, newspaper and journal articles, Internet sites, and even videos or audiocassettes. We encourage you to use a variety of sources when researching a topic. Books provide some of the best information for literary and historic topics.
Your LSC Student ID is also your library card (see the back of the card). The library card barcode number allows remote (wi-fi and off-campus) access to the databases. In the databases you will find scholarly articles from literary journals. We hope you will take full advantage of the many resources our libraries offer.
The Assignment
In groups, students will create a digital research guide to Dante's The Divine Comedy. This is an accumulation of scholarly resources and explanation of those resources, as well as a sumary and analysis of the work itself, for students to follow while reading, studying and researching a work of literature.
Your guide will be broken into these three parts:
Introduction

Provide a biography of Dante.

Set up the cultural and historical context of his life and work. This established the framework for anyone preparing to read The Divine Comedy.

Summarize The Divine Comedy.

*The sources presented here should be from biographical and historical sources of information, in addition to the poem in your textbook for the summary.

Body

Reveal the major themes of The Divine Comedy and explain their significance.

Descibe the structure and style of the epic poem.

*The sources presented here should be literary criticism.

Conclusion
Comment on the value of The Divine Comedy.
Requirements for the Research Guide:
Your research guide will be composed in MS Word. The file will be submitted to Angel electronically. Only one person in your group will need to upload the file in Angel. Let Professor Dethloff know who will do this for your group. The research guide shoud have working pictures/graphics, hyperlinks, audio and/or video - the choice of what to include is up to your group, based upon the guide that you are creating. You should have 10 sources, and 2 must be books.
Requirements for the Annotated Bibliography
Your annotated bibliography will be composed in MS Word, in a separate file from your research guide. The file will be submitted to Angel electronically – just like the research guide. Purdue OWL and Brandon University Library have great examples of how to create an annotated bibliography.
*Your group will have two separate files: one for the research guide and one for the annotated bibliography.
Structure: Each of your 10 bibliographic entries will begin with the MLA citation of the source. Beneath that, you will write a 250 word summary of the source. The sources should be listed alphabetically.
Warnings: 1) Never rely on a database to cite a source for you when you click the "cite this source" link or any other such tool. These citations are often incorrect. The same goes for online citation tools or those within Microsoft products. It is beneficial to use these tools – within a database or online – to gather the necessary information for the citation. However, it is always up to you to use your MLA Handbook to compose it and ensure its accuracy. 2nd warning: Do not take any information from an abstract that precedes an essay within a literary journal, whether in its entirety or just in parts, when you write your source summary. the summary should come from you only! Otherwise, you are plagiarizing.
---
BOOKS - for overview, topic ideas, to define the historical period
Librarian Talk . . .About Books!
Your LSC Student ID is also your library card (on the back). If you are a distance learning student, you can apply online for a paper library card. Use your card to:
1) Place a Hold on a book and have it sent to the library closest to you
2) Access journal and reference databases from home, and
3) Access e-Books from the eBook Collection.
Books about the time period you wish to study help place the literary work in the context. Here are a few suggested reference works:
REF CB361 .B43 The Encyclopedia of the Renaissance.
REF D114 .D5 Dictionary of the Middle Ages.
REF DC33.2 .M44 Medieval France an Encyclopedia.
REF DC59 .C55 Civilization of the Ancient Mediterranean.
Books about the literature of the time period will lead you to critical analysis of the literary work you are researching.
REF PN50 .L574 Literature and Its Times, v. 1

REF PN86 .L53 Literature Criticism from 1400 to 1800

REF PN523 .W67 World Literature Criticism

REF PN610 .C53 Classical and Medieval Literature Criticism
Books on reserve (at the circulation desk) for this assignment:
PQ 4335 .R88 Dante: A Literary Reference of His Life and Work
PQ 4390 . M747 Dante's Thought and Poetry
PQ 4390 .C596 The Divine Comedy: Tracing God's Art
PQ 4337 .F5 Dante and His Time
PQ 4422 .F48 The Political Vision of the Divine Comedy
When you have chosen your particular topic, there are books on specific authors, literary titles and types of literature which contain information, as well as essays about the work or author and in depth analysis of the works. Use the library catalog to locate those books. Keywords for your search will be specific to your literary work. For example, if you are researching The Prince, useful search terms may include: Machiavelli, prince, political ethics, political power, Machiavellian, political aesthetics, Italian city states, Renaissance literature.
DATABASES - finding scholarly or peer reviewed articles from literary journals.
Librarian Talk . . . About Finding Journal and Newspaper Articles!
Electronic databases are purchased by the libraries for your research use. To find articles in newspapers and journals, letters, reference books, illustrations, photographs and more, use your updated library card to login to the following databases. If you find an interesting article that is not full-text, please give the correct bibliographic information to our Reference Librarians and they will see that you get the article. They will need full bibliographic information - and your name and address. Send your phone number as well, so they can contact you if they need to. There is some overlap of articles in the following databases. However, we encourage you to use more than one. All are excellent sources for this topic. Use keywords appropriate to your topic and literary work.
HINT: For a full list of article databases, go to Research Databases and use your library card for login.
Electronic access to peer reviewed and scholarly articles is offered in the databases listed below. Use your library barcode to login from your home computer.
JSTOR | Print or save full-text articles from high quality scholarly journals, generally from older issues. Use the Advanced Search page for the most productive searches. Choose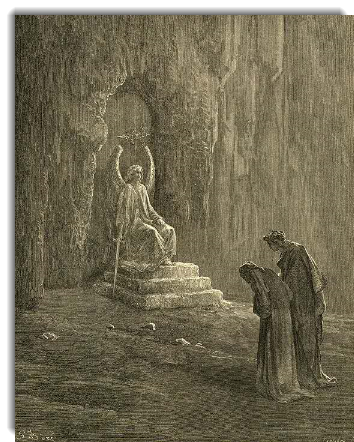 "article" as a limit to remove book reviews from your results list.
Project Muse | Begin your search by entering the title of the novel in the search box. enter the search. Then click Modify Search to add limits or refine the search. You can add several terms to modify the search by clicking on the small plus (+) sign next to a keyword search box. Use keywords from your thesis and don't forget to try synonyms. This database is also entirely scholarly, so all articles will be of the appropriate academic level for your research.
Bloom's Literary Database Online | This database is a collection of many analytical essays discussing literature. These essays, originally published in print form, are accessible now for research online. Find information about The Divine Comedy or read about the life of Dante Aligheiri and his body of work. Included are discussions of great works of literature-from influential novels, poems, and plays to important works of nonfiction.
This additional database offers overviews and information on the history of the period as well as access to some of the reference material listed in sources above.
Literature Resource Center | Includes most of the information in Literature Criticism from 1400 to 1800 and Classical and Medieval Literature Criticism. This database also has links to scholarly journal articles. Use the Advanced search page for the most productive searches.
Films on Demand | This database contains films on many subjects. Two particularly good segments on the Divine Comedy are:
Dante's The Divine Comedy is an evocation of all the sights and sounds and thoughts of the Middle Ages. The literary work travels from the depths of Hell to the mountain of Purgatory to Paradise itself. (4:02 min). And Dante's Cosmos which explains that Dante's cosmos is based on spheres and circles. There are four elements: earth, water, air, and fire. Dante is headed towards bliss, and Beatrice, and God. Dante moves from sphere to sphere simply by looking into the eyes of Beatrice. (4:35 min).
NAXOS Music Library | Search for music to add additional cultural components to your guide.
Project Gutenberg's free eBook of The Divine Comey, Complete, by Dante Alighieri. This edition is translated by Rev. H. F. Cary. You can download the eBook in over six different formats with or without the illustrations.
INTERNET - Using Internet pages for your research
Librarian Talk . . . About the Internet!
The Internet will be a wonderful source of original documents. Browse the sites we have suggested below. Remember, you do want to find reputable sites. Look at:
Accuracy - The information should be researched and show proof that it has been.
Source - Who wrote the information? Look at the domain. .edu .gov. org .net are valid research sources.
Authority - What are the author's credentials? (Don't quote from another college freshman's paper.)
Coverage - Does the page have the information you need for your research?
Objectivity - If a work is biased, use it - just make sure your professor knows YOU know. And offer both sides of issues, where applicable.
The Internet can be a valuable source of original documents and overviews of history. Evaluate web pages for scholarly content. Do not use a web page if you are doubtful of the source. Consider the accuracy of the information, the source of the information, the credentials of the author, and the relevance of the information to your research. If you are in doubt, ask your instructor.
Selected Internet pages, certainly not everything, which is available. These are very good examples of some of the best the Internet offers.
The Labyrinth: resources for medieval studies from Georgetown University. This site offers information about the Medieval world.
Florilegium Urbanum this site offers a view of life in Medieval England from Stephen Alsford, Librarian and researcher from the Canadian Museum of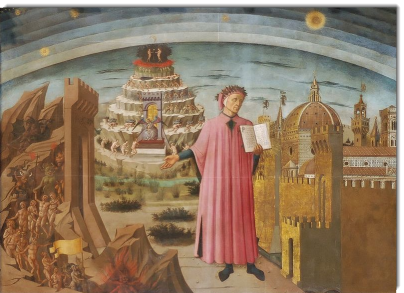 Civilization.
Danteworlds presented by University of Texas, this site is an integrated multimedia journey--combining artistic images, textual commentary, and audio recordings--through the three realms of the afterlife (Inferno, Purgatory, Paradise) presented in Dante's Divine Comedy.
SUPPORT: Getting Help for your Assignment
Citing Sources Using the Library MLA Style Guide | Lone Star College-Kingwood Library Guide. Examples of both paper and electronic citations.
Avoiding Plagiarism | Excellent Information and guide on how to avoid plagiarism from the Online Writing Lab (OWL) at Purdue University.
University of Texas Copyright Crash Course | This helpful guide on copyright is suggested by Lone Star College-Kingwood Teaching and Learning Center.
LSC - Kingwood Learning Center | Offers tutoring services for Lone Star College-Kingwood students in most subjects as well as other services.
---
Page written by B. Bradley | revised 9/13 MM.