The Literature Search


ACQUIRE
the evidence

3. Select the appropriate resource(s) and conduct a search
In the previous module, we learned how to construct a well-built clinical question. Using that question, we will move on to the literature search.
For our patient, the clinical question is:

Is controlling diabetes going to improve his periodontal condition or vice versa?

It is a therapy question and the best evidence would be a randomized control trial (RCT). If we found numerous studies, then we might want to look for a systematic review. This is a type of literature review.

Constructing a well-built clinical question can lead directly to a well-built search strategy. Note that you may not use all the pieces of the well-built clinical question in your search strategy. Instead of using the term therapy, we might look for a database limit that can be used to find clinical studies involving therapy, or a publication type to find randomized clinical trials, to get at the concept of treatment. However, you may use outcomes or type of question when you review the articles for applicability to your patient.
PICO
Clinical Question
Search Strategy

Patient / Problem

Diabetes, periodontal disease

Diabetes, periodontal disease

Intervention

change in diet
more frequent recare

diet
office visits

Comparison (if any)

change one factor

diet

Outcome(s)

reduction in periodontal disease
control diabetes

Type of Question

therapy

search for clinical studies = therapy

Type of Study

cohort study; systemic review

Limit by publication type
Search for literature or systemic reviews

Select a resource
The practice of Evidence-Based Practice advocates that clinicians search the primary literature to find answers to their clinical questions. There are literally millions of published reports, journal articles, correspondence and studies available to clinicians. Choosing the best resource to search is an important decision. Large databases such as CINAHL and PubMed/MEDLINE will give you access to the primary literature. Secondary resources such as ACP Journal Club, Essential Evidence, FPIN Clinical Inquiries, and Clinical Evidence, will provide you with an assessment of the original study. These are often called "pre-appraised" or EBP resources. The Cochrane Library provides access to systematic reviews which help summarize the results from a number of studies. While LSCS Libraries does not subscribe to the Cochrane Library, your hospital or physician network may.
Detailed list of resources for practicing EBP
To quickly find an answer, we might first look at an appraised resource, such as ACP Journal Club. ACP Journal Club's general purpose is to select from the biomedical literature articles that report original studies and systematic reviews that warrant immediate attention by physicians attempting to keep pace with important advances in internal medicine. These articles are summarized in value-added abstracts and commented on by clinical experts. Studies included in this small database are relevant, newsworthy and critically appraised for study methodology.

A search of irbesartan and heart failure identified this citation: 2008 - Irbesartan did not reduce all-cause death or CV hospitalization in heart failure and preserved ejection fraction. This is a critical appraisal of Massie BM, Carson PE, McMurray JJ, et al. Irbesartan in patients with heart failure and preserved ejection fraction. N Engl J Med. 2008;359:2456-67. The conclusion is that Irbesartan did not reduce the composite endpoint of mortality or hospitalization for cardiovascular events in patients with heart failure and preserved ejection fraction.

If you do not have access to ACP Journal Club or other EBP resources you will need to do the search in the Cumulative Index to Nursing and Allied Health (CINAHL) . LSCS Libraries subscribe to a version of CINAHL that includes the full-text for many of the article references. If you are searching from off-campus, you will need the 14-digit number associated with the barcode on the back of your LSCS ID or library card.
PubMed/MEDLINE is a very large database with over 17 million citations. Published by the National Library of Medicine, this database is available freely to the public as PubMed. There are advantages in using the LSCS Libraries' version, Medline.

You can search CINAHL, Medine and other databases at the same time by selecting the "Choose Databases" just above the search box. Check boxes for any database you wish to include in the search. If you include general databases, such as Academic Search Complete, make sure your keyword list includes alternative terms.
If you search MEDLINE, remember that it does not typically include the full-text of the article. Use the "Check LinkSource for More Information" link to see if another LSCS-provided database includes the full-text or if one of the LSCS Libraries makes the article available in print.
You will need your focused question and search strategy for both databases.

Conduct the search in CINAHL:
Step 1: Use PICO to formulate the search strategy; start with the Patient problem and complication.
Find the terms for the patient problem: periodontal disease AND diabetes
To make sure you are using the correct terminology in CINAHL, use the CINAHL Headings link. CINAHL Headings follow the same structure as the Medical Subject Headings (MeSH) used in Medline/PubMed and the National Library of Medicine. Additional headings have been added to reflect terminology used by nursing and allied health professionals. provides a tutorial to demonstrate more about how you can construct a search from this link.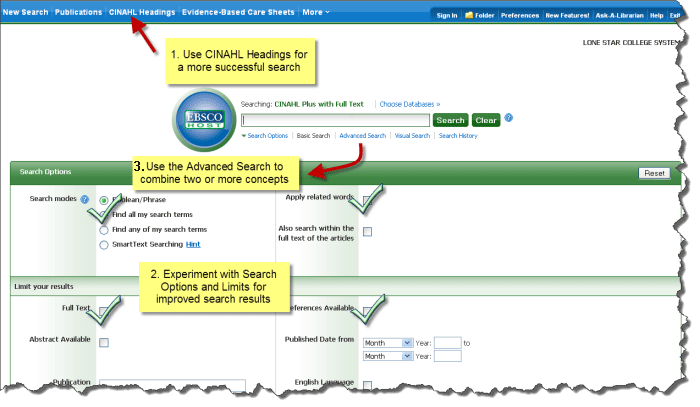 PubMed will attempt to map your terms to appropriate Medical Subject Headings (MeSH). MeSH is the standard terminology used by the indexer and helps find articles on the topic, regardless of the exact wording used by the authors.
Step 2. Look at relevant articles to verify CINAHL subject headings
The result list will display an abbreviated reference, including the publication information and the subject headings for each article. Scan for any other terms you might add to your search strategy or use to revise or focus your search.
Step 3. Limit to appropriate study design
This is a therapy question. We know from the previous discussion that the best evidence for a therapy question is a randomized controlled clinical trial (RCT).
CINAHL has added Clinical Queries as a way to limit searches to retrieve scientifically sound and clinically relevant study reports. Searches can be refined using specific search strategies designed to produce results in five research areas:
Therapy – High Sensitivity
Prognosis
Review
Qualitative
Causation (Etiology)
Three strategies are provided for each area:
High Sensitivity is the broadest search, to include ALL relevant material. It may also include less relevant materials.
High Specificity is the most targeted search to include only the most relevant result set, may miss some relevant materials.
Best Balance retrieves the best balance between Sensitivity and Specificity
You can also choose Clinical Trial and/or Research as a Publication Type. You will have to evaluate articles carefully to see if they fit the criteria for a Randomized Clinical Trial.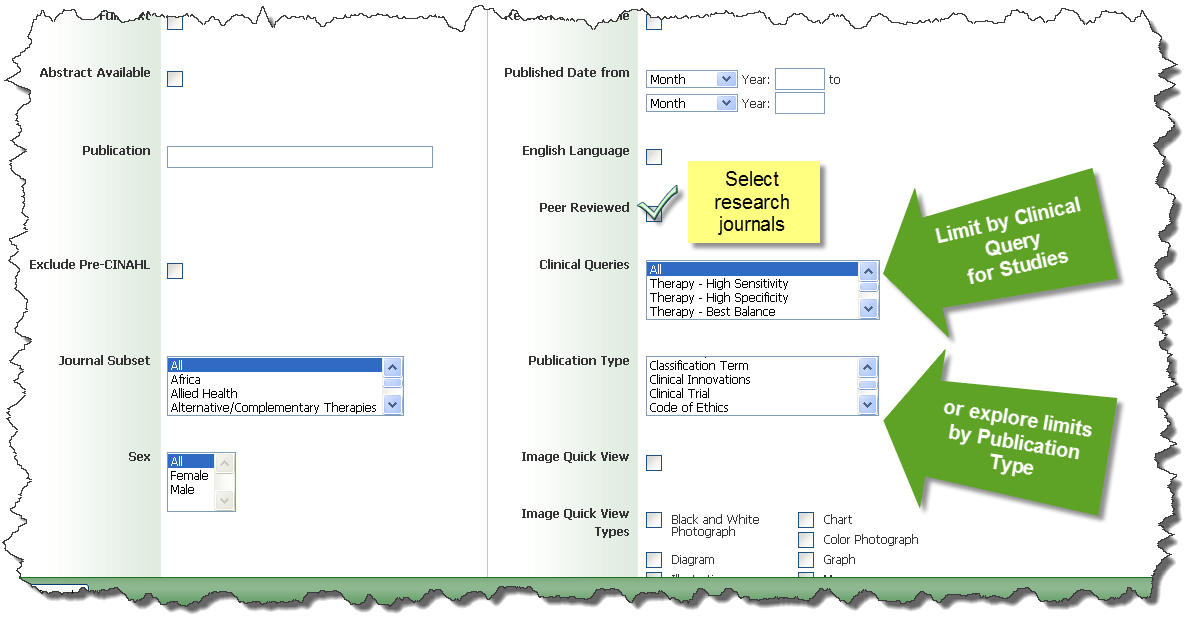 Medline/PubMed includes a publication type for Randomized Clinical Trial.
Step 4. Review the results
Both methods limit your results to RCTs. If you find a large number of studies, you can search for systematic or literature reviews.
If you would like to learn more about searching PubMed, review the PubMed tutorials at http://www.nlm.nih.gov/bsd/disted/pubmed.html. Remember that PubMed is available free to the public. Links to the full-text article from a free source or to the publisher are usually provided. If there is a fee for the article, ask your college, hospital or public library if they can obtain the article through interlibrary loan.
The next step is to read the study and determine if the methodology is sound so that we can consider the results.

Revised July 2010 / Adapted February 2011