QR Codes: Quick Facts - LSC-CyFair
A QR code may contain the following data:
text information
phone numbers
text messaging
microblogging
URL/Internet address
contact information
calendar event
email address
Scan QR codes with a smartphone or other web-enabled electronic device equipped with a camera and free QR code scanner application such as the Kaywa Reader.
Get more details and try it yourself!
QR code basics:
Created in 1994 by a Japanese automobile parts company (now named Denso Wave Incorporated) to track inventory.
Known alternatively as quick response code.
Released the specifications and code itself to be freely used but Denso Wave kept the patent rights.
Contains up to 4296 alphanumeric characters, much more than a regular barcode.
Read in any direction (using three unique squares in the code's three corners) with a free QR code scanner application available at mobile device online stores.
Scan codes only from sources you recognize like libraries, colleges, museums, newspapers, etc.
---
Sources:
"About 2D Code." QR Code.com. Denso Wave Incorporated, n.d. Web. 13. Dec. 2011.
"Inventor of the QR Code Develops a New Reader Application." PR Newswire. PR Newswire Association LLC, 9 June 2011 Web. 13 Dec. 2011.
Schottmuller, Angie. "Top 14 Things Marketers Need to Know about QR Codes." Search Engine Watch. Incisive Interactive Marketing LLC, 26 Apr. 2011. Web. 7 Dec. 2011.
"QR Code" is a registered trademark of Denso Wave Incorporated.
---
Contact the LSC-CyFair Library: chat | e-mail | voice - 281.290.3214 | text - 832.463.0478
Page Maintained by: M.Norem-Reference Librarian
monica.r.norem@lonestar.edu
QR Code Examples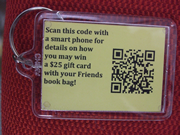 A QR code was placed inside a tag attached to a Friends of the Library book bag announcing their traveling book bag adventure contest. The other side of the tag lists a URL for alternative access to the information.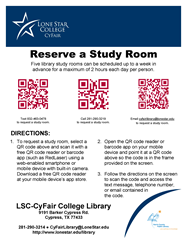 QR codes were added to the sign outside library study rooms, listing three ways to schedule a room: text, phone, or email. Below each tag, there is a listing of the text number, phone number, and email address, respectively, for alternative access to the information.