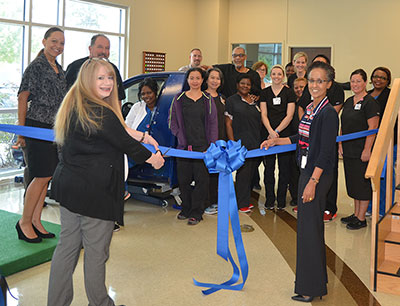 Lone Star College-Conroe Center is helping patients at Kindred Rehabilitation Hospital Northeast Houston get on the road to recovery. Automotive technology and welding technology students cut a Hyundai Elantra in half so rehab patients can practice entering and exiting vehicles inside the hospital. The rehab facility is located in Humble.
"The car gives patients independence as well as confidence," said John Pollard, Certified Occupational Therapy Assistant at Kindred Rehabilitation Hospital Northeast Houston and LSC-Kingwood alumnus. "Patients can practice in a safe environment and once they can accomplish those skills here, they can transfer what they learned when they go home."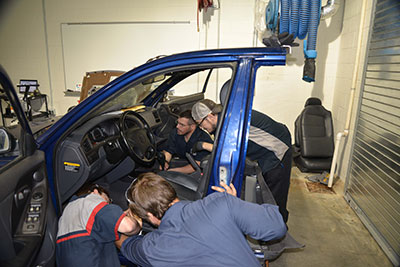 "Our goal is to prepare our patients for a return home independently or with assistance from family members or other care providers," said Rashia Kirby, Director of Business Development at Kindred Rehabilitation Hospital Northeast Houston. "In going back home you have to be able to get in and out of the car for doctor's appointments and to visit family and friends. So to be able to have a functional activity where patients can practice helps a lot."
Even though it is a car, therapists can move the vehicle up and down to simulate the height of an SUV or truck the patients will be riding in. Almost everything under the hood of the car is gone and the airbags have been removed. Automotive students had to carefully gut and preserve the interior of the car to allow the welding students the maximum room to cut the car in half.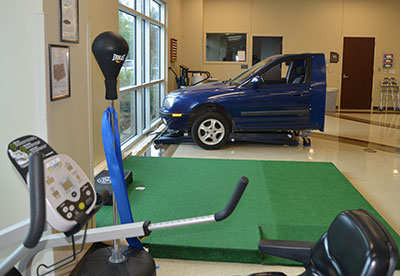 "It is good practice for students to do this community project because it is also a learning experience," said Bill Williams, automotive technology program director at LSC-Montgomery. "One of the important things you learn working with cars is if you are going to take something apart you need to mark everything to put it all back together."
After the automotive students emptied the car, the welding students cut the car in half with a Sawzall®, smoothed out the rough edges, installed strengthening so the car would not collapse, and added small back wheels so the project could be moved around without a crane. Then the automotive students reassembled the seats, steering wheel, pedals and doors.
"We learned a lot of these techniques in the classroom and then we immediately got to apply them in lab," said automotive technology student Seth Mcadow. "It is satisfying to learn very quickly that way."
"I enjoy working with my hands that is why I enjoy this class so much," said student Tyler 'Blake' Musgrove. "Trying to get off some of these old rusted parts was not easy. But whether the work is easy or hard if you like doing it you are going to enjoy it and if this car helps patients at Kindred Northeast Houston Rehabilitation Hospital re-learn skills that they used to have, then all the work was worth it to me."
"This car will impact many patients," said Zeni Cathey, Director of Therapy. "We practice transfers with all of our patients, some come to us healing from strokes, hip surgery or knee surgery. Inpatient Rehabilitation is the last stop on their journey to recovery before they get home."
"I love encouraging learning that also provides a service to others," said Dr. Rebecca Riley, President at LSC-Montgomery. "In fact, service learning is a big part of our student engagement. We are especially proud of these Mavericks for using their talents to build something so unique."
Kindred Rehabilitation Hospital Northeast Houston is an inpatient rehabilitation hospital, offering intense inpatient programs that provide ongoing care. The hospital is for individuals who have been impaired by an injury or illness and are considered by their physicians to be medically stable and physically able to begin a comprehensive rehabilitation program consisting of at least three hours of therapy a day, five days a week. The teams of rehabilitation experts develop an individualized treatment plan for each patient and their family to maximize recovery and return to home. To learn more, visit khrehabnortheasthouston.com
Lone Star College offers high-quality, low-cost academic transfer and career training education to 95,000 students each semester. LSC is training tomorrow's workforce today and redefining the community college experience to support student success. Stephen C. Head, Ph.D., serves as chancellor of LSC, the largest institution of higher education in the Houston area with an annual economic impact of $3.1 billion. LSC consists of six colleges, eight centers, two university centers, Lone Star Corporate College and LSC-Online. To learn more, visit LoneStar.edu.