Lowlands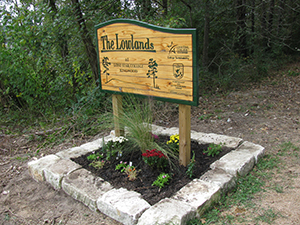 The "Lowlands" at Lone Star College-Kingwood are 200 acres of bottomland mixed hardwood forest and wetlands between the campus and the West Fork of the San Jacinto River. Evans Gully transects the Lowlands and contains urban drainage and effluent from an adjacent sewage treatment plant. A well used Evans Gully Trail follows the gully from the trail head at Sorters Road to the river, a distance of approximately 1.04 miles.
In 2010, LSC-Kingwood entered into the Partners for Fish and Wildlife Program of the US Fish and Wildlife Service (Partnership) for approximately 105 acres north of Evans Gully. The Partnership was a matching grant program that provided for habitat improvement, educational venues and access enhancement. The construction phase of the Partnership was completed with a ribbon cutting on November 16, 2013.
The Lowlands have been designated as a Birding Hotspot by Cornell University's website. There are also 14 Geocaches in the Lowlands. Their locations are shown on the Geocaching website.