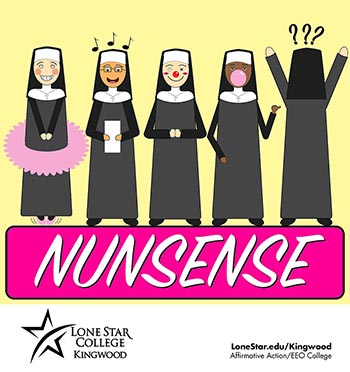 Seasoned and budding actors looking to entertain while honing their craft, are invited to audition for Lone Star College-Kingwood's spring 2019 drama production.
The college is looking to cast students and community members with talent and energy for Dan Goggins's "Nunsense." Auditions are March 19 and 21 from 6-9 p.m. on the Administration and Performing Arts Center (APA) Main Stage. This will be the first audition and show that will take place on the college's main stage, renovated due to damages from Hurricane Harvey.
"We are looking for five ladies who love to sing and dance," said Eric Skiles, artistic director and professor of theatre at LSC-Kingwood. "Since 'Nunsense' is a musical comedy, we want actresses who are well-suited to comic timing."
All five roles in this show are substantial – each actor has their own solo number. The auditions require prospective actors to bring a Broadway song to present along with sheet music for the pianist. After everyone has performed their song, they will work on short scenes and learn a song from the show.
"Our auditions are very relaxed—everyone is there to support each other—and although some actors are vying for the same role, there is a true sense of camaraderie in our auditions," Skiles said. "We welcome all students and community members to join us."
With more than 5,000 productions worldwide and translated into 21 languages, "Nunsense" tells the story of when the Little Sisters of Hoboken discover that their cook, Sister Julia, Child of God, has accidentally poisoned 52 of the sisters, and they are in dire need of funds for the burials. The sisters decide that the best way to raise the money is to put on a variety show, so they take over the school auditorium. Meet Reverend Mother Regina, a former circus performer; Sister Mary Hubert, the Mistress of Novices; a streetwise nun from Brooklyn named Sister Robert Anne; Sister Mary Leo, a novice who is a wannabe ballerina; and the delightfully wacky Sister Mary Amnesia, the nun who lost her memory when a crucifix fell on her head.
"Nunsense" will run May 15-18 at 7:30 p.m. on LSC-Kingwood's APA Main Stage. For more information on the auditions, contact Eric Skiles at 281-312-1672 or email Eric.C.Skiles@lonestar.edu.
Register now for credit classes online through myLoneStar. Classes are offered days, evenings, or weekends in traditional, online and hybrid formats. For more information or to register online, visit www.lonestar.edu/registration. For general information about Lone Star College-Kingwood, call 281.312.1600 or visit http://lonestar.edu/kingwood.
Lone Star College offers high-quality, low-cost academic transfer and career training education to 99,000 students each semester. LSC is training tomorrow's workforce today and redefining the community college experience to support student success. Stephen C. Head, Ph.D., serves as chancellor of LSC, the largest institution of higher education in the Houston area with an annual economic impact of nearly $3 billion. LSC consists of six colleges, 10 centers, two university centers, Lone Star Corporate College and LSC-Online. To learn more, visit LoneStar.edu.
###