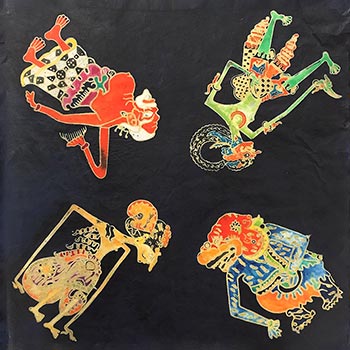 Cultural art enthusiasts are invited to the first exhibit at Lone Star College-Kingwood following Hurricane Harvey.
"Batiked! The Art of Indonesian Textiles" is a collection of batik works by married couple Agus Ismoyo and Nia Fliam and LSC-Kingwood art professor, Mari Omori. The pieces will be on display in the college's Fine Art Gallery March 18-April 13.
"I hope the viewers will gain new knowledge and appreciation regarding the art of the ancient art form, batik. This exhibition is a multi-sensory, immersive experience, one that will be remembered for a lifetime" Omori said.
Co-sponsored by the Indonesian Consulate of Houston, the grand opening on March 21 will feature Angklung musicians, Indonesian dancers, a batik fashion show, authentic cuisine and more. The event will take place from 12-1:15 p.m. in the Administration and Performing Arts Center (APA).
"This is a very exciting and special time. All Indonesian consulates across the U.S. are celebrating in honor of the 70th anniversary of diplomatic relations between our two countries," stated Dr. Nana Yulianna, consul general.
"Batiked! The Art of Indonesian Textiles" will feature many of Omori's pieces created during a two month stay as an artist-in-residence in Yogyakarta, Indonesia with Ismoyo and Fliam. While studying textile art, Omori learned the use of batik-making tools, caps (stamps), brushes, natural dyes, and cantin, a tool used to apply liquid wax to paper, cotton or silk.
"The major influence of my work stems from my experience of Indonesia, the warm hospitality, the natural beauty, so fresh and abundant, she said. "In my batik works, I incorporated botanical forms found in nature, common, yet somewhat exotic and surreal. I enjoy the coexistence of familiarity and unfamiliarity in my work as it develops."
Ismoyo (Indonesian) and Fliam (American) have been producing contemporary textiles in their studio since 1985. Ismoyo's ancestors were batik makers in the court city of Solo in Java. Fliam completed her fine arts degree at Pratt Institute in New York City before coming to Indonesia to study traditional batik. Since 1994 they have explored and worked in collaboration with Australian Aboriginal artists, Native First Nation, African, Asian and European groups and individual artists. Their main studio, Brahma Tirta Sari, is a division of the Culture House Babaran Segaragunung, an educational outreach center promoting the indigenous arts and culture of Indonesia.
"We seek to read the visual texts of traditional Javanese batiks and to express in a contemporary form, its deep connection to nature and artistic ecology," Ismoyo and Fliam said
Batik is a technique of applying wax to create intricate lines on cloth or paper. The material is then dyed and the wax removed to reveal the artist's drawing. The process is repeated until the desired patterns take shape. The wax-resist dyeing of fabric is an ancient art form, found in Egypt as early as the 4th century BC. In Asia, the technique was practiced in China, India, and Japan, 618-794 AD. The art of batik is highly developed on the island of Java, Indonesia in terms of pattern, technique, and the quality of craftsmanship.
The Fine Art Gallery at LSC-Kingwood is located in the Academic and Performing Arts Center (APA) room 114. For more information on "Batiked! The Art of Indonesian Textiles" and the grand opening celebration on March 21, call 281-312-8439 or email Kristine.M.Larson@LoneStar.edu.
Register now for credit classes online through myLoneStar. Classes are offered days, evenings, or weekends in traditional, online and hybrid formats. For more information or to register online, visit www.lonestar.edu/registration. For general information about Lone Star College-Kingwood, call 281.312.1600 or visit http://lonestar.edu/kingwood.
Lone Star College offers high-quality, low-cost academic transfer and career training education to 99,000 students each semester. LSC is training tomorrow's workforce today and redefining the community college experience to support student success. Stephen C. Head, Ph.D., serves as chancellor of LSC, the largest institution of higher education in the Houston area with an annual economic impact of nearly $3 billion. LSC consists of six colleges, 10 centers, two university centers, Lone Star Corporate College and LSC-Online. To learn more, visit LoneStar.edu.
###