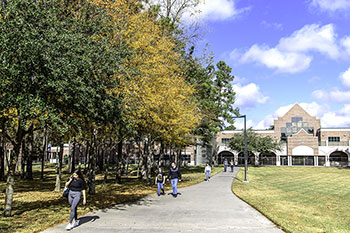 Lone Star College-Kingwood is excited to announce that it will reopen five of six buildings damaged during Hurricane Harvey. The buildings will be ready in time for the spring 2019 start on Jan. 14.
"Hurricane Harvey destroyed six of our nine buildings at a total cost of nearly $60 million. Although this experience was devastating, it did not shake our determination to get students educated," said Dr. Katherine Persson, college president. "Our goal from the beginning was to remediate, restore, and reconstruct the campus back to a place where students can continue to receive a quality, well-rounded education."
During the reconstruction process, LSC-Kingwood made changes that will help to better serve the needs of students and employees well into the future. The modifications include renaming three buildings:
Administration Building is now the Technology Instructional Building (TIB).
Health Sciences Building is now the Science Instructional Building (SIB).
Performing Arts Center is now the Administration and Performing Arts Center (APA).
The college also implemented flood prevention improvements such as:
Relocating the major network closet from the first floor of Classroom Building A (CLA) to the second floor of CLA.
Moving the mass communication system from the CLA (flooded building) to the Student Conference Center (non-flooded building).
Raising the communication panels in all flooded buildings to above the flood line.
Discussing the cost and implementation of water barrier doors with FEMA.
Building the new health care facility on high ground.
Other changes include a new student lounge in Classroom Building B; a new science tutoring lounge in the SIB; three additional classrooms; several conference rooms; a large flex space for instructional leaders and their staff in the APA Center; and Veterans will have a larger office suite in Classroom Building A. In addition, the Continuing Education Department will move to the TIB for easier access.
Although the majority of buildings will reopen in January, the Library will not open until March. This decision allows LSC-Kingwood to fully modernize the space with state-of-the-art equipment and technology for use by students, employees, and the community.
"Given that modern libraries require a lot more technology than when ours opened in 1984, we took our time in redesigning this area to meet current and future needs and to be very flexible," Persson said.
To fully experience the renovated campus, spring registration is still ongoing and will continue through the first day of class on Jan. 14. After that, students can then register for Late Start sessions that begin in February. For more information on LSC-Kingwood, visit http://lonestar.edu/kingwood. To register for classes, visit www.lonestar.edu/registration.
Lone Star College offers high-quality, low-cost academic transfer and career training education to 99,000 students each semester. LSC is training tomorrow's workforce today and redefining the community college experience to support student success. Stephen C. Head, Ph.D., serves as chancellor of LSC, the largest institution of higher education in the Houston area with an annual economic impact of nearly $3 billion. LSC consists of six colleges, eight centers, two university centers, Lone Star Corporate College and LSC-Online. To learn more, visit LoneStar.edu.
###