Online Courses Offered
The Lone Star College System offers both online and hybrid classes. Students may register for these using the same process that is used for a traditional, face-to-face class. New course offerings are included as needs arise, so be sure to contact your nearest LSCS campus for additional information on registration.
What is the Difference Between Online and Hybrid?
Online classes allow students to obtain college credit without the need for traveling to one of Lone Star College System's campuses. The content and transferability of the courses are the same as traditional on-campus courses. In a manner similar to courses offered on-campus, instructors in online courses use a variety of learning activities via distance such as discussion, class projects, exams, presentations, and written papers.

Hybrid classes are those where face-to-face instructional delivery is regularly replaced by alternative delivery methods such as the Internet.

To register for Spring 2012 Late Start go here.
LSC-Online Offers Degrees and Certificates in Online and Hybrid Format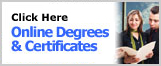 Students can complete the minimum Associate degree requirements through LSC-Online. All courses are offered under the guidance of a qualified instructor. Also, many require students to complete orientation activities at the beginning of the course. Students taking these courses have the same rights and responsibilities as they do in traditional campus-based courses.
Online Degrees & Certificates
For additional information on LSC-Online, contact a college advisor at one of our advising offices.