Alumni
Welcome! - from the Lone Star College-Tomball Alumni Association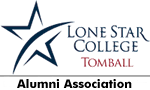 The Lone Star College-Tomball Alumni Association would like to welcome you to our website. This site is designed to provide current and former students a common tool for learning about the association, its members and about Lone Star College-Tomball.
The Alumni Association is open to anyone who has taken a class, either credit or non-credit at Lone Star College-Tomball. Our members are eager to answer questions about the Lone Star College-Tomball experience. We also can provide information on current events at the college and will be happy to assist you in any way we can.
Our goals include developing ways for alumni to stay in touch with their college, to encourage ideas, to stimulate social and intellectual participation so all members share in the association's growth, and to develop a bond with our community.
Join our Facebook group to stay in touch with other alumni and get the latest news and events.