LSC-Montgomery Food Pantry

How We Serve
The Lone Star College-Montgomery offers any student, staff or faculty member emergency food and supplies.
Hours of Operation
Tuesdays, Wednesdays, and Fridays from noon - 3 p.m. located inside the lobby of the Administration Building (Bldg. E), to the left of the Information Desk.
Have an Emergency?
If you are in need of emergency assistance please call Louise Casey-Clukey at 936.273.7394.
Want to Volunteer?
If you wish to volunteer, please contact Louise Casey-Clukey for training and hours. A short 15 minute training sessions is required to volunteer at the Pantry.
Special Thanks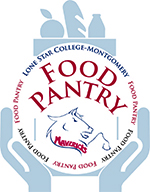 A special thanks to those who have helped make the Food Pantry possible.
Louise Casey-Clukey, Sarah Palacios-Wilhelm, Michele Richey, Erik Oslund, Karen Buckman, Erin Anderholm, Laurie Boyd, Linda Corbin, Linda Crowl, Clemestine Houston, Glen Killian, Martina Kusi-Mensah, Angela Martin, Magali Reyes, Liliana Reynolds, Mary Sharon, Haley Stoner, Rachel Trackey, Beverley Turner, Carmelle White, and Tabitha Yargo.
Need Assistance?
Please fill out the form below and someone will contact you as soon as possilbe.
Serving Montgomery County since 1985.