Public Relations and Marketing Communications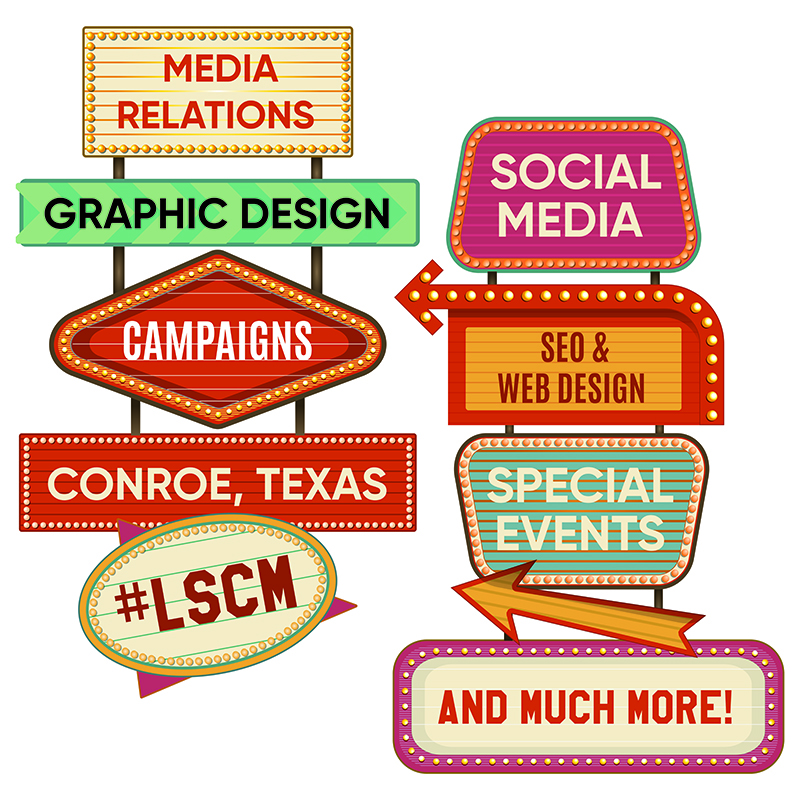 Our Services
Public Relations and Marketing Communications (PR MarCom) staff work to enhance the reputation of the college by creating awareness of the work and impact provided by LSC-Montgomery students, faculty, staff and alumni. The department offers a wide range of services including media relations, digital strategy, creative services, event planning and promotion; and creative services including graphic identity, marketing and advertising, publications and photography. Submit a Marketing Request for assistance.
Public Relations
Public Relations staff perform community outreach duties and promote college stories through press releases, media advisories, and personal pitches to media. Staff develop news stories with multimedia content, which appear on the college homepage and LSC-Montgomery News website, and are distributed monthly through the LSC-Montgomery Headlines email to faculty, staff, and students.
Marketing
Marketing staff manage the college's marketing communications initiatives that include marketing campaigns, webpages, social media, mobile, search engine optimization, and newsletters.
Creative Services
Creative Services staff offer graphic design and photography services. Staff maintain guidelines for usage of the college logo and other identity elements. Official templates, stationery, and logo files can be downloaded from the Marketing Resources webpage.
Special Events
Special Events staff coordinate academic and auxiliary space reservations on campus. If you would like to host an event at LSC-Montgomery, reserve a room or computer lab for academic purposes, visit Room and Event Booking.
Ideas and Execution
PR MarCom staff innovate, implement, and evaluate. The Digital Marketing Intelligence Center is a creative suite for collaboration and innovation.
Contacts
Brian M. Mullen, Executive Director, 936.273.7224
Brandy Beucler, Marketing Manager, 936.273.7436
Samuel Negrete, Digital Marketing Specialist, 936.271.6376
Stacey Hewitt, Public Relations Manager, 936.273.7045
Gail Smith, Special Events Coordinator, 936-723-7432
David Cox, Event Specialist
LaNae Ridgwell, Graphic Designer, 936.273.7229
Kim Hester, Graphic Designer, 936.273.7209
Reba Harris, Graphic Designer, 936.271.6303