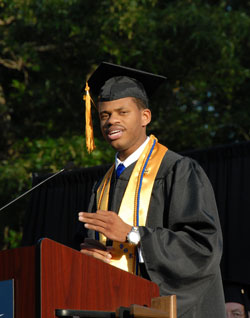 Faculty, staff and administrators donned the traditional regalia, parents watched from the crowd and graduates stepped up to receive well-earned degrees in LSC-Kingwood's spring commencement ceremonies on Friday, May 8.
Over 2,500 friends and family members attended the college's ceremony held on the LSC-Kingwood Commons now known as the Grad Grass. The May 8 celebration continued the tradition started in 2007 of the ceremony being held on the college campus.
As part of the commencement exercises, Dr. Katherine Persson, LSC-Kingwood president, addressed the graduating class. In addition, the colors were presented by the Splendora High School ROTC, and music was provided the Kingwood Community Symphonic Band.
"This evening we are gathered to recognize and celebrate the achievements of the Lone Star College-Kingwood graduates and to wish them continued success," said Persson. "Today is indeed their day and we are privileged to share it with them."
Persson, one of the founding faculty members at LSC-Kingwood in 1984, was named the successor to outgoing President Linda Stegall in August 2008. Prior to her presidency at LSC-Kingwood, Persson served as president of the Rock Creek Campus of Portland Community College for 2 years after serving in a number of positions for more than 20 years at LSC-Kingwood.
Persson received her doctorate in educational administration and community college leadership from the University of Texas at Austin. Additionally she received a master's degree in biology from Texas Women's University-Texas Medical Center Houston, and a bachelor's degree in biology from Texas State University, formerly Southwest Texas University.
The ceremony also featured student speaker Jonathan Asher Holland. Graduating candidates were encouraged to submit a speech of a motivational nature about their time at LSC-Kingwood and Holland was one of four finalists selected. In addition to presenting his speech during the commencement ceremony, he was also awarded $500 to further his education at the institution of his choice.
More than 440 students completed graduation during the 2008-2009 academic year. This number included students who completed their curriculum requirements in the summer 2008, fall 2008 and those who have applied for graduation in spring 2009. Graduating seniors received associate degrees, career studies certificates and diplomas. Some of the graduating seniors received more than one degree or a combination of degree, career studies certificate and/or diploma.
Over 200 graduate candidates participated in the ceremony which began at 6:30 p.m. with a reception for the graduates and guests held immediately following the ceremony on the plaza of the Health and Science Building.
Register today for Summer Term I (June 1-July 7), Summer Term II (July 9-Aug. 13) and Fall (Aug. 24-Dec. 13). Students can register in one of three ways: phone, online or on campus. Classes are offered days, evenings, or weekends in traditional, Internet, video, TV and independent study formats. Current students can register by telephone at 281-519-6625. Former and current students can register online at Kingwood.LoneStar.edu/registration.
For general information about Lone Star College-Kingwood, call 281-312-1600.