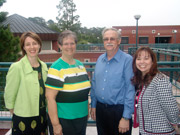 The Lone Star College System has honored Lone Star College-Montgomery employees Amy Cooper, DeAlva Engelhardt, Bill Hare and Mary Ann Mendoza with the 2008-09 Support Staff Excellence Awards.
"Lone Star College-Montgomery is blessed with excellent staff," said Penny Westerfeld, LSC-Montgomery interim president. "Our four winners exemplify the spirit and dedication to excellence that we experience and depend upon every day."
The honorees, who were nominated by their colleagues for the annual award, were recognized recently at an end-of-the-year employee awards banquet.
Amy Cooper, teacher certification program manager, said she is honored to be one of the award recipients.
"I know I am in great company with fellow award recipients and I would like to thank the committee for such an honor," said Cooper, who has worked at LSC-Montgomery for almost three years.
Cooper, who has a bachelor's degree in fine arts and radio television and a master's degree in interdisciplinary studies, has experience as a marketing director for the Red Cross and the Texas Zoo, and also as a television instructor at Sam Houston State University.
DeAlva Engelhardt, college relations assistant, said she was taken by surprise with the staff excellence award.
"I wasn't expecting it at all," said Engelhardt. "I felt so honored for being recognized for something I love doing. I get to help so many people in my position and to be honored for it is just very exciting."
Engelhardt, who has previously worked for the Conroe Independent School District, has worked for LSC-Montgomery for the past nine years–working in student services prior to moving to college relations more than four years ago.
Bill Hare, facilities manager, said he is very humbled by the award.
"There are others who I think are more deserving of recognition, although I accept the award with much appreciation," said Hare. "I am proud to represent the facilities department with this honor."
This is the sixth year at LSC-Montgomery for Hare who has also served LSC-Montgomery as a maintenance supervisor and maintenance technician.
Mary Ann Mendoza, facility and staff development program manager, is a founding staff member of LSC-Montgomery. She said that the number of years in her tenure (13) amazes her.
"I have always enjoyed the people at LSC-Montgomery and I'm proud of the work we do here," said Mendoza. "I am honored to be counted among the other employees who are noted for their exceptional service to the college and to students."
Mendoza, who has a bachelor's degree in human services and a master's degree in college student personnel administration, has also served as an assistant director of the off-campus student center and coordinator for residence life at Texas A&M University and assistant director of residence life and Greek life coordinator for St. Mary's University.
"I've worked at four-year institutions, research institutions, technical colleges; but none of these experiences have captured my heart like working with the students and employees of LSC-Montgomery," said Mendoza. "The mission of the college, the appreciation for the education, and the obvious fit into the surrounding communities keeps me, as well as many other employees, coming back day after day with a fresh commitment."
Lone Star College-Montgomery is located at 3200 College Park Drive, one-half mile west of Interstate 45, between Conroe and The Woodlands. For more information about the college, call (936) 273-7000 or visit http://Montgomery.LoneStar.edu/.

Lone Star College System consists of five colleges, including Cy-Fair, Kingwood, Montgomery, North Harris, and Tomball, six centers and Lone Star College-University Center. With more than 51,000 students, it is the largest college system in the Houston area, and third largest community college district in Texas. To learn more, visit http://www.lonestar.edu/.