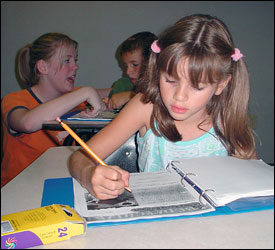 Learning about other cultures, countries and times help us all to understand our own world a little better.
Recognizing that fact and acknowledging that the world we live in is connected like never before, Discovery College has developed several camps to teach kids the importance, and fun, of learning about the many different cultures around the world.
"In today's global society, it is very important for children to learn about other cultures in meaningful ways," says Mark Osborne, program director for Discovery College.
Offering several camps that will take kids minds on an imaginary journey across the globe, Discovery College has set the stage for a summer filled with adventure.
In the camp Culture Creators, children will create their own civilization, including all facets of life. By studying great civilizations from history, they will decide the type of government, the form and function of the military, the laws and finally decide on building plans, services and industries to support their civilization. This class will be offered for 9 to 11 year olds, June 15 to June 19, 1 to 5 p.m. and for 12 to 14 year olds, June 22 to June 26, 1 to 5 p.m.
Kids will practice their public speaking and reasoning abilities while on the job in camp Law and Order. Basic procedures of a criminal trial will be taught while each student prepares an actual criminal case, presenting evidence and making arguments to the Court. A jury will be selected and Court is in session. Kids aged 9 to 11 can take Law and Order July 6 to July 10, 1 to 5 p.m. Kids aged 12 to 14 have two chances to attend court, June 22 to June 26 and July 6 to July 10, 8:30 a.m. to 12:30 p.m. both weeks.
Younger children, aged 6 to 8, will enjoy the fun, games and crafts involved in these camps.
Children will have a fiesta exploring the rich holiday traditions of Spanish-speaking countries in the camp Celebre! Holiday Traditions. Using crafts, music and stories, they will learn how children in Mexico, Brazil, Spain and other countries celebrate holidays. Children will recognize familiar holidays and also learn about new, unique holidays and the meaning behind them. This class will be offered June 15 to June 19 and June 22 to June 26, 8:30 a.m. to 12:30 p.m. both weeks for children 6 to 8.
Pirates of the Pastwill take kids on a journey around the globe. They'll learn about some of the most famous pirates in history, where they sailed and what life was like aboard ship with exciting stories, games and clever art projects. This class will be offered July 13 to July 17, 8:30 a.m. to 12:30 p.m. and 1 to 5p.m. for children 6 to 8.
Come explore far off lands in Young Explorers. Children will be enthralled with tales of famous explorers and their journeys to new lands and their excitement upon discovering unheard of places and cultures. There will be three chances for children 6 to 8 to imagine the possibilities: June 22 to June 26, 1:00 to 5 p.m.; July 6 to July 10, 8:30 a.m. to 12:30 p.m.; and July 20 to July 24, 8:30 a.m. to 12:30 p.m.
Discovery College begins June 15 and runs through July 31. Camps are offered Monday through Friday and change weekly. Morning sessions are held 8:30 a.m. – 12:30 p.m. and afternoon sessions are held 1:00 – 5:00 p.m. Students may attend a morning session, an afternoon session, or both. Those attending both a morning and an afternoon session will need to bring a sack lunch. All Discovery College participants will receive a Discovery College t-shirt. Camps cost $85.
The catalog is available online at Kingwood.LoneStar.edu/discoverycollege. Registration is going on now. Register in one of three ways: by fax (281-312-1612), in person (CLA, Room 107), or by phone (281-312-1660 or 281-312-1661).
Register today for Summer Term II (July 9-Aug. 13) and Fall (Aug. 24-Dec. 13) credit classes. Students can register in one of three ways: phone, online or on campus. Classes are offered days, evenings, or weekends in traditional, Internet, video, TV and independent study formats. Current students can register by telephone at 281-519-6625. Former and current students can register online at Kingwood.LoneStar.edu/registration.
For general information about Lone Star College-Kingwood, call 281-312-1600.
LoneStar College System consists of five colleges, including Cy-Fair, Kingwood, Montgomery, North Harris, and Tomball, six centers and the Lone Star College-University Center. With over 50,000 students, it is the largest college system in the Houston area, and third largest community college district in Texas.