LSC-Kingwood students are standing tall after walking away with the top three wins at a recent poster contest.
The contest was put on by the International Education Conference and open to individual students attending a community college in the state of Texas during the spring of 2009. The theme was "Asia: Bridging the New World."
Professor Karsan Hirani assigned the contest as his student's mid-term project. He says, "I am very proud of my students for the hard work and dedication they put into designing the poster. For most of them this was the first time they had designed a poster."
Two of the student winners were from his Computer Illustration class and one was from his Design Communication 1 class. They each received a cash prize.
First place winner, Hannah Carter is a Graphic Design/Photography major and her entry was a high contrast composition with black artwork on a yellow background. The word "ASIA" is in bold text and bridges the urban cityscape to the rural landscape. Professor Hirani says, "She has a good sense of design and is very comfortable using Illustrator CS3. Her high contrast composition with great use of white space made for a very successful poster design."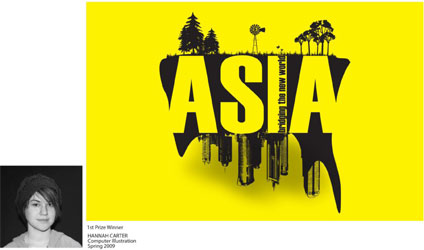 Professor Hirani says he is especially proud of second place winner, William Rowe, who is brand new to graphic design. "He had a steep learning curve. With his perseverance and lots of work he developed a good layout for this poster contest."
Rowe says, "I was flabbergasted that I'd gotten second place in the contest, especially considering that Graphic Design isn't my major like most of the students in my class."

Third place winner, Joshua Rogers used the Asia map and typography as graphic design elements to convey a message of hope in what Professor Hirani calls an elegant design. He is a graphic design major.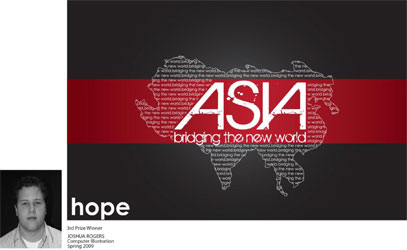 Professor Hirani says the work of these students demonstrates the kind of quality programs and instructors students have access to at LSC-Kingwood. "The programs at Lone Star College-Kingwood are indeed the best. We are very fortunate to get good students, eager and ready to learn and great teachers passionate, devoted and always ready to encourage students to seek challenging projects."
Register today for Summer Term II (July 9-Aug. 13) and Fall (Aug. 24-Dec. 13) credit classes. Students can register in one of three ways: phone, online or on campus. Classes are offered days, evenings, or weekends in traditional, Internet, video, TV and independent study formats. Current students can register by telephone at 281-519-6625. Former and current students can register online at Kingwood.LoneStar.edu/registration.
For general information about Lone Star College-Kingwood, call 281-312-1600.
LoneStar College System consists of five colleges, including Cy-Fair, Kingwood, Montgomery, North Harris, and Tomball, six centers and the Lone Star College-University Center. With over 50,000 students, it is the largest college system in the Houston area, and third largest community college district in Texas.