Four students in the Lone Star College System have been selected as the first recipients of the Return to Education Scholarship, provided by the Assistance League of Montgomery County (AL). This scholarship was designed for the benefit of non-traditional students residing in Montgomery County who seek to further their education and enhance their careers.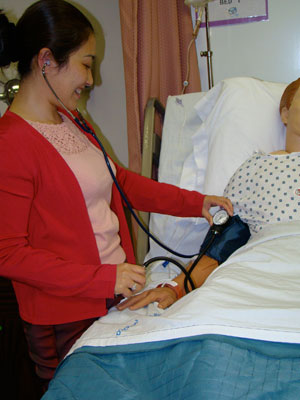 The AL scholarship committee selected Nancy Carman-Curnel, Lisa Johnson, Qingwen "Emma" Yang, and Carol Young to each receive a $750 scholarship to go toward tuition, books, and related educational expenses.

"I'm really lucky to have been chosen," said Yang, who currently attends LSC-Montgomery. "Going back to school at the age of 40 was the best decision I have made since I moved from China two years ago."

The Return to Education scholarship was created to assist students beyond high school age who are entering a community college or workforce development certificate program. With a goal to positively impact the entire community, the AL strongly considered student-specified, service-oriented career paths when screening potential scholarship candidates.

"We targeted our selection for those persons who were returning to the workplace and who were entering into a career that would benefit others, such as nursing or teaching," said Susan Fronk, community outreach chairperson for the AL.

Yang, who aspires to be a nurse in a hospital, applied to the LSC-Montgomery nursing (RN) program early this year, but was not accepted. "I was just too nervous when I took the (entrance) test," explained Yang whose primary language is Chinese. "I was very upset about it."

A professor then encouraged her to apply to the vocational nursing (LVN) program even though that was not a part of her original career plans. Yang was accepted into the LVN program, which begins this fall.

Yang said that when she first saw the scholarship information on a flyer on campus she shrugged it off.

"I just didn't think that it was for me," she said. But when an instructor at the LVN program orientation pointed out that the scholarship was designed for someone like her, Yang decided to apply.

"Life is amazing sometimes, especially when bad things lead to good things," said Yang. "If I had never messed up on the (RN) nursing entrance test, I would never have applied to the LVN program, and then I would never have applied for the scholarship."

After being accepted into the LVN program, Yang decided to try once more to get into an RN nursing program. This time, she passed. Yang was accepted to the LSC-North Harris RN program, which starts in the fall. In the mean time, she is using the scholarship toward tuition for four classes that she is taking this summer at LSC-Montgomery.

Yang and the other three recipients were honored at the AL's annual luncheon in May.

"At the luncheon, it was nice to meet the people who were doing such great things for me," said Yang. "I hope one day I can do something for them, maybe even volunteer."

At the luncheon, the AL also awarded six $4,000 scholarships to graduating Montgomery County high school students. The AL plans to continue both the high school and Return to Education scholarships in the future.

Students applying for the Return to Education scholarship had to submit an essay explaining their need for financial aid, their vocational goals, and how achieving their educational goals would impact their life. They also had to present two letters of recommendation from a teacher, employer, personal acquaintance, or someone with whom they have worked with on a community or volunteer service activity.

"Students should always try to apply for scholarships and financial aid," said Yang. "It is not hard to take the time to write the essays and fill out the application, and it is well worth."

Yang really appreciates the advisors and professors who have helped her since she came to LSC-Montgomery about two years ago.

"It was really hard to adjust to a new country, a new language, and also going to school, but so many people have helped me. I have been really lucky to have met some wonderful friends and mentors."

For more information about the Assistance League of Montgomery County and the scholarships they offer, visit their website at http://www.assistanceleaguemont-co.org/.

LSC-Montgomery is located at 3200 College Park Drive, one-half mile west of Interstate 45, between Conroe and The Woodlands. For more information about the college, call (936) 273-7000, or visit Montgomery.LoneStar.edu.

Lone Star College System consists of five colleges, including CyFair, Kingwood, Montgomery, North Harris, and Tomball, six centers and Lone Star College-University Center. With over 51,000 students, it is the largest college system in the Houston area and the third largest community college district in Texas. To learn more, visit http://www.lonestar.edu/.