More than 35 high school teachers and technical/career counselors from across Texas played the role of student this week during a three-day High School Educators Retreat, hosted by Lone Star College-Montgomery's land surveying and mapping technology program and the Texas Society of Professional Surveyors. The retreat, which took place June 16-18 at the LSC-Montgomery campus, gave participants an opportunity to learn more about the land surveying and mapping industry and the college's workforce program.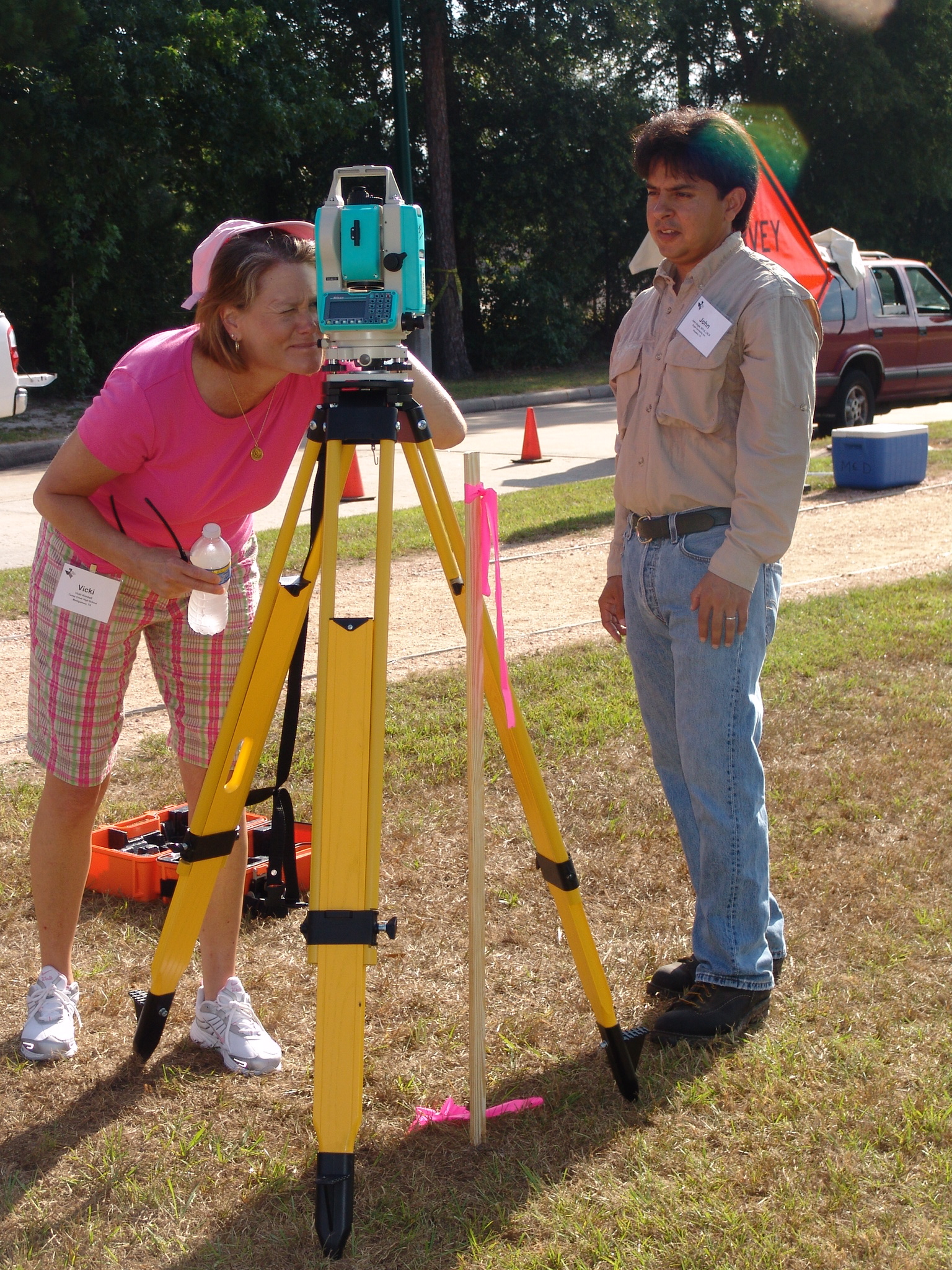 Land surveying professionals from throughout the state volunteered their time to share experiences and provide participants with hands-on demonstrations of the state-of-the-art equipment used in the profession. Educators were also provided ideas as to how to incorporate the information they've learned into programs that will better prepare their students for entering college-level surveying and mapping technology programs, such as the program at LSC-Montgomery.

"The surveying and mapping program at LSC-Montgomery is a good one as it will help students of any age gain the skills they need to begin their career or move up the ranks," said Stephen Matovich, director of surveying for The Woodlands Development Company. In spite of the current economic downturn, Matovich believes that there will continue to be increased demand for professionals in the field in the future."

Matovich smiled as he wittingly explained that the surveying industry provides "a choice of fields" when it comes to specialization.

"Whether determining home, commercial, or utility locations, or mapping the bottom of an ocean or lake, there are a lot of specialties in this industry," said Matovich. "Most government entities, as well as forest and military departments have a need for surveyors."

Participants in the retreat receive CEUs for their profession, portable GPS units to use in their classrooms, examples of lesson plans for educational activities, and a $150 stipend.

The land surveying and mapping technology program at LSC-Montgomery prepares students to enter a high-tech profession that uses state-of-the-art equipment to determine the exact location and measurement of points, lines, and contours of the earth's surface as a land surveying technician. Students entering the program may earn a workforce skills certificate or an associate of applied science degree. Currently, LSC-Montgomery has three articulated programs through the LSC-University Center that enable a smooth transition for students wishing to go on to earn a bachelor's degree in the field.

For more information about the land surveying and mapping program at LSC-Montgomery, contact Roger McDonald, program director, at roger.mcdonald@LoneStar.edu or (936) 271-6179.

LSC-Montgomery is located at 3200 College Park Drive, one-half mile west of Interstate 45, between Conroe and The Woodlands. For more information about the college, call (936) 273-7000, or visit Montgomery.LoneStar.edu.

Lone Star College System consists of five colleges, including CyFair, Kingwood, Montgomery, North Harris, and Tomball, six centers and Lone Star College-University Center. With over 51,000 students, it is the largest college system in the Houston area and the third largest community college district in Texas. To learn more, visit http://www.lonestar.edu/.