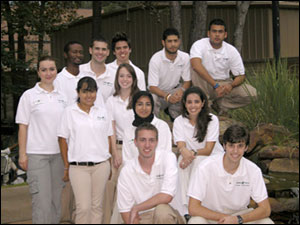 HOUSTON (June 17, 2009) – Lone Star College-Kingwood is looking for a few good Student Ambassadors for the 2009-10 academic year. The Student Ambassadors serve as the official hosts for college events, do recruiting in area schools, assist with community non-profit events and conduct college tours.
The Ambassador Program began twelve years ago and has become a steady source of leaders for the college. Past Ambassadors have served as president of the college student government, Phi Theta Kappa International Honor Society, and other campus organizations.
Students who are accepted for this prestigious program receive a $300 scholarship for each semester that they participate. In return, they commit to 30 hours of service to the college through various events. The group meets bi-weekly for a leadership meeting/lunch and has a fall training retreat. Other events the group participates in include American Heart Walk, area Christmas parades, assisting with Women's Club Marketplace, and the Lone Star College Foundation Gala.
Ambassador uniforms include a customized blazer skirt/slacks, shirt and casual polo, which the college provides.
Students who will be attending LSC-Kingwood in the fall and are interested in applying for this program should be comfortable speaking in public, have at least a B average, enjoy meeting the public, and have a desire to be of service to others.
Applications are now available online at Kingwood.Lonestar.edu/ambassadors or in the Office of College Relations located in the Administration Building, Room 102, from 7:30 a.m. to 5 p.m., Monday through Thursday. The deadline for application submissions is July 15 and interviews will be scheduled after that date.
For more information contact Diane Blanco at 281-312-1679 or diane.k.blanco@lonestar.edu.