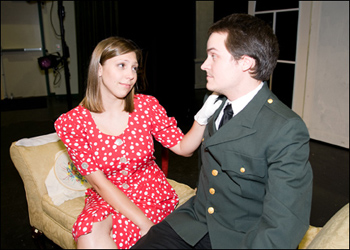 HOUSTON (June 24, 2009) – With a cast swelling to the size of a Broadway stage production, the popular Summer Opera Workshop series returns to Kingwood this summer with its most powerful season yet. The series highlights three popular romantic comedy operas, beginning July 9.
"The opera workshop has doubled in size over last year, due in part to our new voice faculty members, Anne Heath-Welch and Gottfried Schiller," said Dr. Todd Miller, professor of music at LSC-Kingwood and producing director of the workshop.
"With more than 60 participants this year, we are able to offer the community large chorus scenes and a cast that includes students from LSC-Kingwood and several area high schools, voice majors from Sam Houston State and the University of Houston, community members, and young professional singers. They are all given parts for their age and ability level and this works into the overall scheme."
Under the theme "Forbidden Love," the 2009 workshop showcases cut versions in English of three popular romantic comedy operas: The Barber of Seville, Gioachino Rossini's comic masterpiece with many popular tunes; The Bartered Bride, Bedrich Smetana's folk opera where all is made right in the end; and Thomas Pasatieri's short comic gem, Signor Deluso, where jealously reigns until all is revealed. Scenes are fully staged, costumed and lit, and are accompanied by two pianists. A fourth opera excerpt Richard Strauss' short Der Rosenkavalier will be performed in German. Opera fans may recall that it includes the famous "rose presentation" scene, one of the most beautiful musical scenes of all time.
While romantic operas are playing on the stage, behind the scenes of the workshop directors Anne Heath-Welch and Gottfried Schiller share a love story of their own. Heath-Welch is a native Texan, who had a significant operatic career in Europe singing roles like Tosca. Four years ago she married Gottfried Schiller, a "house" singer for the Berlin Comic opera for more than 25 years. They moved to Houston to begin their new life together. The 2009 Summer Opera Workshop is their first directing endeavor together.
"They bring a wealth of experience and energy to the college," added Miller. "Their European training brings a different mindset to the mix and the results have been great."
Summer opera workshop performances will be held in the Student Center/Fine Arts Building performing arts theatre, July 9-11 at 7:30 p.m., and Sunday, July 12 at 2:30 p.m. Ticket prices are $12 for adults, $10 for seniors (55+) and $5 for students. For more information call 281-312-1485.