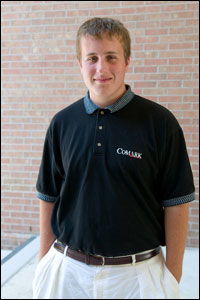 HOUSTON (July 15, 2009) – Lone Star College-Kingwood student, James Lamberth, 16, has been named a 2009 Leader of Promise scholarship recipient by Phi Theta Kappa, the international honor society for two-year colleges. Leaders of Promise scholarship recipients are awarded $1,000 to facilitate completion of associate degrees and participation in Phi Theta Kappa programs. Lamberth is one of only 30 students in the entire society to be selected for this singular honor.
The purpose of Phi Theta Kappa is to recognize and encourage scholarship among two-year college students. It is estimated that 200,000 students internationally participate in Phi Theta Kappa programs each year. To be eligible for membership a student must complete a minimum of 12 hours of associate degree course work and earn a grade point average of 3.5 or higher. Students must maintain a high academic standing throughout their enrollment in the two-year college. For more information about the Phi Theta Kappa chapter at Lone Star College-Kingwood, visit lonestar.edu/kingwood-ptk.
Register now for fall credit classes (Aug. 24-Dec. 13) in one of three ways: phone, online or on campus. Classes are offered days, evenings, or weekends in traditional, Internet, video, TV and independent study formats. Current students can register by telephone at 281-519-6625. Former and current students can register online at LoneStar.edu/registration.