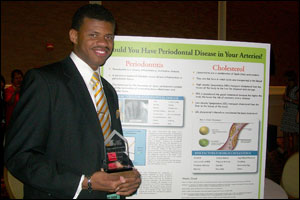 HOUSTON (July 15, 2009) – Jonathan Holland, a 2009 LSC-Kingwood Dental Hygiene graduate, received national attention recently when he won first place for his table clinic, "Could You Have Periodontal Disease in Your Arteries?," at the American Dental Hygiene Association national meeting held in Washington, D.C. Holland's trip was sponsored by the Texas Dental Hygiene Educator's Association, where he earned top marks for his presentation at their annual event earlier this year. Holland said the research required to prepare his exhibit opened his eyes to the role hygienists play in preventing periodontal disease.
"I developed a passion for the valuable role hygienists play in a persons' health," said Holland, who plans to further his career in the field of dental hygiene. "This assignment helped me to further develop that passion into a presentation that has been more far reaching than I ever imagined when I began. I only hope that someday there will be a breakthrough to cure both periodontal disease and high cholesterol, since they plague our society so severely. For me, these competitions help raise awareness of the latest periodontal research and how it points to promising outcomes for both diseases, and because I did that, I feel successful."
The LSC-Kingwood Dental Hygiene program, led by director Maribeth Stitt, is a two-year program accredited by the American Dental Association and leads to an Associate of Applied Science Degree. Pre-requisite courses are required, and dental hygiene classes begin at the Kingwood campus in August of each year (fall semester). If you are interested in learning more about the dental hygiene program, please visit lonestar.edu/dental-hygiene-dept.
Additionally, the program operates an on-campus dental hygiene clinic open to the public. This clinic helps students meet established educational patient requirements and is currently in need of adult patients, especially those that have not had their teeth cleaned in an extended period of time.
Beginning the first week of September, the clinic is open to adults and children (5-13) by appointment only and offers low-cost dental hygiene services such as full-service exams, x-rays, cleaning, and sealants. Clinic hours are Monday: 8:30 a.m. - 4:30 p.m.; Tuesday: 9 a.m. - 4 p.m.; and Thursday: 1 - 4 p.m. For information about the clinic or to schedule an appointment, call 281-312-1721.
Register for fall credit classes (Aug. 24-Dec. 13) in one of three ways: phone, online or on campus. Classes are offered days, evenings, or weekends in traditional, Internet, video, TV and independent study formats. Current students can register by telephone at 281-519-6625. Former and current students can register online at LoneStar.edu/registration.
For general information about Lone Star College-Kingwood, call 281-312-1600 or visit our Web site at LoneStar.edu/Kingwood.
LoneStar College System consists of five colleges, including Cy-Fair, Kingwood, Montgomery, North Harris, and Tomball, six centers and the Lone Star College-University Center. With over 50,000 students, it is the largest college system in the Houston area, and third largest community college district in Texas. To learn more, visit LoneStar.edu.