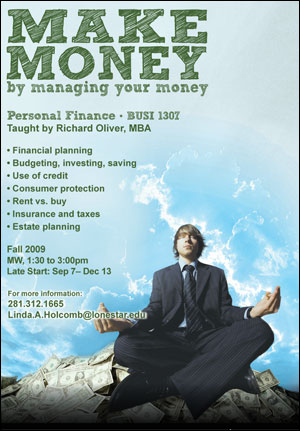 HOUSTON (July 29, 2009) – Do you have questions about money matters? Are you interested in learning more about personal finance? During these tough economic times, it is important to make your hard-earned dollars work harder for you. Lone Star College-Kingwood is offering a new class this fall designed to do just that.
Personal Finance, BUSI 1307, is a new class offered by the LSC-Kingwood business department and taught by Richard Oliver, an MBA, Topics he will address include financial and estate planning; budgeting, investing, and saving; use of credit; consumer protection; renting versus buying; and insurance and taxes.
The class is offered Mondays and Wednesdays, 1:30 p.m. to 3 p.m. beginning Sept. 7. For more information, contact Linda Holcomb at 281.312.1665 or email linda.a.holcomb@lonestar.edu.
Register now for fall credit classes (Aug. 24-Dec. 13) in one of three ways: phone, online or on campus. Classes are offered days, evenings, or weekends in traditional, Internet, video, TV and independent study formats. Current students can register by telephone at 281-519-6625. Former and current students can register online at LoneStar.edu/registration.
For general information about Lone Star College-Kingwood, call 281-312-1600 or visit our Web site at LoneStar.edu/Kingwood.
LoneStar College System consists of five colleges, including Cy-Fair, Kingwood, Montgomery, North Harris, and Tomball, six centers and the Lone Star College-University Center. With over 50,000 students, it is the largest college system in the Houston area, and third largest community college district in Texas. To learn more, visit LoneStar.edu.