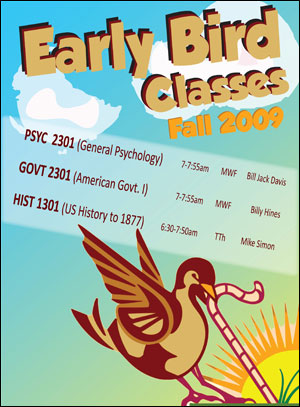 HOUSTON (August 5, 2009) – Do you rise with the sun? Are you Claritin clear before 8 a.m.? Why not use this glorious morning time to your advantage? Earn college credits while others are still finishing their breakfast!
Lone Star College-Kingwood now offers three classes beginning Aug. 24, targeted to the "early bird" students among us:
PSYC 2301 General Psychology, offered 7-7:55 a.m., MWF. Taught by Bill Jack Davis.
GOVT 2301 American Government, offered 7-7:55 a.m., MWF. Taught by Billy Hines.
HIST 1301 U.S. History to 1877, offered 6:30-7:50 a.m., TTH. Taught by Mike Simon.
So remember: early to bed, early to rise, makes a student healthy, wealthy and three credits closer to their educational goal. A wise move, indeed.
Register for fall credit classes (Aug. 24-Dec. 13) in one of three ways: phone, online or on campus. Classes are offered days, evenings, or weekends in traditional, Internet, video, TV and independent study formats. Current students can register by telephone at 281-519-6625. Former and current students can register online at LoneStar.edu/registration.
For general information about Lone Star College-Kingwood, call 281-312-1600 or visit our Web site at LoneStar.edu/Kingwood.
LoneStar CollegeSystem consists of five colleges, including Cy-Fair, Kingwood, Montgomery, North Harris, and Tomball, six centers and the Lone Star College-University Center. With over 50,000 students, it is the largest college system in the Houston area, and third largest community college district in Texas. To learn more, visit LoneStar.edu.