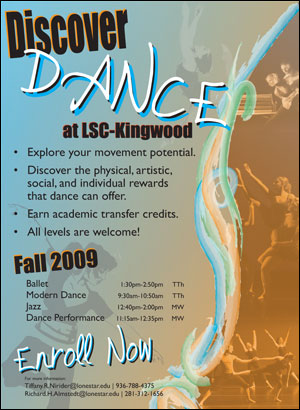 HOUSTON (July 22, 2009) – The Lone Star College-Kingwood dance program is creating a new student dance ensemble known as the LSC-Kingwood Dance Ensemble beginning fall 2009. The mission of this new student organization includes supporting dance students in their creation and development of original choreography. Ensemble members will choreograph, rehearse and refine their works with the goal of performing in the end of semester department dance concert. Adjunct faculty, Trish King and Tiffany Nirider, will serve as co-advisors for the group.
Historically, choreography for the concert was taught and rehearsed in the technique classes, starting midway through each semester. By shifting the choreography opportunity to the ensemble, the technique classes will now offer a full semester of progressive technical development. Instructor Tiffany Nirider believes that this creates a very positive change for the program.
The students within the dance ensemble will have the freedom to explore their own creative expression and students enrolled in technique classes can concentrate strictly on their technical development and not be required to perform if they wish not to. Those who want to perform or create work can put the skills they learn in technique classes into practice through involvement with the dance ensemble," says Nirider.
Part of the dance ensemble's mission will also include community outreach. "There is a wonderful opportunity for students to share what they are learning with the surrounding community. Dance is a fabulous vehicle for connecting with one's self and with others, allowing for a broad range of expression through movement. Many people have had limited opportunity to experience the joy and freedom that comes with dance," notes Trish King. Ensemble students will have the opportunity to reach out to various community groups including local school age children, dance studios and senior centers, both through teaching and performing dance.
One major project that the LSC-Kingwood Fine Arts program sponsors for the community is the Humble ISD Fine Arts Festival each spring. This is an opportunity for school age children to learn about and experience various forms of art firsthand. Students of the dance ensemble will participate in this event by teaching children creative movement classes. This is just one example of the many community projects in which the dance ensemble will participate.Because the LSC-Kingwood Dance Ensemble is an organization founded under student activities, it will have its own operating budget funded by student activity fees paid by all enrolled students. This affords the group opportunities to fund outside guest artists to teach master classes and/or set choreography as well as fund field trips to professional dance-related events in the area. "This kind of exposure to the professional world of dance will prove invaluable to the students' educational experience," states Nirider. "Experiencing firsthand the caliber and quality of work that is being produced in the professional arena gives students insights that they cannot learn from a textbook, in a classroom or from their peers." The LSC-Kingwood Dance Ensemble will be open to any full-time student enrolled in dance classes or who have previously been enrolled in dance classes at LSC-Kingwood. The group will have informational open meetings once a month and those involved in choreographic works will meet weekly for rehearsals. The group will begin meeting in September of this year. Anyone who is interested should contact Trish King at Patricia.M.King@lonestar.edu or Tiffany Nirider at mailto:Tiffany.R.Nirder@lonestar.edu.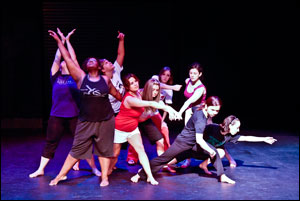 Register for fall credit classes (Aug. 24-Dec. 13) in one of three ways: phone, online or on campus. Classes are offered days, evenings, or weekends in traditional, Internet, video, TV and independent study formats. Current students can register by telephone at 281-519-6625. Former and current students can register online at LoneStar.edu/registration.
For general information about Lone Star College-Kingwood, call 281-312-1600 or visit our Web site at LoneStar.edu/Kingwood.
Lone Star College System consists of five colleges, including Cy-Fair, Kingwood, Montgomery, North Harris, and Tomball, six centers and the Lone Star College-University Center. With over 50,000 students, it is the largest college system in the Houston area, and third largest community college district in Texas. To learn more, visit LoneStar.edu.