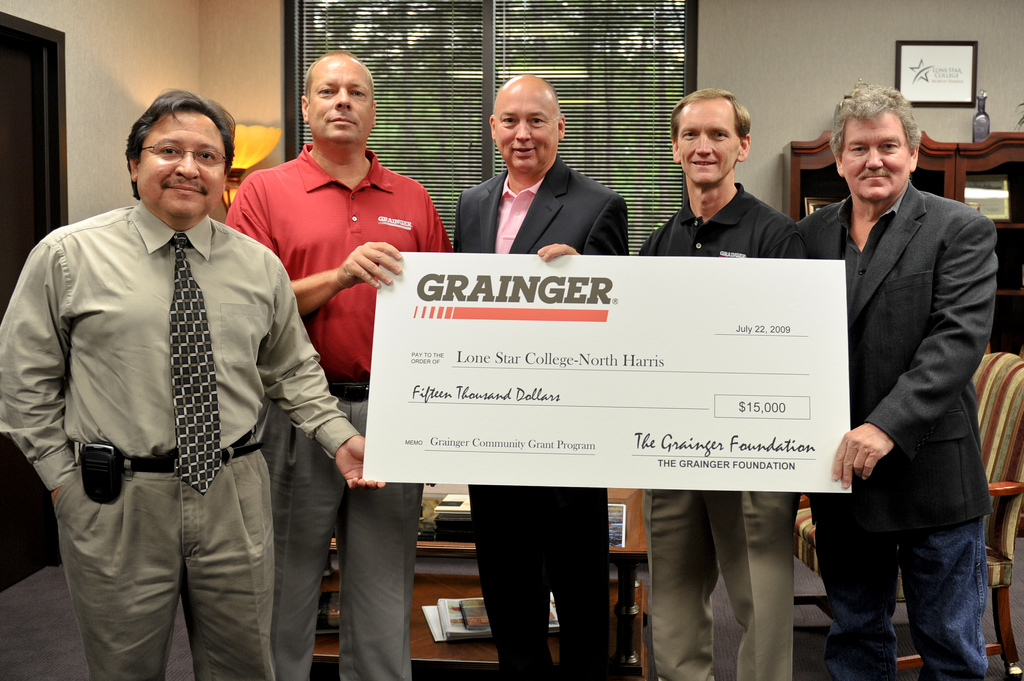 Grainger Foundation Donates $15K scholarship to Support Students Studying Heating Ventilation and Air Conditioning
HOUSTON (July 23, 2009) – In the early 1960s, Houston earned the title, "Air Conditioning Capital of the World," and as this summer's record high temperatures indicate, the title still applies. Local climate has created an on-going demand for skilled heating, air conditioning, ventilation and refrigeration professionals and industry experts say this demand is not currently being met by the numbers of available trained HVAC technicians.
For more than 30 years, Lone Star College-North Harris has offered professional HVAC training in the north Houston area. Since 2000, the program has had an average of 515 students a year and still the industry demand for these skilled tradesmen continues to stay ahead of supply.
To help meet this workforce need, local facilities maintenance supplier Grainger has stepped up to provide support. Based upon recommendation from local branch manager Keith Sobolik, the Grainger Foundation donated $15,000 in scholarships for HVAC students at Lone Star College-North Harris.
"Students represent skilled labor's best and brightest for the future," said Grainger's Keith Sobolik. "Grainger is proud to partner with Lone Star College-North Harris to offer this scholarship for HVAC students. Especially because of this year's extreme heat, we're seeing an increase in the demand for air conditioning and refrigeration products, especially motors, compressors and capacitors, so we see the need every day. Together, we can help ensure the communities of Texas have trained professionals ready to meet the demand for skilled HVAC workers."
Lone Star College-North Harris' dean of the Career Technology Division, Dr. John DeLeon, agrees. "The demand for trained HVAC professionals is extremely high in Houston, especially since we're in a part of the country that relies on air conditioned comfort nearly 365 days a year."
"Our program continues to produce high-end HVAC personnel, ready to handle the demands of the job and through our partnership with area industry. As an industry partner, Grainger has identified and responded to the increasing need for highly-skilled HVAC technicians and I applaud the Grainger Foundation for providing funding to ease the burden of students seeking to enter the HVAC field."
The scholarship program will be directed toward individuals completing either of the two HVAC certification programs or HVAC associate's degree program being offered at LSC-North Harris. The two certification programs, one in residential servicing and one in commercial servicing, each require one year to complete. Scholarship funds will be used to help students complete their educational goals by offsetting the costs of tuition, associated fees and instructional materials, such as books and tools of the trade. The associate's degree program in HVAC requires an additional year of study.
Darcy Mingoia, executive director of the Lone Star College Foundation, said Grainger's contribution will help HVAC students who are in need of financial assistance get the education they need in this demanding field.
"Community colleges are in the unique position of preparing individuals directly for the workforce," the executive director explained, "and it's gratifying to have our industry partners assist us in training career professionals for area industry. In addition to financial support, local Grainger employees have offered hands-on support with classroom speakers, mentors and has invited our students to come tour their local facilities."
Students interested in the Lone Star College-North Harris HVAC scholarship program may register now for either of the certification classes or the associate's degree program. Classes for the fall semester begin Aug. 24 and continue for eight weeks. The Fast Track Residential Servicing Certificate requires 12 months to complete.
For more information about LSC-North Harris HVAC program, contact Kay Mathes at 281.618.5737.
Lone Star College-North Harris is located at 2700 W.W. Thorne Drive, one-half mile south of FM 1960 East, between Aldine-Westfield and Hardy Roads. For more information about the college, call 281.618.5400 or visit: NorthHarris.LoneStar.edu.
Lone Star College System consists of five colleges, including CyFair, Kingwood, Montgomery, North Harris, and Tomball, six centers and Lone Star College-University Center. It is the largest college system in the Houston area, and third largest community college district in Texas. To learn more, visit LoneStar.edu.
About Grainger
Illinois-based W.W. Grainger, Inc. (NYSE: GWW), with 2008 sales of $6.9 billion, is the leading broad line supplier of facilities maintenance products serving businesses and institutions in the United States, Canada, Mexico, China and Panama. Through a highly integrated network including more than 600 branches, 18 distribution centers and multiple Web sites, Grainger's employees help customers get the job done.
Media interested in conducting interviews or obtaining more information about Grainger should contact JP Clark, Regional Communications Manager – West, at 949.300.4943.
###
Photo ID:
Grainger Foundation Donates $15K scholarship to Support Lone Star College-North Harris Students Studying Heating Ventilation, Air Conditioning and Refrigeration.
Shown left to right: LSC-North Harris' Career Technology Dean, Dr. John DeLeon; Grainger's District Branch Services Manager, Rick Oehring; LSC-North Harris President, Dr. Steve Head; Grainger's Branch Manager, Keith Sobolik; and LSC-North Harris HVAC-Refrigeration Program Chair and Professor, Dwaine Cooper.
C.C. Sutphen
Director of Public Relations and Special Events
Lone Star College-North Harris
2700 W.W. Thorne Drive
Houston, TX 77073
281.618.5425
281.618.7105 fax
blocked::mailto:cece.sutphen@lonestar.edu
NorthHarris.LoneStar.edu