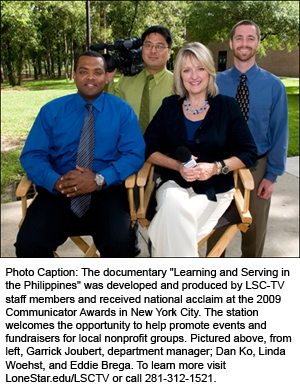 HOUSTON (August 5, 2009) – A documentary on natural disasters and their impact on a population, produced by the Lone Star College-Kingwood Cable TV department, received national acclaim recently by one of the largest and most competitive award programs for communications professionals.
"Learning and Serving in the Philippines," a story documenting a week-long service-learning project by a group of students and faculty from LSC-Kingwood, scored the prestigious silver Award of Distinction from the International Academy of the Visual Arts at the 2009 Communicator Awards in New York City. The project was developed as a study of the effect of natural disasters on a population, particularly a low-income developing nation like the Philippines.
The Philippines is a chain of islands, which by happenstance sits in the epicenter of a trilogy of natural disaster zones: typhoons, volcanic eruptions, and earthquakes.
It is also homeland to LSC-Kingwood's geology professor, Cherith Letargo. Letargo partnered with LSC-Kingwood Service Learning Coordinator, Brian Shmaefsky, to develop a week-long expedition to the islands for her environmental geology honors class.
The regular occurrence of natural disasters in the Philippines has displaced thousands of islanders to poverty-stricken lifestyles. Letargo and Shmaefsky exposed students first hand to this country's immense suffering and challenged them to find compatible, sustainable solutions within their field of study (environmental, engineering, education, and architecture). The project became a model for international service learning for Lone Star College, and one of the first such projects for two-year colleges in the country.
"Learning and Serving in the Philippines" was developed and produced by LSC-TV staff members, Garrick Joubert, department manager, and Eddie Brega and Dan Ko, videographers and producers.
LSC-TV programming is located on channel 42 for Suddenlink Cable subscribers. The station welcomes the opportunity to help promote events and fundraisers for local nonprofit groups. Community and public service programming includes coverage of public, civic and charitable events, holiday celebrations, and activities of community organizations.
Paid programming extends advertising opportunities to local businesses with programming options that can explain their goods and services in greater detail. Telecourse programs offer students the opportunity to further their education in the comfort of their home. Information may be faxed at 281-312-1546 or emailed to LSC-TV@LoneStar.edu. To learn more visit LoneStar.edu/LSCTV or call 281-312-1521