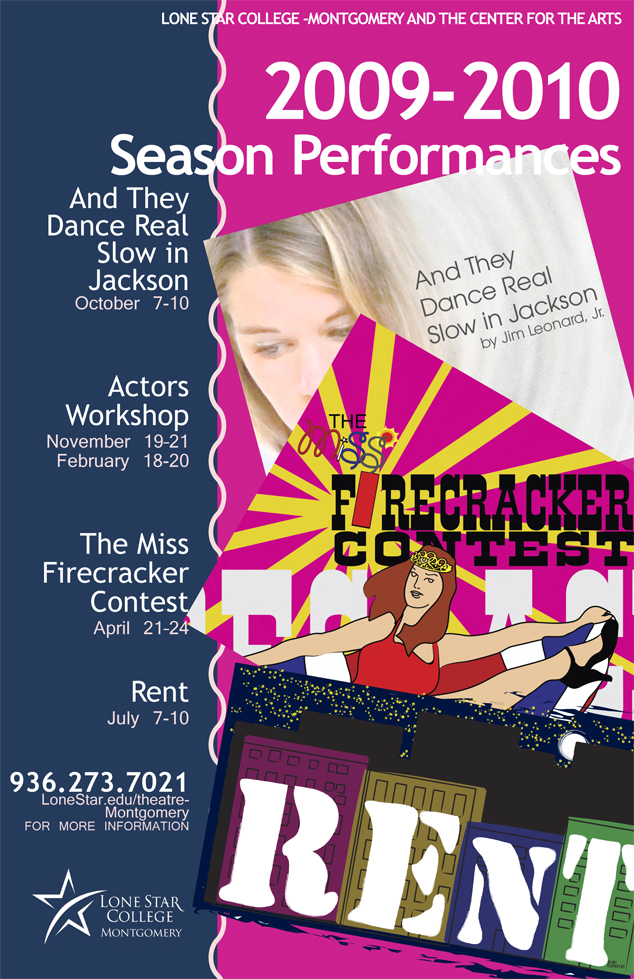 Lone Star College-Montgomery theatre department has selected a variety of productions for the upcoming 2009-2010 season that will leave audience members in tears, laughing out loud and seeing what is important amongst friends. The theatre season will include And They Dance Real Slow in Jackson by Jim Leonard, Jr., The Miss Firecracker Contest by Beth Henley, two separate Actors Workshop productions, and Rent with book, music and lyrics by Jonathan Larson.
The season opens in October with And They Dance Real Slow in Jackson, which is also a participating entry for the Kennedy Center American College Theatre Festival. This play is the haunting, yet touching tale of a young girl stricken with polio and her desperation to be mainstreamed into society. This production will be performed October 7-10 on the Mainstage (building D) at LSC-Montgomery.
Next on the Mainstage is The Miss Firecracker Contest by Beth Henley. This entertaining comedy, set for a mid-April run, takes place in a small town during the July 4th beauty pageant where Carnelle is practicing for the contest feverishly in hopes of turning around her tarnished reputation. As matters are complicated, Carnelle finds a way to persevere—leading to a denouement of unparalleled hilarity, compassion and moving lyricism.
The season will also include two different Actors Workshop productions. The Actors Workshop series are specialized for the Performing Arts Lab (PAL) at the college. The students in the Actors Workshop series minimize the peripherals of sets, costumes and lighting and concentrate on character development. The Actors Workshop performances are built to provide audience members with a more personal experience with the play. The admission price for the Actors Workshops are "pay what you will" supporting the theatre productions and department. The fall workshop performance will be November 19-21 and the spring workshop performance will be February 18-20.
The last production of the season is Rent, book, music and lyrics by Jonathan Larson. This popular musical follows a year in the lives of seven friends living the disappearing Bohemian lifestyle in New York's East Village under the shadow of AIDS. This popular Broadway production will hit the stage in July.
Theatre season tickets can be purchased by contacting Denise Meyers, program coordinator for theatre/fine arts, at (936) 273-7021 or Denise.Meyers@LoneStar.edu. The season ticket price is $35 for the five Montgomery College theatre productions. Season ticket holders will receive name recognition in all theatre programs and reserved seating. Ticket prices for individual shows are $10 for general admission, $7 for seniors, and $5 for students/staff/faculty. Additional information regarding the theatre department at LSC-Montgomery is located on-line at LoneStar.edu/theatre-Montgomery. Call now for ticket reservations and discount tickets. All titles are subject to change without notice pending availability.
LSC-Montgomery is located at 3200 College Park Drive, one-half mile west of Interstate 45, between Conroe and The Woodlands. For more information about the college, call (936) 273-7000, or visit LoneStar.edu/montgomery.
Lone Star College System consists of five colleges, including CyFair, Kingwood, Montgomery, North Harris, and Tomball, six centers and Lone Star College-University Center. With more than 51,000 students, it is the largest college system in the Houston area, and third largest community college district in Texas. For more information, visit www.LoneStar.edu.