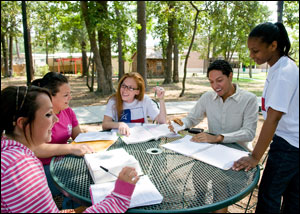 HOUSTON (August 5, 2009) – Student success is a top priority at Lone Star College-Kingwood. With the addition of Achieving the Dream (AtD), a multi-year national initiative to help more community college students succeed, the college faculty and staff are reaching out to many students who traditionally have faced significant barriers to success.
Lone Star College System (LSCS) received funding from the Houston Endowment Foundation to join 58 other colleges and 14 national partner organizations in the Achieving the Dream initiative in the summer of 2006. As part of the Achieving the Dream initiative, we are working to improve student achievement by making lasting changes in the college's practices and culture. The 2006-2007 academic year was used for planning, and LSCS staff and faculty identified five critical areas:
Completion of developmental math, reading and writing sequence;

Transition from developmental into college algebra and Composition I;

Completion of two critical gatekeeper courses--college algebra and English Composition I;

Fall to fall retention/persistence; and

Student completion and success rates.
A series of initiatives designed to ensure that more students are successful in college was launched by LSCS in the fall of 2007. The five primary strategies to bring about an increase in student success are:
Creating a campus climate where early and continuous intervention is part of the
college culture, thus providing additional support to the most at-risk students;

Developing and implementing a student success course;

Enhancing professional development for faculty and student services
staff to increase student engagement in the learning and advising processes;

Reviewing policies, practices and procedures related to advising, assessment, placement, prerequisites, and payment practices; and

Engaging the community in an advisory capacity.
Because of this additional support, LSC--Kingwood students should enjoy increased success in their coursework and completion of their educational goals. Specific steps taken on the LSC-Kingwood campus include:
A case management system of advising piloted in fall 2008. Students in Math 0308 classes were contacted by the AtD advisor, who offered them assistance and encouragement throughout the semester. Students who worked with this advisor showed a higher level of success than those students who did not. The Achieving the Dream advisor has been a critical piece of the AtD process because she has served as a constant source of support and advice. Her interaction with students and faculty has allowed her to serve as a link for improved communication and greater success. Her assistance in defining students' educational goals and her advice regarding support services helped many students gain a stronger foothold in their academic endeavors. Additional academic advisors have been assigned to work in this same manner with cohorts of first-time-in-college students in fall 2009.

A student success course, EDUC 1300, offered the fall 2008 and spring 2009 semesters. Students who placed into ENG 0305 or ENG 0307 and any developmental math course were enrolled in this class. Three sections were offered in fall 2008, and four sections were offered in spring 2OO9.The number of course offerings will double in fall 2009. Many students taking this course have learned a variety of study strategies that will enhance their success throughout their college careers. Student comments about the class include:

The Early Intervention System which addresses student success issues that may involve academic problems or non-academic distractions. Success Coaches are available in the Learning Center to guide students through whatever is posing a problem for them. Students are referred to tutors for academic issues and to advisors or counselors for other life issues or personal concerns.

Several Math 0308 classes in fall 2008 and spring 2009 supported by a Supplemental Instruction (SI) Leader. The extra assistance provided by the SI leader gives students discipline-specific help along with study strategies that increase success in all classes -- now and in the future.

Focus groups with members of minority groups conducted in spring 2009. Information gathered from these students has provided ideas for modifying college services and approaches in order to help students successfully reach their goals.

A Catalyst Event including faculty and staff held to raise awareness of AtD initiatives and successes on the Kingwood campus. Approximately 40 faculty and staff members participated in round table discussions to generateideas for pursuing more innovative and collaborative activities within the AtD program. Many of the ideas involved ways to strengthen the connection between faculty and student services for the benefit of student success.

An Achieving the Dream E-Newsletter distributed to all faculty and staff in spring 2009. An AtD student newsletter will be distributed soon.

Two sessions related to AtD initiatives presented in May 2009 by LSC-Kingwood SI leaders and SI administrators at the bi-annual Regional SI Conference hosted by Texas A&M. The sessions highlighted AtD efforts in developmental math classes which include supplemental instruction leaders. One session introduced the Peer-Led Team Learning approach that was facilitated by SI leaders in a Math 0308 section in spring 2009.
Success is being measured by tracking students' course completion and persistence from semester to semester. Additionally, survey results provide qualitative data measuring students'perception of their academic growth and success and the value of AtD initiatives in the pursuit of their educational goals.
For more information about the Achieving the Dream initiatives at LSC-Kingwood contact Janis Terry at 281-312-1553 or Janis.S.Terry@LoneStar.edu.
Register now for fall credit classes (Aug. 24-Dec. 13) in one of three ways: phone, online or on campus. Classes are offered days, evenings, or weekends in traditional, Internet, video, TV and independent study formats. Current students can register by telephone at 281-519-6625. Former and current students can register online at LoneStar.edu/registration.